Brands Want to Scare Away Web3 Fears This Halloween With Spooky Activations
Tapping into new forms of marketing campaigns by leveraging the metaverse and virtual reality platforms.
Brands Want to Scare Away Web3 Fears This Halloween With Spooky Activations
Tapping into new forms of marketing campaigns by leveraging the metaverse and virtual reality platforms.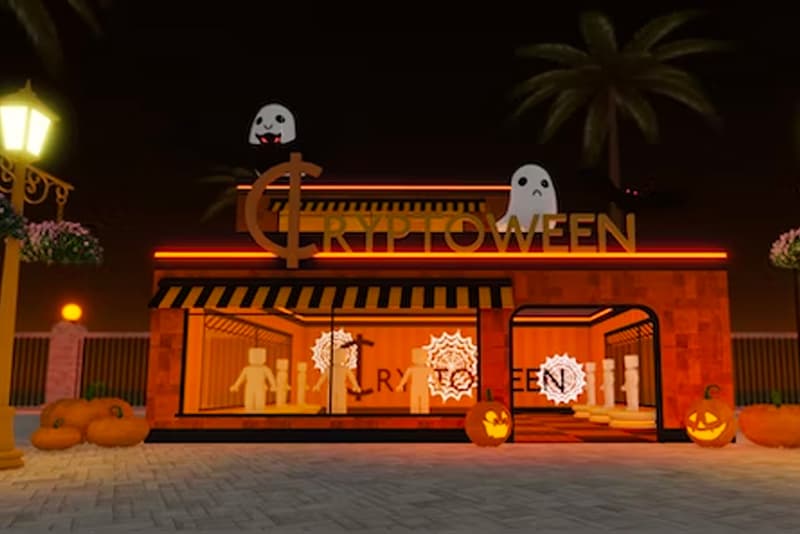 This Halloween, brands spanning across TV/film, music/entertainment, sports/gaming, and food/hospitality are all putting their cauldrons out there for Web3 to take something sweet out of.
While the popularity of blockchain technology combined with digital assets continues to surge, there is still a crucial need to reduce the justified fears many consumers still have surrounding the industry's nascency.
Historically, brands have capitalized on annual holidays to fuel their aggressive and often guerrilla-style marketing campaigns. However, the current market decline for NFTs certainly leaves consumers spooked, sparking interest for traditional and Web3 native brands to look for tasteful ways to help streamline mass adoption.
If built correctly, the metaverse, according to 90% of U.S. marketers, is believed to solve a multitude of business-related challenges. Another study found that 68%  of U.S. marketers also believe that it will help support branding and awareness, while 59% believe that customer engagement and loyalty are expected to increase.
This year's Halloween festivities have harnessed the power of Web3 to present attractive and creative projects relevant to today's web evolution from a variety of industries and brands.
A Cheesy, Mischievous Metaverse
This week, Cheetos, a Frito Lay company, and its mischievous Chester Cheetah, announced its first dive into the metaverse.
Dubbed "Chesterville," the cheesy snack's digital suburban neighborhood decked out for Halloween, invites Cheetos fans into Meta's Horizon Worlds VR platform to help decide which flavor to resurrect from the dead.
Don't worry though, you can still visit its spooky mansion and stir up some Halloween mischief alongside Chester.
you've been asking for a way to bring your favorite Cheetos flavors back to life… I just made it spooky ?​? visit Chesterville in Meta's Horizon Worlds virtual reality platform to make a little mischief and vote on the flavor we should bring back to life #Chesterville pic.twitter.com/dGboTpDWyl

— Chester Cheetah (@ChesterCheetah) October 18, 2022
Inside Horizon Worlds, users can play through missions to earn points that enable them to unlock the chance for them to vote on which iconic flavor Cheetos should bring back to life IRL for a limited period of time.
"This is a significant moment for both the brand and the portfolio as we broaden the ways we engage with fans, inviting them to experience Cheetos in an entirely new way," said Stacy Taffet, Sr. Vice President of Marketing for Frito-Lay.
Wanna Play a Game? 
Football fans, if you haven't read up on Autograph, now's the time to do it. The NFT platform founded by NFL's Tom Brady last year just joined forces with Internet Game, transporting Lionsgate and Twisted Pictures' famous horror franchise, "SAW" into the metaverse, marking the film's very first metaverse-based gaming experience.
Users must first purchase a SAW Games Pass, available on Magic Eden, Internet Game, and/or GameStop NFT to be able to access the game.
We're partnering with @Autograph to bring the sickest moments to Web3.

First up, a new season of @Internet__Game brought to you by the SAW @Lionsgate franchise

3 mini games. Dozens of prizes to die for. Come back to Launchpad on 10/24 for your pass to play. pic.twitter.com/V4a0ge5aDP

— Magic Eden ? (@MagicEden) October 19, 2022
Players beware! With a SAW pass, users are granted entry into three gory SAW-themed mini-games — Acid Bath, Blood Bucket, and Incinerator, which will be slowly released over the course of the next week. Those who are brave enough to play through the games (and survive!) are eligible to win an assortment of prizes, including, but not limited to blue-chip NFTs (BAYC, MAYC, Doodles, etc.) and prepaid VISA gift cards.
If you're just in it for the blood and scare, SAW fans also have the opportunity to win an on-set tour of the next SAW film, a trip to see SAW: The Experience in London, and/or that fan's name appearing in the credits of the next SAW film. The first SAW film debuted in 2004 just two days before Halloween.
"With the latest installment of SAW coming next October, our partnership with Lionsgate and Autograph is perfectly timed to engage SAW's global fan base in exciting new ways while introducing the franchise to a whole new audience," said Mark Burg and Oren Koules, the original creatives, and producers behind the SAW franchise.
Brave Enough to Knock at the Nightmare Imp's Door?
Beginning October 28, fans of Forgotten Runes Wizard's Cult, will be able to trick-or-treat in a magically, unconventional way that of course its wizards, warriors, souls, and beasts appreciate.
The beloved entertainment fantasy franchise anchored in Web3 is calling all its NFT holders — Wizards, Warriors, and Souls — in addition to 10 other blue-chip communities, to participate in its First Annual Trick-Or-Treat event at the Nightmare Imp's Castle Door from Friday, October 28, 2022 to Monday, October 31 by visiting ForgottenRunes.com.
In addition to Forgotten Runes holders, those dressed up as Cool Cats, Punks, Bored Apes, Doodles, Azuki, CloneX, Moonbirds, Loot, World of Women (WoW), and 10ktf (crafted only) — will also be able to knock at the Nightmare Imp's Castle Door. Those brave enough to knock, according to the company, will receive a free token airdrop of either a Trick or a Treat – subject to gas fees.
The 'Treats,' will be a Treasure Box from the Nightmare Imp himself, revealing one mysterious storytelling item from the Runiverse, chosen out of 100+ different (ERC-1155) items of varying rarity, or, a treat that you can exchange for a free Wizard/ Warrior/Pony and/or a golden candy that can be used to forge a Gilded Warrior Weapon.
However, those who are subject to the Nightmare Imp's dark sense of humor, might end up with a 'trick,' but don't worry, Forgotten Runes promises that his tricks are "completely non-destructive" — and include a token, too!
The fantasy franchise officially activated at this year's NFT.NYC, attracting industry talent including Andrew Wang and comedian Leah Lamarr, along with a special appearance by Oliver Tree (decked out as the 1/1 Gigas Chad) and Logan Paul.
'Cryptoween' With The Metaverse Queen
Queen of the metaverse, Paris Hilton, is also throwing her very own Halloween party, dubbed "Cryptoween," inside Roblox. Users will be able to interact with Hilton on October 31 as she puts on her display of interactive fashion-driven games, costume shopping, and other Halloween-themed celebrations.
Hilton has been a major influence and advocate for Web3, putting on her own New Year's Eve festivity for 2022. In August, Hilton's company, 11:11 Media, purchased virtual plots in Roblox and The Sandbox to issue Paris-styled NFTs and various digital events throughout the year.
href="https://twitter.com/Roblox?ref_src=twsrc%5Etfw">@Roblox to celebrate #Cryptoween! ??
? Hang out with my avatar from 2pm – 3pm PT today
? Try on gorg Halloween makeup looks from @UrbanDecay
✨ Strut your stuff on the fashion runway
You won't want to miss this! ? #ThatsHot https://t.co/Etd7aJXO6a pic.twitter.com/0mTEgmXws0
— ParisHilton (@ParisHilton) October 17, 2022
Frightmare on Fun Street
Known for its pop culture-licensed collectibles, the American toy company, Funko, seems to have found its Web3 pathway as it just released its second series of spooky Halloween Digital Pop! packs earlier this week.
The cute licensed collectibles feature Funko's mascot, "Freddy," in different Halloween costumes. Each Digital Pop! card in the pack can be redeemed for a physical vinyl collectible. And of course, with any traditional Funko Pop! drop, its 37,000+ supply of standard and premium Pop! packs have already sold out.
But have no fear, Funko has also activated at this year's New York Comic Con, with its "Frightmare on Fun Street" booth, where Comic Con fans were able to trick-or-treat for both digital and physical collectibles.
As we approach All Hallow's Eve, which NFT are you brave enough to trick-or-treat with as you prepare to venture into the spooky metaverse?
In other Web3 news, NFT Now's Matt Medved is working to 'separate the signal from the noise' with "The Gateway" debut.