Cryptoys To Digitalize Mattel's Masters of the Universe Franchise in the Metaverse
Mattel's MOTU-licensed toys will be the first brand to launch inside Cryptoys's NFT environment.
Cryptoys To Digitalize Mattel's Masters of the Universe Franchise in the Metaverse
Mattel's MOTU-licensed toys will be the first brand to launch inside Cryptoys's NFT environment.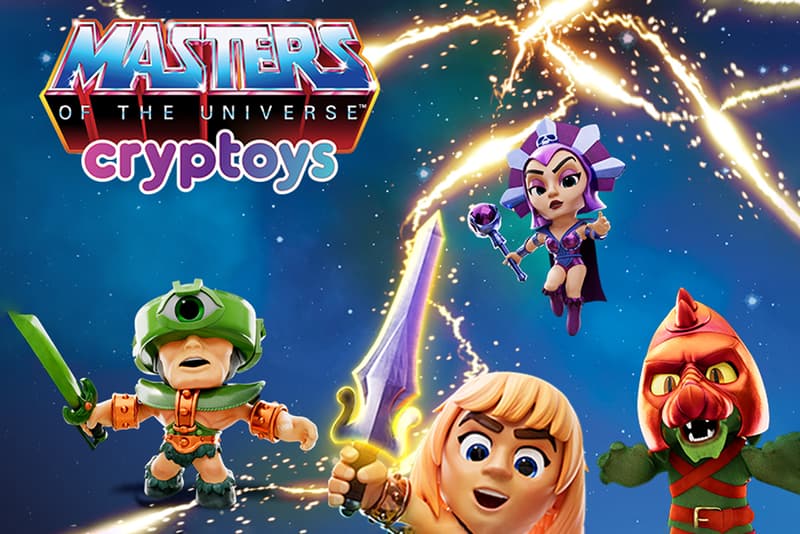 1 of 2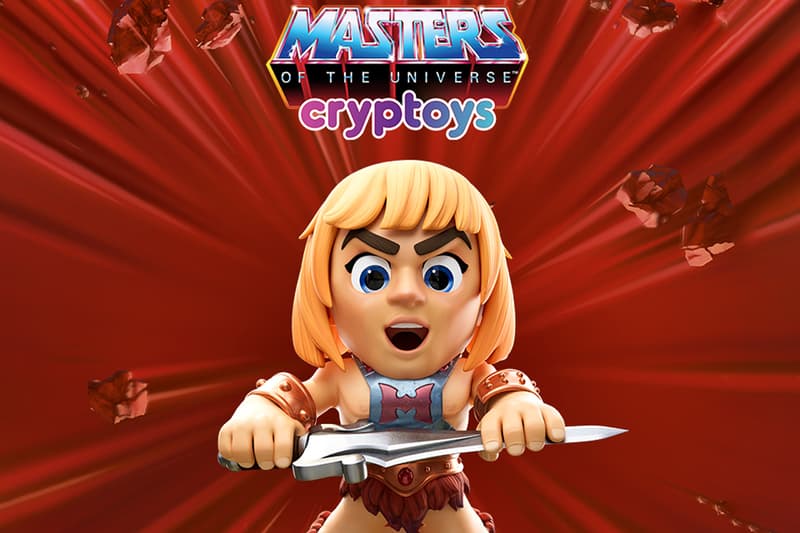 2 of 2
Cryptoys and Mattel have brought together its forces in sharing the initial release of the upcoming Masters of the Universe digital toy series.
With the Masters of the Universe (MOTU) franchise celebrating its 40th anniversary today, Cryptoys and Mattel have unveiled the next three waves of MOTU's first digital toy drops.
Spanning from this November through January 2023, Cryptoys's new NFT platform for toys, gaming, and entertainment will bring Mattel and MOTU's fan-favorite characters into the metaverse with 12 limited edition digitalized action figures.
The first drop will include MOTU's famous He-Man/Prince Adam, Evil-Lyn, Battle Cat/Cringer, and Tri-Klops with additional characters such as Orko, Teela, Beast-Man, Trap-Jaw, Skeletor, Sorceresses, Panthor, and Man-At-Arms appearing in the next coming digital releases.
A New World of Toys
With the help of Cryptoys expansive playable universe, the action figures will come to virtual and animated life in a digital surprise toy pack experience. Each toy drop will consist of 10,000 toys per character and offer a variety of skins across seven different rarity levels.
Cryptoys are digitalized figures and toys that provide fans with a new way to collect and play – inside the metaverse. Issued as digital assets (NFT) on the Flow blockchain, Cryptoys aims to resemble a physical collecting experience with exceptional capabilities.
Co-founded back in 2018, OnChain Studios was created to engage, entertain, and empower the next generation of NFT collectors. Seeking to reshape how world-class toy companies function in today's web evolution, Cryptoys was launched as the studio's flagship digital product.
In an exclusive interview with Hypemoon, Will Weinraub, CEO, and Co-Founder of OnChain Studios shared, "Initially we are starting off by focusing on the collectors and unboxing experiences but soon you'll be able to play with your Cryptoys in many different ways including a number of games that we will soon be releasing. On top of that, we're elevating the digital collector experience with quests, rewards, and titles that unlock access to exclusive drops, experiences, and more."
Fans will have the option to keep the Cryptoys in mint condition or unwrap them to reveal interactable toys.
"Web3 to me has always been about ownership. For the first time ever, we can provide true ownership to digital items, and in an industry like toys and collectibles that are incredibly powerful for the end consumer," Weinraub shared with Hypemoon.
Given virtual abilities, the toy packs known as "Cubes" have an incredibly unique unboxing experience that is fully interactive and something that tangible packaging would not be able to offer. Newly opened toys can enter "The Block" – which is Cryptoys' immersive and playable test-drive space.
"Many of us grew up with Masters of the Universe, which is why we felt it was the perfect property to kick off our partnership with Mattel," added Weinraub.
Masters of the Metaverse
Since its founding in 1945, Mattel has led the global toy industry with some of the most iconic brands like Barbie, Fisher-Price, Hot Wheels, UNO, and of course, MOTU. Bringing the toy leader's wide range of IPs and licenses into the Web3 setting presents a new and innovative way to collect and play with recognizable characters today.
"With a unique ability to remain at the forefront of pop culture for 40 years, Mattel's Masters of the Universe IP has an extremely high consumer awareness level and strong collectability value," said Mike DeLaet, Global Head of Digital Gaming at Mattel.
MOTU's celebrated characters have surfaced across toy products and appearances in their own books, television series, comic strips, video games, and much more since the early 1980s.
As Mattel adapts to today's new wave of technology, MOTU has found yet another way to connect with both longstanding fans and new ones.
"As the first toy company to launch NFTs and the only toy partner on the Cryptoys platform, we are thrilled to bring this project to life, bridging the gap between traditional toys and the future, providing fans of all ages a new way to experience He-Man and Masters of the Universe," added DeLaet.
Mattel's Web3 Dive
Staying relevant with the many brands' entries into Web3, DeLaet told Hypemoon, "at Mattel, we are always striving to be true pioneers of the future of play. In today's digital age, that means remaining at the cutting edge of both physical products and digital experiences alike."
Since 2021, Mattel has begun diving into the Web3 space with a variety of NFT collections and the expansion of significant partnerships.
Mattel became the first major toy brand to mint NFTs with the launch of Hot Wheels NFT Garage – which presented a new way for collectors to buy and trade digital Hot Wheels cars on the blockchain.
Following Hot Wheels, Mattel collaborated with Balmain to create an exclusive clothing line and a parallel NFT collection with the fashion house. Each NFT included a matching physical set of doll-sized Balmain garments and utilities.
Transporting Barbie further into the metaverse, Mattel recently partnered with the female-driven Web3 initiative, Boss Beauties. Together, the two are set to present a wave of Barbie x Boss Beauties NFTs which will support the next generation of girls' ambitions and careers.
In other NFT news, OpenSea answers call for Avalanche NFTs.