Europe Is About To See Its First NFT Vending Machine
Providing an innovative approach to distributing NFTs to the masses.
Europe Is About To See Its First NFT Vending Machine
Providing an innovative approach to distributing NFTs to the masses.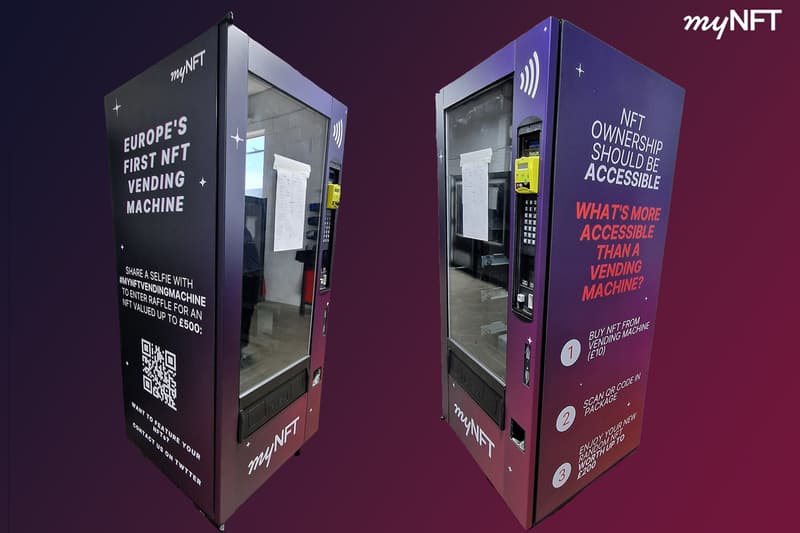 As a way to break the myth that buying NFTs is challenging, MyNFT is set to launch the first vending machine in Europe.
The multichain NFT marketplace, myNFT is placing the physical NFT vending machine right outside the upcoming NFT.London's venue at the Queen Elizabeth II Centre in Westminster, London.
Users will be able to purchase a flat rate NFT for approximately $10 USD and receive a random NFT worth up to $230 USD – with all proceeds being donated to Giveth and the Marvellous Children's Charity.
As Web3 newcomers fear the complicated onboarding process of making a digital wallet and searching for the best foundational NFT, myNFT is lowering the barriers and making it simple for beginners – by utilizing the quick and easy function of a vending machine.
Despite the growing number of new ways to distribute products today, vending machines have always been a suitable option for people in need of a 24-hour convenient way to purchase any given item.
Ironically, the concept of a vending machine was first developed in England, during the early 1880s for the sole purpose of dispensing postcards in a fast and automatic manner.
With 44% of consumers claiming they know what an NFT is but don't own one, myNFT has sought a way to eliminate the many possible barriers to joining the NFT participation today by leveraging the well-known vending machine model.
"There is so much potential in the NFT market and it's such a shame to see some of that go to waste when possible new entrants are put off getting involved by various unnecessary and complicated barriers. From gas fees, gatekeeping knowledge, to having to set up a complicated digital wallet and more, great opportunities are being denied and squandered to newcomers," said Hugo McDonaugh, co-founder of myNFT.
With myNFT's vending machines, users are invited to select a concealed envelope that contains a scannable QR code that prompts users to sign up for a free myNFT account – complete with a digital wallet for receiving the surprise asset.
By issuing disclosed NFTs from myNFT's inaugural collection, users are able to hold the collectible and learn about the collection or they can dip their toes into trading by getting their first look at myNFT's user-friendly marketplace.
To ensure anyone can partake in the seamless process, participants can pay for the NFT-filled envelopes using Apple Pay, Google Pay, or any other contactless payment method.
In fact, vending machines were the first machinery to adopt digital payment systems as Coca-Cola allowed customers to purchase its machine's soda with a text-based link back in 1997.
"The humble vending machine may seem like an analog, outmoded form of delivery, but far from it! One of the main focuses in this space at the moment is addressing mainstream adoption. In order to bring mainstream on board, this requires simplicity and familiarity which the NFT vending machine enables through a form of distribution that many people around the world are all so familiar with," said Tony Pearce, Co-Founder at Reality+, which is responsible for some of the NFTs inside the machine.
Reducing the obstacles in entering the Web3 space, the novel vending machine symbolizes the simplicity to purchasing NFTs today. By deploying a fun and engaging process for acquiring digital assets, myNFT aims to push NFT adoption to more than just NFT.London attendees.
United Kingdom currently stands below the global average in NFT adoption today and accounts for more than 14 million monthly searches for "What is an NFT?."
With only 819k Brits currently owning an NFT, the machine has been placed in a high-traffic location so anyone who may be passing by is welcome to try the machine and immerse themselves in NFT collecting.
"We're determined to turn NFTs into an everyday activity for everyone, and break it out of its current clique", McDonaugh added. "The best way for the sector to grow is through popular involvement, and we're only going to achieve that by breaking down barriers."
In other NFT news, Frito-Lay wants to "see" its customers with FIFA-driven fan experience.