Gala Brings DreamWorks Into The Metaverse With Trolls-Themed VOX NFTs
Transporting the widely celebrated Trolls IP into Gala's newest VOX character series.
Gala Brings DreamWorks Into The Metaverse With Trolls-Themed VOX NFTs
Transporting the widely celebrated Trolls IP into Gala's newest VOX character series.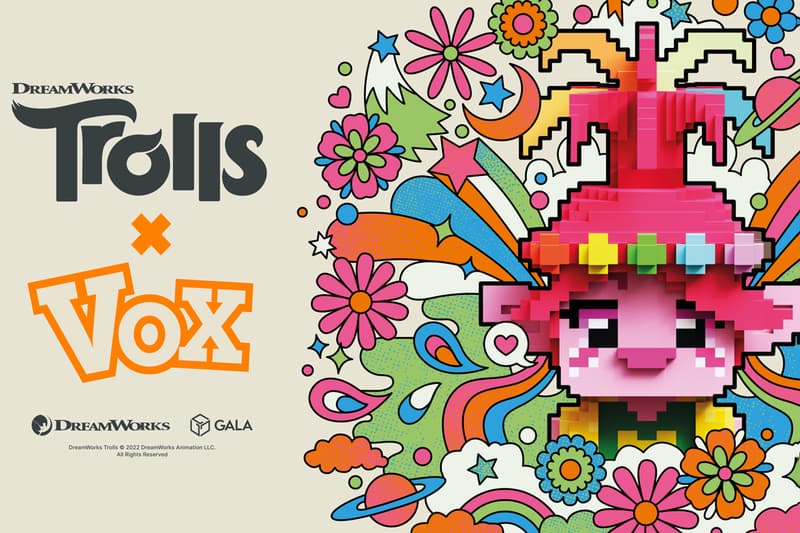 Gala has partnered with Universal Games and Digital Platforms to carry DreamWorks Animation's famous Trolls movie into the metaverse for the very first time.
Web3 entertainment brand, Gala is expanding its partnership with DreamWorks Animation (DWA) to bring Trolls' colorful characters to Web3 life in the upcoming Trolls VOX NFT collection.
On October 14, Gala will release its fourth VOX collection with 8,888 unique DWA's Trolls VOX through Coinbase NFT.
? ? ? Dance to the music! It's party time as your favorite #DreamWorksTrolls, including Poppy and Branch, join the exclusive VOXverse. Collect yours at https://t.co/rDSOTw7erd pic.twitter.com/6asbgf0Ehy

— DreamWorks Trolls (@Trolls) October 3, 2022
VOX collectibles are Gala Games' 3D avatars, which are issued as ERC-721 NFTS on the Ethereum blockchain. More than just an adorable character, each VOX comes with the FBX file – allowing the asset's holder to bring the NFT to animated life for game engines, 3D printing, and more.
Ownership of the Trolls VOX digital assets will provide playability in the forthcoming VOXverse metaverse, a chance to win VOXverse land parcels, Gala Music whitelist tokens, and other future utilities yet to be revealed. Holders also have access to the limited-edition Trolls VOX hoodies as well as earning potential through Gala Film NFTs of the DreamWorks Trolls VOX Official Trailer.
"The DreamWorks Animation's Trolls VOX will further our goal of continuing to expand the DreamWorks Animation Trolls franchise in new and unique ways, providing fans with compelling opportunities to engage with their favorite characters," said Jim Molinets, SVP of Production, Universal Games and Digital Platforms. "As entertainment brands and Web3 continue to converge, we believe the Trolls VOX will become coveted digital collectibles that will provide fans with potential for more rewards over time."
As a beloved entertainment brand today, the Trolls characters have already stretched its IP into global markets for toys, clothing, music, and plenty of other collaborations.
By bringing Trolls to the blockchain, the brand will be acquainted with Gala and VOX's community of Web3 enthusiasts.
With the Trolls IP integrated into Gala's metaverse, today's users can engage with the brand in a relevant way to today's emerging Web3 space.
Gala previously released three VOX NFT series such as the Town Star inaugural series, the Mirandus VOX series, and the TWD VOX drop. The past VOX series have quickly sold out and picked up tractions on secondary marketplaces.
The Trolls VOX drop also will include a special 1 of 3 "Yarn Snake" VOX character — similar to Gala's Mirandus Dragon VOX that sold for $1.48 million USD on the secondary market.
"Having incredible IP such as the DreamWorks Animation's Trolls as part of the VOX family will not only delight our community but encourage a brand new audience to take a closer look at the future of entertainment — made possible by VOX and the metaverse," shared James Olden, Chief Strategy Officer, Gala.
In other NFT news, Moonbirds reveals DAO details in the project's next chapter.