This 'Metahuman' Uses Data Generative Art to Completely Re-Imagine COVID-19
Featuring six artworks that charts data from 7 continents, centered around its global spread, alarming death rate, immunization, and recovery.
This 'Metahuman' Uses Data Generative Art to Completely Re-Imagine COVID-19
Featuring six artworks that charts data from 7 continents, centered around its global spread, alarming death rate, immunization, and recovery.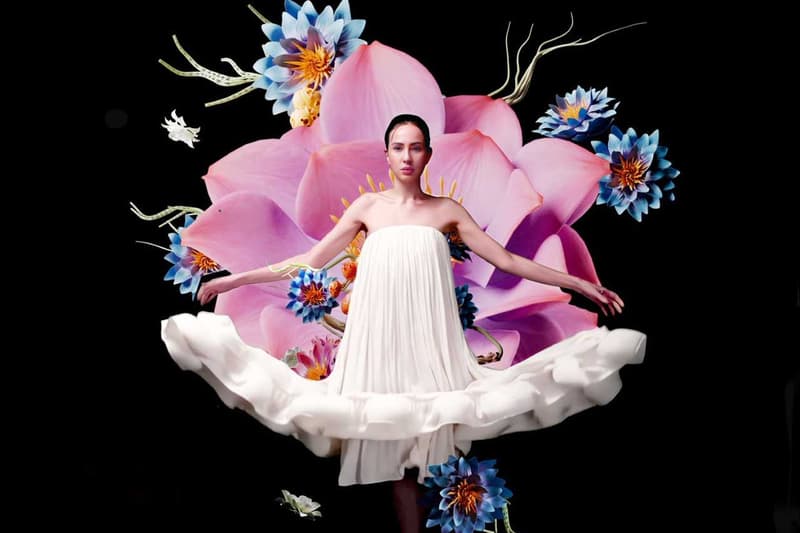 We know computers can create art, because we've seen machines embrace today's creative process – but can data "generate" art as the viewer interacts and moves with it? 
With the growing popularity and utilization of A.I. and AR, "data generative art," as it's commonly referred to, requires machines to learn a particular set of data points so that it can then generate a new image. 
Through an algorithm, these art pieces are able to continuously capture and visualize data it receives based on the changing movements of its viewers. Often, artists using data generative art want to take their viewers on a journey that tells a story while also assigning meaning to that artwork's data sets. 
Earlier this month, Hypemoon sat down with Aaron Lau, the CEO of Hong Kong's Gusto Collective, which is behind the country's first surrealist metahuman artist, MonoC.
Asia's First BrandTech Group
Launched by Lau in January 2020, Gusto Collective has emerged as one of Asia's first BrandTech groups, helping to shape the future of next-gen customer experiences that live within the AR/VR and metaverse realms. 
In its commitment to creating unique IP's that brands can use to help tell compelling and immersive stories, Gusto Collective specializes in the creation and management of "metahumans," or virtual influencers serve as the face of its storylines based in AR, VR, and XR technologies.
"We see the advent of Web3 as the next iteration of the internet, with next-gen audiences craving more personalized, immersive and collaborative content. Brands often need to evolve and reinvent themselves, and we see ourselves not only as a conduit between Web2 and Web3 – but as partners in these new ventures," Lau told Hypemoon.
The BrandTech group recently completed its Seed round, led by Animoca Brands and Gaw Capital, in addition to fundraising at $23 million USD. 
Do 'Metahumans' Deserve Ethical Considerations?
Gusto's most compelling vision to date is the creation of Hong Kong's first surrealist metahuman artist, MonoC, who made her first appearance during this year's Digital Art Fair.
According to its website, Digital Art Fair, which runs from October 20 to November 6, is the world's leading Web3 fine art fair with a focus on innovative art created for every demographic that wishes to appreciate, create, and collect digital and NFT fine art. Its vision is to cultivate and inspire a new generation of art collectors to embrace the use of digital technology to explore the beauty of art and culture.
Fans of CW's beloved superhero shows like Arrow, Flash, and Legends of Tomorrow are no strangers to the term "metahumans," as they serve as both the protagonists and antagonists to the series' attempts at explaining the multiverse and infinite worlds.  
However, that's not what we understand it to be in our world as it concerns fine art. 
A "metahuman," according to Lau, is a high-fidelity digital human being that should be able to interact with humans in a way that is familiar to us. What sets metahumans apart, however, is the fact that they are not actually a 'natural' person – but one that is created through software programming.
With A.I. comes questions surrounding identity and ethics, especially when it speaks to a virtual influencer assuming certain human traits like ethnicity, body-shapes, personalities, stereotypes, and disabilities. 
"One of the reasons why we create certain types of metahumans is to bring an idea to life and to tell that story," Lau explained. "MonoC's identity, therefore, is deeply reflective of my passion for art, fondness for travel, and the insatiable curiosity for life."
Emotions Limited to Data Sets
As Hong Kong's pioneer in algorithmic art, MonoC (short for Monochromatic) is the manifestation of Lau's deepest passions – a 3D model that possesses the facial structures of a mixed Eurasian person representing both the east and west merging through Hong Kong.
"She is a direct reflection of the subjects I hold dear," Lau told Hypemoon. "Her character is an artist and gallery owner who traverses between Hong Kong and Shanghai, while also traveling into the metaverse freely."
Born on October 3, 2021, MonoC is a well-traveled art gallery co-owner in her early 30's with a love for the floral. Her first exposure to our world began in partnership with Elle Magazine, where she was captured across a five page spread that explores the importance of identity and A.I. in today's modern world. 
Her second venture in collaboration with Phillips auction house was a resounding success, with her live generative art piece, "Drowning in Love," becoming the second highest NFT sold in the entire auction at $189,000 USD. The piece was based on 100,000 data points (bid prices, bid amount, website traffic, etc.) to power the movement of her flowers within the art (size of the petals, sound of the music, visualized waves). 
Lau says that after extensive research on the facial ratios to ensure accuracy in creating MonoC, Gusto crafted over 10,000 3D renderings of her different expressions to feed it into an engine that would learn to power MonoC's expression. 
"It's a long process of continued iterations to ensure her expressions are fluid and realistic," he added. 
Given MonoC is entirely A.I., her curiosity about how humans feel about the world around them is strictly limited to the emotions she is able to interpret through data – as she is unable to understand the transience of life through its entire cycle. Through her data-led art, she invites viewers to engage with her artwork by asking these perspective-shifting questions. 
"MonoC is born out of data, but lives for art," Lau explained. "As a metahuman artist, she is able to leverage data to engage the audience through the "Corona Florella" series on a collective discourse about the events and unprocessed emotions of the Covid-19 pandemic. Metahuman art has immense potential; data is leveraged for facts, yet interpretation is only possible for the conscious mind. Art has always been a powerful communicator, connecting artist and audience, and today's digital art makes this connection more immediate, more immersive and more enthralling." 
Tragedy Completely Re-Imagined Through Data-Driven Beauty
The focus during this year's Digital Art Fair, is MonoC's newly unveiled "Corona Florella," an innovative series of six generative artworks that record and reimagine the global battle against COVID-19 and celebrate the triumph of data-led science and human resilience. 
With data gleaned from seven continents, four of the works are centered upon MonoC's signature floral motif that charts the evolution of COVID-19 from its global spread to its alarming death rate, immunization, and recovery. A fifth work illustrates all four stages of the pandemic, while the sixth presents a change of medium and video piece using dance movements that speaks to the physical and psychological toll the pandemic wrought. 
"I wanted MonoC to focus on a thought-provoking topic that affects all of humanity. The floral motif drew inspiration again from MonoC's own preference for flora, and we found inspiration together on how the COVID-19 virus itself resembled an alien flower spore. The 'Corona Florella' utilizes the beautiful motif of the flowers to juxtapose a fear-inducing viral outbreak."
The data collected for the project, according to Lau, was done through publicly available data from the World Health Organization (WHO) from the past four years. MonoC chose to showcase four main data sets within COVID-19 – the cases of infection, death rates, immunization/vaccination rates, and recovery rates.
Each individual artwork within Corona Florella is accompanied by a score by renowned Hong Kong producer, Terrence Ma, with each of the six pieces showcasing a different side of the pandemic. 
Lau says that each piece was meticulously crafted by combining the vast amounts of data with digital 3D modeling, where MonoC utilized her own algorithm to generate animated visualizations reflecting the collected WHO data. 
"The entire series is inspired by Ikeban and zen gardens," Lau revealed, which he says helps in "finding balance within nature, while also finding beauty and serenity in the face of adversity." 
The Terrible Flourish
The first artwork, "The Terrible Flourish," depicts six bulbs that represent a continent (excluding Antarctica).
"Each budding spore represents a country with the small yellow particles within, showcasing the cases of infection. The data powers the movement within the art," he described.
The Malevolent Blossom
The second piece, "The Malevolent Blossom," uses the death rates of each country and is depicted by 6 blossoms representing each continent. 
"The count and size of the falling petals symbolizes the amount of deaths incurred over the four year period. MonoC enjoyed the process of selecting unique alien-esque blossoms to showcase the fear and sense of 'foreignness' that the virus imparted," Lau explained.
Breath of Hope
Lau says with the third piece, "Breath of Hope," he enjoyed how MonoC modeled the flowers as a hybrid jellyfish plant, with animated transparent lights going through its veins to mimic an injection.
"Something is also to be said about the Metamorphosis bouquet, where the petals bear distinct mutated marks, and is representative of the recovery data, which suggests the wider story of adaptation and change in life after COVID."
Hortus Corona
The fifth piece, "Hortus Corona," is a 1/1 NFT art piece that is expected to be sold at an upcoming Sotheby's auction. Inspired by a Zen Garden, the piece features a Bonsai tree as its key focal point, illustrating all four stages of the pandemic in a "one magnificent, moving artistic statement."
The final piece in the series, according to Lau, is a "self-reflective piece" for MonoC, that uses dance movements to convey an emotive conversation about the physical and psychological toll the pandemic brought. 
Challenging Emotive Generative Art
As revealing as data generative art can be, there have been ongoing debates within the art world about whether this type of art, accompanied by an algorithm, can actually be considered "art?"
"Critics have voiced whether unemotional and unthinking systems can truly represent an artistic vision. For MonoC's case, it is precisely in the way she attempts to understand humanity through data, that her artwork is imbued with greater meaning," Lau presented.
The Gusto Collective CEO told Hypemoon that "while art may be an expression, expression itself doesn't have such a monopoly on art making." He shared his belief of generative art having such "immense potential" as it "brings the discussion amongst its subject to the human viewers." 
One of the biggest challenges MonoC had to face, according to Lau, was how to input the vast amount of data into short 10 second loops. "She had to determine the exact animation to mirror the data to ensure that the art was also aesthetically pleasing," he said.
With COVID-19 front and center of MonoC's latest series, how can the public perceive something that is so deeply rooted in tragedy and death as anything but horrific?
"During the first two days of the VIP showing days at Hong Kong's Digital Art Fair, we were frequently asked by fair goers why MonoC depicted viral infection and death in such a positive light? To which we responded that those feelings of positivity or negativity is a human interpretation. MonoC does not fully grasp the full spectrum of human emotions and thus, she does not have the same reservations or hang-ups."
And it is this very depiction of death in such a somber manner and color spectrum that makes Corona Florella such an interesting project – since that interpretation is open to viewers. 
"MonoC uses this data in a refreshing way to invite viewers to shift their own perspective and take a brief moment to reflect on what COVID-19 meant to them personally," he told Hypemoon.
"Data gives us facts, but insight comes from a conscious mind. MonoC's AI algorithm seeks the continuous expansion of understanding around what it is to be a human."
In other NFT news, Is the metaverse a safe workplace option?