OpenSea Leverages the Bear Market With Plans For Chain Expansion
Further developing its NFT marketplace functionality and offerings.
OpenSea Leverages the Bear Market With Plans For Chain Expansion
Further developing its NFT marketplace functionality and offerings.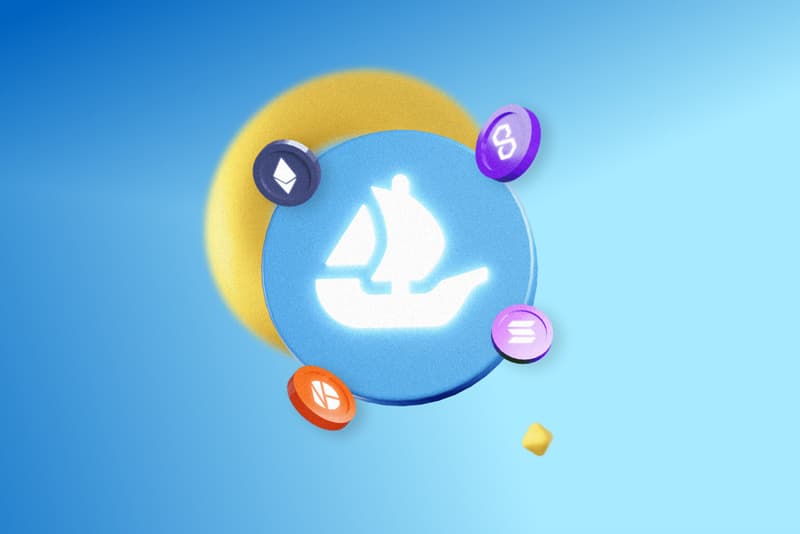 In the middle of chilly market conditions, OpenSea has continued making strides to evolve its Web3 community, develop new features, and partner with major players entering the space.
As one of today's largest decentralized NFT marketplaces, OpenSea has been challenged to remain up-to-date with its functionalities, capabilities, and partnerships.
In lieu of the current market decline, OpenSea has expressed its confidence, stating that it has used this time to patiently build and magnify its offerings — experiencing an 80% increase in its monthly on-chain users in August.
Gm? isn't just a good morning.
It's a way to show that we're here and we're all building web3 together, ? by ?.

— OpenSea (@opensea) October 6, 2022
After reporting $144.5 million USD in user fees during Q3, OpenSea has introduced chain expansion as a core area and tenet of focus for the company as it begins to enter Q4 of 2022.
As a multi-chain platform connecting creators across every network, OpenSea has shared its additional support for the  Ethereum, Polygon, Klaytn, and Solana's blockchains, with further updates scheduled for 2023.
Seaport Launch on Ethereum
In June, OpenSea first debuted Seaport, its open-source Web3 marketplace protocol for buying and selling NFTs on the Ethereum blockchain.
Seaport reduces NFT price thresholds to a minimum of $1 USD, enables creator payout to multiple addresses, the ability to conduct English and Dutch auctions, NFT bundles for purchases, as well as bulk asset transfers through one transaction.
Adding Klaytn to the Mix
This week, the NFT marketplace announced that Seaport will now support Klaytn and Polygon for its future NFT listings.
Starting today, we will use Seaport for all new listings and offers on @klaytn_official!

We're excited to continue using Seaport to bring the full OpenSea experience to multiple blockchains. pic.twitter.com/kkpoGkKkeO

— OpenSea (@opensea) October 4, 2022
In utilizing Klaytn's network, Seaport will reportedly offer buyers and sellers to list and transact with Klaytn's native token, KLAY, along with applying the other related benefits of Seaport to Klaytn blockchain's NFTs.
Enhancing the Minting Process
As part of its ongoing plans for expansion, OpenSea has also added further language support to simplified and traditional Chinese, Korean, Japanese, French, Spanish, and German dialects, as well as improving the mechanisms underlying the NFT mint process — allowing the community to mint directly on OpenSea with added allowlist support.
With its newly revamped homepage, creators can now launch collections through their own dedicated pages with better discoverability on the site's front page.
New NFT drops will also be able to leverage Seaport's SeaDrop, a new open-source contract that eliminates the need for creators to form their own custom smart contracts – a process known to be extremely complex, long, and costly.
The first drop which utilized the new mint experience was the omgKirby and Channel Tres NFT collection, which presented a new way to monetize music through digital assets for the music industry.
OpenSea recently announced its newest partnership with Warner Music Group. Together, the global music and entertainment company will lead musicians and artists to have greater engagement with their followers and fans through evolving Web3 means.
"For artists and musicians, NFTs represent a new creative medium and a mechanism to build community, engage directly with fans, and express themselves across borders and languages," said Shiva Rajaraman, OpenSea's Vice President of Product.
The first NFT collection dropped through the blossoming collaboration is Probably Nothing's newest NFT project, "Probably A Label" – the Web3-born record label reshaping music ownership through digital IPs.
3/ "Our first music NFT release will be from Grammy Award winning artists, and claimable for holders. We see the entry of global artists in the Web3 space as beneficial both for intellectual property and facilitating mass adoption of NFTs.

— OpenSea (@opensea) October 5, 2022
On October 6, Probably A Label's mint went live on OpenSea with the collection selling out within seven minutes. Last month, OpenSea also played host to David Bowie Estate's collaborative NFT series, Bowie On The Blockchain, which has already accrued more than $580,000 USD (426 ETH) in sales volume.
In other NFT news, Rick and Morty co-creator launches experimental NFT art factory.