Pudgy Penguins Aim to Make a Comeback Under New Leadership
Through the expansion of its IP via storytelling, physical merchandise, and more.
Pudgy Penguins Aim to Make a Comeback Under New Leadership
Through the expansion of its IP via storytelling, physical merchandise, and more.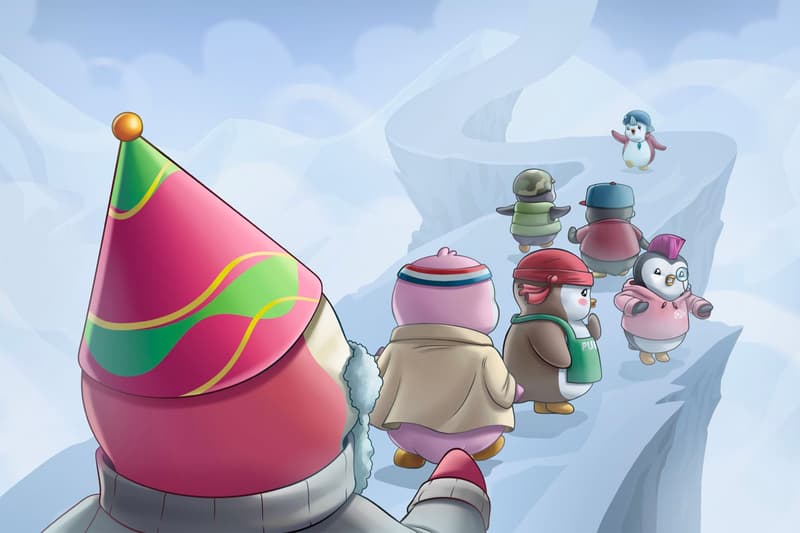 In July 2021, the Pudgy Penguins NFT PFP collection was launched, quickly taking the market by storm and things were good, for a while. That was until the collection hit a rough patch in January of 2022 and experienced an increased amount of fear, uncertainty, and doubt (FUD) for its future.
Since then a lot has changed, to catch our readers up and briefly recap some of the trials the brand has faced on its road to redemption, Hypemoon held an exclusive interview with Pudgy Penguins' new CEO Luca Netz.
A Harsh Winter
Between December and January of 2022 things started to hit the fan for Pudgy Penguins, with many in the NFT space accusing one of its co-founders of making false promises, underpayment of staff, disappointing airdrops, and more.
Causing even greater damage to the brand than a floor price dip, was that the reputation and trust between the community and its leadership had completely deteriorated, leaving many to speculate if the project still had a future in the space.
One of the collection's well-known whale holders, 9x9x9, came forward to share their thoughts and frustrations on the matter. However, they did state that removing the co-founder might not be a viable option as it would be like "eating a pain killer when you have cancer."
Ultimately though, the co-founder was removed by community vote, and in a turn of events, Luca Netz of Netz Capital stepped in to acquire the intellectual property (IP) and flip the script.
Save The Penguins

After making a public offer to the previous co-founder of Pudgy Penguins, Netz successfully acquired the IP for 750 ETH, or roughly $2.5 million USD at the time of the transaction.
Looking forward to spreading love across the Meta ❤️?? https://t.co/ZBEF3W6XV2

— Luca Netz ? (@LucaNetz) April 3, 2022

Netz shared with Hypemoon that part of his reason for doing so was because the cute PFPs were his first NFTs and also because he could see a bright future for the brand.
"The IP of the Pudgy Penguins is invaluable and has a unique mass appeal to it that other projects simply don't have. From the way the traits are drawn, to how they all complement each other, who doesn't love a cute-looking Penguin?" said Netz.
He went on to add that "not only did the actual IP draw my team and me to acquiring Pudgy Penguins, but the way that the community embraced and embodied the IP was something I've never seen before. With that being said, in addition to a background in brand building and being able to accelerate and mass market unique IP, I knew what we had to do to take Pudgy Penguins to the next level."
In addition to his talented team, the brand recently announced a nine-member advisory board made up of experts and executives from across the tech industry — including names like Nansen CEO Alex Svanevik, COO of Saks Fifth Avenue RJ Cilley, Hasbro's head of licensing Jess Richardson, and more.
While the activation of the advisory board will certainly help the brand reach that next level, Netz shared that this is only a small fraction of where the Pudgy Penguins are headed.
"We are just getting started," he said, adding that "in the past couple of months, we have explored various initiatives such as licensing IP in Web3 and connecting the Web3 holder to the Web2 brand, we have also begun developing what identity in Web3 really means and we have hosted many events in places such as Miami, New York, and Singapore."
Despite the obstacles that might yet come, Netz says he's not worried, explaining that "in every industry there are obstacles, but the Web3 space is a different game. Though there will be ups and downs, I am not worried. One of the greatest strengths of our team is our ability to adapt, pivot, and do this at the highest level. We will build, innovate, adapt, and take Pudgy Penguins to where it needs to be."
Identifying Innovation

To get the Pudgys where they "need to be," the team, in alignment with the community, has been hard at work on several innovative offerings. Its most recent range from Soul-Bound Tokens to Plush physical collectibles, as it looks to expand the reach of its IP.
The brand's first Soul-Bound token was launched on July 22, the Pudgy Penguin's first anniversary. "Holders were sorted into three different categories based on what they hold and received their respective truePengu soulbound token," explained Netz, adding "not only did we begin development in quantifying identity in Web3, but we also became one of the first NFT projects to truly implement a Soulbound token."
When we read @VitalikButerin white paper on soulbound NFTs we instantly knew that the future of NFTs were headed in this direction. Years from now when people look back on who helped push this initiative forward, they will see @pudgypenguins at the top of the list. https://t.co/595ohtWgPr

— Luca Netz ? (@LucaNetz) August 12, 2022
Additionally, the brand has been developing physical merchandise opportunities for the community to engage with, most recently the announcement of Pudgy Toys, which the brand has said is just a "sneak peek of the diverse line of toys included in our collection." One of the main benefits here, various community members were and will be able to license their IP and have it made into physical collectibles.
"Pudgy Toys is a huge initiative for us, as it is the beginning of us building in the IP vertical," shared Netz.
He explained that "since we acquired the brand, we really wanted to utilize the Pudgy Penguins IP for real-world products but needed to do it in a way that empowers the community. This is why we licensed our penguins directly from the community. This not only allowed specific holders to benefit from owning their specific penguin but also gives them the opportunity to see it come to life in toy form!"
Presenting the first ever Pudgy Penguins collectibles!

As a part of our extensive toy line with PMI Toys, these exclusive collectibles feature Lil Pudgys licensed directly from our community… pic.twitter.com/O5VZJieJmO

— Pudgy Penguins (@pudgypenguins) September 19, 2022
Progress Through Partnership

The new Pudgy Penguin team quickly identified that building the IP through strategic partnerships versus trying to build alone was the route to go. Since the acquisition, the brand has been on a roll, partnering with protocols like Origin to launch its dedicated marketplace, storytelling initiatives with Non-Fungible Films (NFF), and the integration of social metaverse experiences with Worldwide Webb.
Netz says that the marketplace, launched in June, was created to "simplify access to the three Pudgy Penguins collections by providing a one-stop-shop where users can interact with all of our collections," explaining that "when diving deeper into what makes Web3 more adoptable, easier access and safety is key."
To expand its IP and extend licensing opportunities to its community, the brand partnered with NFF — the two have an exclusive agreement for film and tv development and plan to start the relationship off by developing short-form media offerings focused towards younger viewers.
We have a story to share with you…

Presenting CHAPTER ONE: THE GREAT BLIZZARD, a Pudgy Penguins short story by @NonFungibleFilm! pic.twitter.com/rSkg1c8usc

— Pudgy Penguins (@pudgypenguins) September 29, 2022
"While this is only the first iteration to the tale of The Pudgy Penguins, our story will allow us to expand our content and illustrate our vision to the world, shared Netz, adding "licensing Penguins from The Huddle will be an important piece to our storytelling initiative. We want our community to play an integral role in how we tell stories."
NFF's CEO Cameron Moulene also shared his thoughts on the importance of storytelling, stating that "virtually no Web3 brands will reach mainstream adoption without IP development and powerful story."
He went on to share that "our goal with Pudgy's is to be as family-friendly as possible and cast the net wide towards younger audiences. I have a 2-year-old and I want him to fall in love with this brand the way he did a brand like Cocomelon – which was also distributed independently for a long time. These characters lend themselves to being universally loved and recognizable, and we're incredibly excited that the Pudgy Penguin team is as passionate as we are about developing mainstream quality content to both build their brand, but also to onboard new users into Web3."
A Bright Future Ahead
Reflecting on the trials the brand has been through, Netz shared that "the hardest part about overcoming the negative sentiment was gaining the trust and support of a community that was demanding change. One of the first things we did – which we continue to do – is hold weekly huddle meetings where the management team would hold open discussions with our community on discord."

When explaining the reasons for this, Netz shared that "in Web3, ideas are not made in a vacuum – projects must learn from community members and build with them."
Through innovation, a strong team, and strategic partnerships, Netz hopes to continue to work with the Pudgy Penguin community to deliver an IP that they are proud to own.
Elsewhere in Web3, Steve Aoki joins Deadfellaz in unveiling an exclusive fashion capsule.