Skateboarding Hall of Fame Rolls Out Its 25 Year History Through NFT Drop
With proceeds going towards enhancing its indoor skatepark and museum.
Skateboarding Hall of Fame Rolls Out Its 25 Year History Through NFT Drop
With proceeds going towards enhancing its indoor skatepark and museum.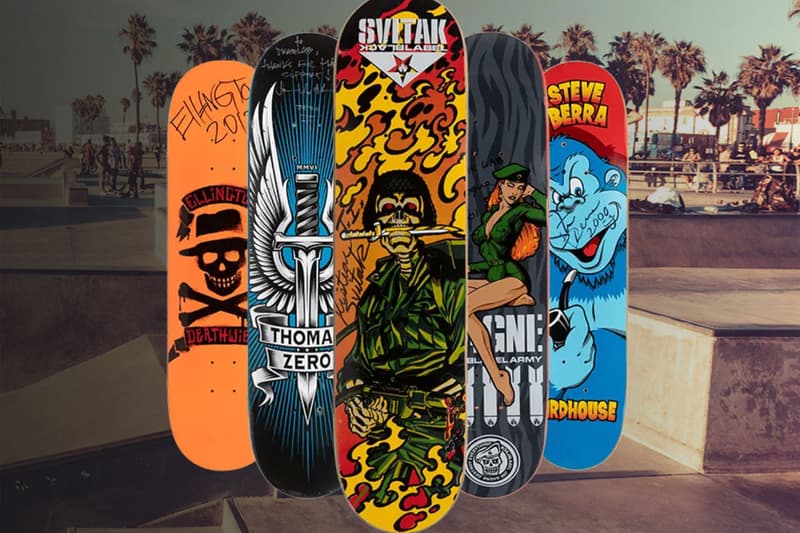 The world's first and largest skateboarding museum, the Skateboarding Hall of Fame (SHoF) is entering the world of Web3 through a dynamic and historically significant NFT drop — an offering that has been 25 years in the making.
SHoF's genesis release consists of a limited run of tokens that grant the holder a potential opportunity to own a physical board from the collection. Each of the NFTs are digital renders of physical decks that have been signed and skated by iconic names like Tony Hawk, Mike Valley, Tim Brach, Jason "Weeman" Acuna, and many more.
#38 – @birdhouse Deck signed by SHOF inductee @tonyhawk in 1999. Tony has become the most iconic skater of all time. He does it all! from the well loved Tony Hawk Underground game to his brand @birdhouse

Interact with this tweet to be considered for AL#skatehallnft #nft #gosk8 pic.twitter.com/IqjI356XT8

— SkateHallNFT (@SkateHallNFT) October 3, 2022
How it Started
Established and opened to the public in 1997, SHoF was introduced and still operates as a 501 c3 Non-Profit Organization. The main intention behind its creation was to honor the rich history of skateboarding culture, as well as document the passion and dedication that has gone into the space.
Spanning over 10,000 square feet, the Museum is the largest dedicated to skateboarding in the world, and subsequently the largest skate shop in the world.
The Museum features an indoor skatepark which it is continuing to expand and is free to the public — something its founder Todd Huber holds in high regard as the Museum looks to share and inspire the next generation of skaters.
We are the largest Skate Shop in the World. Also the oldest Skateboarding Museum Est 1997. Come visit! #skateboardinghalloffame #skatehallnft #skateshop #museum pic.twitter.com/goJlTBT2A0

— Sk8 Hall of Fame (@Sk8HallofFame) August 26, 2022
Dropping Into Web3
Celebrating 25 years of history, SHoF's genesis token drop, the "Curator's Collection," is made up of 1,010 NFTs based on 100 of the rarest and most iconic boards from the late 1990s to the early 2000s.
For SHoF a drop into Web3 makes sense, considering skateboarding culture by nature is decentralized — fueled by freedom of expression, individuality, and creativity, along with a taste for a bit of anarchy.
#97 – Real has always been home to some of the best skaters and @DavisTorgerson is right up there at the top of the list. This @realskateboards deck was used and signed by Davis! ?

Own a piece of #skateboarding history in the making! #skatehallnft #nfts #skateboarding #legend pic.twitter.com/uoYBBgRJJT

— SkateHallNFT (@SkateHallNFT) October 12, 2022
The collection features boards from pro skaters like Tony Hawk, Steve Caballero, and Tony Alva, celebrities like Dr. Dre, and a large number of skate industry personalities and pioneers that SHoF says represent a unique time in the history of skate culture.
Perks of holding an NFT from the collection include the ability to access exclusive token gated experiences, allow list for future drops, entry into giveaways, VIP treatment at the Museum, and more. For those who mint 10 tokens of a single board, SHoF said it will be giving the holder the original physical representation — as well as fly the owner out to California to take it off of the wall themselves.
The Greater Good
Considering the SHoF is a non-profit, a majority of all NFT sales will be put directly back into the Museum, to support its mission of preserving and sharing skate culture. Other plans include upgrades to the indoor skatepark, acquisition of rare memorabilia, and support for continued free admission to the public.
One major aspect the skate culture shares with that of Web3 is a focus on community — developing experiences to inspire and empower the next generation.
In other NFT news, Steve Aoki joins Deadfellaz in unveiling an exclusive fashion capsule.