Two Cool Cats and a Unified Vision
How Vinnie Hager and manager Toby Lasso turned their passions for art and Web3 into a lifestyle.
Two Cool Cats and a Unified Vision
How Vinnie Hager and manager Toby Lasso turned their passions for art and Web3 into a lifestyle.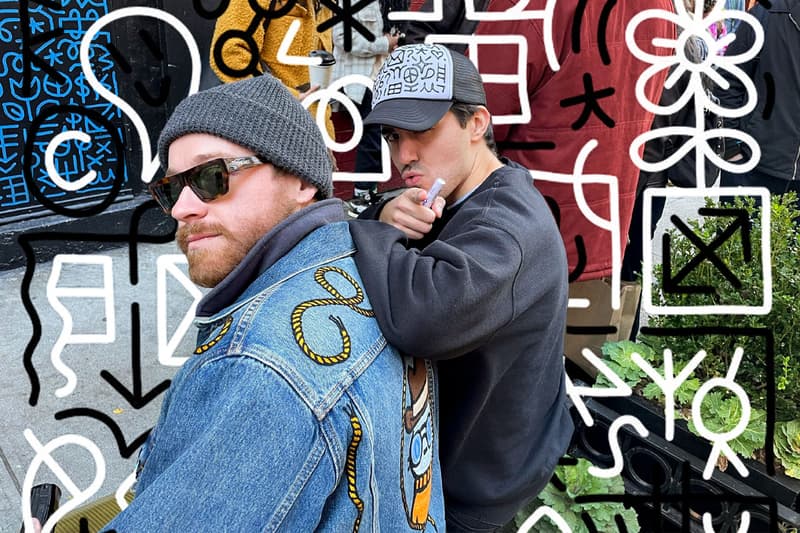 In an exclusive interview with Hypemoon, Vinnie Hager, the artist behind the popular NFT collection Letters, and his manager, Toby Lasso discuss how they met, the art and experiences they've created together, and some of the big plans they have for the space on the road ahead.

Playing with Chalk
"Not sure where to start," said Vinnie thinking back on what got him into art in the first place.

"I was a very artistic little kid and was always into drawing, chalk on the sidewalk, finger painting, and things like that," he shared, adding "that led me to start drawing all the time, being in middle school and high school and not being able to pay attention in class I'd scribble all over my papers, filling up the blank space on my handouts, worksheets, and things like that."
"That led me to the kind of style of drawing that I'm known for now I suppose," going on to express that once he identified his style he began exploring various mediums and places to express his work, including canvases, clothing, murals, and more.
Hager shared that in March of 2020, he decided he would start sharing his work on Twitter which he said led him to get an apple pencil and try out digital art for the first time.

Cool Cats Catalyst
Fast forward to 2021, both Hager and Lasso find themselves in the Cool Cats NFT discord, the place they would end up connecting and working together.
Lasso shares that "I love telling this story because it is a really important part of how we met and why we potentially became friends so quickly."
He explained that "in the very early days of the Cool Cats Discord, around July, the project brought in a lot of people with the same kind of mindset, perhaps inherent kindness and a sort of level of wonder — I think that's the best way to describe it."
"I feel very lucky to have stumbled into that Discord because I met a ton of great and amazing people like Andrew Wang, Clon himself, and Vinnie — in fact our entire Letters team when we launched the project were all from Cool Cats," he said.
Lasso went on to share how before they started working together he was immediately drawn to Hager's style of drawing and proposed that if he ever needed help growing in the Web3 space it would be something he'd be interested in.
"I said 'let's get on a call?' and he was like 'yeah, sure'" Lasso shared, adding "we got on a FaceTime call and I was like 'this is gonna be important, I feel really good about this' and from there the rest is sort of history."
After a few weeks of strategizing, Lasso said that Hager flew out to LA where he was based at the time and the two stayed together, planning and creating what is now known as The Letters collection.
Love Letters to Web3
In November of 2021, Hager's debut NFT collection went live, a genesis of 1,000 tokens titled Letters.
The collection went on to become a massive success as a result of Hager's talent as an artist, his instantly recognizable style, and both he and Lasso's authentic connection with the broader Web3 space.
From a financial standpoint, Letters has done millions of USD in secondary sales, with a current total volume of just over 3,000 Ether and a floor price of 1.28 ETH (roughly $1,300 USD at the time of writing).
One statistic that is more significant and more telling of the artist's talent is the number of unique holders, at a distribution of 81 percent, meaning 812 collectors hold the 1,000 total NFTs.
The cherry on top, only five percent of Hagers genesis works are currently listed on the secondary marketplace. This can be attributed to collectors truly resonating with the work and also the fact that the token acts as an access pass to many of the other things the artist has done and is doing in the space.
Letters ✉️
1000 1 of 1 Hand Illustrated Pieces https://t.co/y34LsheWzX pic.twitter.com/7F8mePKTrR

— Vinnie Hager (@VinnieHager) October 31, 2021
Collaboration is Key
"We've always been extremely attentive about how we approach collaborations," shared Lasso, explaining "we don't want to dilute Vinnie's style or his original letters collection but we also want to make sure that we are having fun with our friends and that what we get out of collaborations we can give back in the same way."
Since starting in the space, Hager and Lasso have brought to life well over 20 collaborations, whether they were full-on original works or hints of Hager's work shown in various traits of other NFT collections.
Speaking on a few, Lasso shares that partnering with art-based event platform Cameo Pass, and building a relationship with its founder Oliver Maroney was the first and among the most significant collaborations they have been able to be a part of.
Other collaborations include Ghxsts, TIME Pieces with Cool Cats founder Clon, and creating traits for projects like Wonderpals and MV3.
"I think it's great when kind of an artist and a bigger project or founders or vice versa, kind of come together and throw around ideas and see what they want to create," shared Hager, adding that he personally loves the fact that iconography can, in turn, be immortalized in these various collections.
gn

by @VinnieHager ? pic.twitter.com/iZGAumxPoE

— Cameo Pass (@CAMEOPASS) October 16, 2022
Ghxsts Collab ?? pic.twitter.com/GzwAFtW9ri

— Vinnie Hager (@VinnieHager) September 16, 2022

Platforms and Royalties
Bringing up a topic everyone is talking about, and certainly, everyone is opinionated on, Hypemoon asked Hager what his thoughts were on royalties, the role they played for him as he first joined the space, and what new artists should do that might soon not have the option.
"After the release of my Letters collection, royalties obviously helped me be able to produce more clothing, travel to different events, and do more things in my creative sphere that I probably wouldn't have been able to do without them," shared Hager.
He went on to add that "I've been listening to the zero percent royalties debate on Twitter spaces and people going back and forth but I think no matter what artists should get royalties."
Providing an example for his position, Hager said "it's a shame when you think of an artist from the 80s work going up for auction, it sells for $30,000,000 USD, and the family or whoever doesn't get anything from it — except for a write up — if that."
Adding his thoughts on the matter, Lasso shared that to understand how the space got to zero percent royalties in the first place, spectators should look at consumer psychology, explaining that "we are in a bear market where volume is down and people are not excited about buying NFTs — they're worried about gas prices, feeding their families, and are worried about the future."
Though he believes it is unlikely zero percent royalties will last because of the majority backlash and that it is likely just growing pains as the technology prepares to evolve into its next stage.
In a word to artists just joining the space, Lasso shares that platforms like Super Rare are the way to go. This is because they take on resident artists and distribute their work exclusively, meaning artists can maintain royalties and not have to worry about someone going to an aggregator to get around them.

Creating a Personal Brand
Speaking on a major aspect that has led to his success, Hager shares the importance of building a personal brand, exploring various mediums, and taking your time as an artist.
Though anyone could go buy a Letters NFT from an aggregator right now and pay zero royalties, it wouldn't be too damaging to Hager, this is because he's been able to build brand identity.
"My my long-term goal is for in five to ten years from now for everyone to walk past something with Vinnie's stuff on it and someone's grandma to be like, 'oh that's Vinnie Hager,'" shared Lasso — which is exactly what the two are doing.
In the past, Hager produced a mural for an upscale apartment complex, which has now led to him working with the same building to design various physical facades around the building, from entryways to elevator arches.
in the bear, we build ? pic.twitter.com/PCiAk32UNc

— Vinnie Hager (@VinnieHager) October 8, 2022

Hager has also been able to go on to create a full workshop that produces t-shirts, hats, ski masks, and various other physical items featuring his iconic motifs — something he recommends to artists looking for alternative income streams and because it's a lot of fun.
In another word of advice to Web3 newcomers, Hager shared "the most important thing is to not rush at anything and if you're interested in the space take the time and do the research — find out who the people are in the space, who the founders of certain projects are, and find the one-on-one artists that you like and that you resonate with."
He added that going to weekly or daily Twitter spaces can be huge for growth and that asking questions to people you're inspired by can go a long way.

What's Next? 
With Hager's Letters collection just approaching its first anniversary, the artist and Lasso have a lot planned for their community.
To start with, Letters holders will receive an airdrop of some new artwork from Hager, one of twelve new designs that explore his iconography and drawing style differently — each Letter held counts for one new work to be airdropped, with the snapshot being taken last week, October, 15.
Additionally, Hager has a mixed-media exhibition approaching in November and an exciting new collaboration with snowboarding brand Gilson.
Are you in LA in November?

See you at @Kollectiff in Venice where we'll celebrate the inimitable Vinnie Hager! ?? pic.twitter.com/TfFyNkZ6X3

— Toby Lasso (@tobylasso) October 17, 2022

As for Lasso, he's got some exciting things coming from his talent management firm, nocturnal, which manages Hager, as well as artists Jack Bridgland, and Devon DeJardin — with the help of his co-founder Matt Morgan.
One of the firm's latest accomplishments was assisting in Hager being signed to United Talent Agency, where he'll join the company of other prominent Web3 names like Emonee LaRussa and Andrew Wang.
It's official, @VinnieHager is singed to UTA!

Management ✅
Agency ✅
World domination ?https://t.co/EvhAQG2G8s

— nocturnal (@nocturnal_xyz) August 25, 2022
Additionally, nocturnal will be hosting various satellite events around NFT London and hosting panels on the third, fourth, and fifth of November with a party at Sketch on the last day to wrap it all up.
As the end of the conversation approached, Hypemoon asked Hager if there was any alpha he'd like to pass on to our readers. To which he replied, the alpha is simple "buy art you love."
Elsewhere in Web3, Decentraland gets ready to turn up the volume with its 2022 metaverse music festival.