Virtue to Launch BaseMint Gang NFT with Team of Entertainment Veterans
Who have helped produce over 25 award-winning films from major studios like Disney, Pixar, Paramount, and more.
Virtue to Launch BaseMint Gang NFT with Team of Entertainment Veterans
Who have helped produce over 25 award-winning films from major studios like Disney, Pixar, Paramount, and more.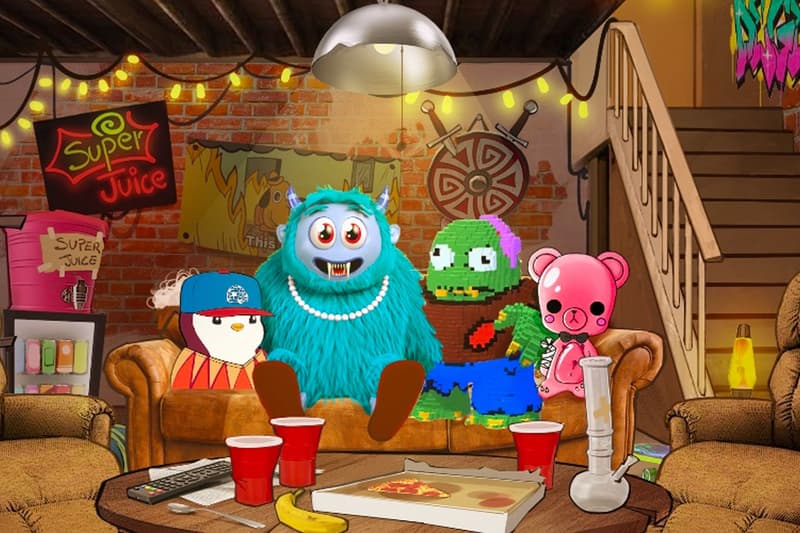 Web3 Animation Studio Virtue has put together a superstar team of industry veterans and advisors to launch its dynamic NFT offering, BaseMint Gang.
The goal, create innovative, high-quality intellectual property (IP) for the metaverse, by utilizing creative storytelling to build a community around new worlds, engaging stories, and timeless characters.
BaseMint prides itself on being "more than just an NFT," parts of its ecosystem include animated shorts, a custom music soundtrack with 15 music artists including Shwayze, Wax Motif, Pussy Riot and more."
Lab experiment gone wrong, an OVERDOSE OF HERONIUM and a community of wild, crazy, degen Buds were born…

Not just any buds though…
The BaseMint Buds! ?‍♂️ pic.twitter.com/whIlyvZX5g

— BaseMint Gang (@BaseMintGang) October 14, 2022
Dream Team?
When it comes to a new NFT project, one of the first aspects people look at is the team, usually to see their track record and if they're doxxed or not. Almost every project brags on its team and oftentimes it might not be deserved — in this case it is.
BaseMint spent over 18 months assembling a team of over 20 talented individuals and advisors, many of whom have decades of experience in their respective fields.
Included in the team are names like Josh "WAGS" Wagner, the "Director of BaseMint Vibes" who has been involved in key strategic roles his entire career, in areas like consumer brands, tech, music, and entertainment. He's also an early crypto adopter and a major NFT enthusiast.
Others include writer and producer Bob Bacon, whose multi-decade career in animation has contributed to over 20 award-winning films and over $6 billion USD in global box office revenue.
The list goes on, with members that have helped to produce over 25-award-winning films from major studios like Disney, Pixar, Paramount, Warner Brothers, and more. Members of the team have also worked alongside talent from film, tv, music, and sports like Elton John, Kobe Bryant, Lebron James, and more.
Even with a team like this, some in the space may be saying "cool, but do they get NFTs and Web3?" the short answer is yes. BaseMint has put together an excellent team of advisors and is constantly consulting and working with the community to develop its ecosystem.
Some of the advisors on board include names like Matt Medved of NFT NOW,  Top collector Illestrater, Developer MouseDev, and community lead Colinmcdz among many others who are considered to be "Web3 natives."
An Intricate Ecosystem
Together with the community, the team has identified that just art or a simple token is not enough on its own to keep a community together — at least from a financial standpoint.
While BaseMint is meant to be a diverse community that participants can enjoy and have fun in, it also works to provide financial opportunities for those involved.
When it comes to the enjoyment factor, the brand is focused on creative storytelling through animated shorts, original music minted as NFTs, and much more. Some of the plans even include creating a short with Netflix or Hulu — as well as the creation of products inspired by those featured animations.
The genesis collection of 5,000 BaseMint Gang tokens are set to launch on October 26 for 0.049 Ethereum or $64 USD at the time of writing. While a lot of the plans shared are still in development, that price might turn out to be a steal.
BaseMint also shared that it recognizes the continued creation of additional collections can weaken an ecosystem, to counteract that and continue to provide value it has designed its NFTs to be dynamic and evolving.
Holders will be able to participate in various forms of gamification to earn rewards, from staking to challenges and more. The brand also hinted in its "BaseMint Bible" that holders will own their IP and receive help in monetizing it — with more to come later.
9/

4. GAMIFCATION EXPERIENCES :

We're building games that are simple, Fun & Engaging for community members to EARN HUGE REWARDS.

Gamification strategy includes 5 pillars:
1. Stake > Earn
2. Collect > Earn
3. Engage > Earn
4. Solve > Earn
5. Play AND Earn

More info this week!

— BaseMint Gang (@BaseMintGang) October 11, 2022
Empowering The Community 
Potentially one of the most ambitious parts of BaseMint Gang is its plans to provide funding, education, and mentorship to its community. Once a quarter the brand plans to hold a shark tank-style pitch event where members can pitch their ideas to the broader community — the winning pitch will receive funding, as well as guidance and coaching.
Additionally, every week BaseMint Gang plans to host an educational discord chat led by one of the core team members. These talks cover a variety of topics from storytelling to art and animation creation, how to leverage Web3 technology, and more.
Last but not least there are plans to provide a mentorship program for the most engaged members of the community, where participants will work directly with the team to incubate their ideas and bring them to life.
In other NFT news, Beeple says "now is the time to build," as he develops a massive studio for the NFT community.