ASICS Is Stepping Into Web3 In Partnership With Solana and Step'N
Launching its line of customized GT-2000 running shoes in partnership with Solana and StepN.
ASICS Is Stepping Into Web3 In Partnership With Solana and Step'N
Launching its line of customized GT-2000 running shoes in partnership with Solana and StepN.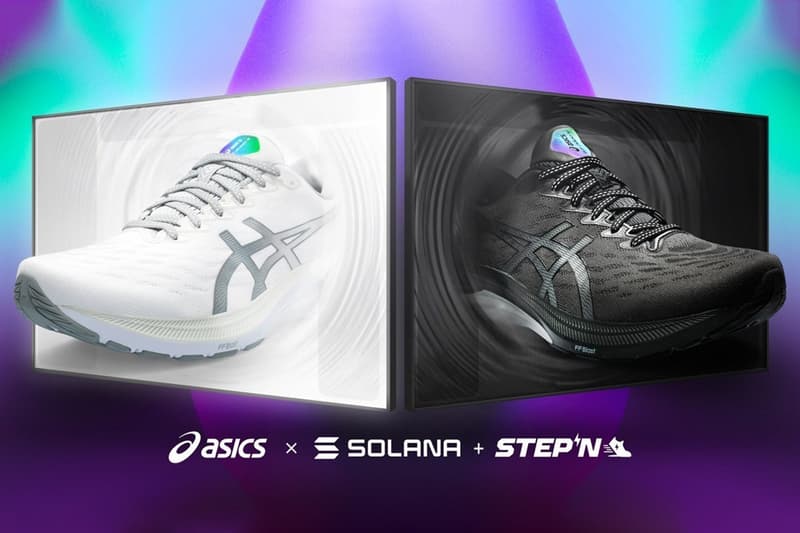 The immediate aftermath of WWII left Kobe, Japan in shambles, with many Japanese youths struggling to find hope in any brighter future that might lie ahead.
In 1949, Kihaachiro Onitsuka had a vision to create athletic footwear that would promote an active lifestyle among Japanese youth. The launch of the OK Basketball Shoe that following year, gave birth to ASICS and its very first product that was sent to basketball leagues throughout Kobe.
The shoes' iconic "Tiger Stripes" are reminiscent of the waves off the coast of Kobe, making its global debut for the first time at the 1968 Games.
Asics is carrying its same mission from 1949 into the digital era with a new collection of custom running shoes that pulls design inspiration from user interfaces on computer and phone screens.
Symbolizing a healthy balance between screen time and physical activity, the sneakers are made for everyday activity and come with an Asics-branded NFT to motivate Web3 users to get moving and participate in a healthy lifestyle.
Over the years, ASICS has continued to evolve its "Sound Mind, Sound Body" philosophy, now entering the world of Web3 through a fun FitFi and move-to-earn (M2E) initiative.
Today, ASICS announced the launch of its newest line of GT-2000™ 11 running sneakers, in partnership with Solana and FitFi app, StepN.
By leveraging the impact of digital on users' reduced physical activity, Asics has produced a sneaker with digital counterparts to motivate users with StepN's move-to-earn blockchain app.
Motivating Movement
Today, Asics unveiled its "UI Collection" of running shoes that have been inspired by the blockchain to purchase using crypto and automatically receive the brand's first loyalty Badge – issued as an NFT.
Following Asics's genesis collab with StepN this past April, Shiti Manghani, COO of Find Satoshi Lab, the company behind STEPN told Hypemoon, "this time the project has a twist."
StepN is a move-to-earn running app on the Solana blockchain that gamifies exercise by rewarding users for walking, jogging, or running outdoors with crypto and NFT prizes.
"Users who purchase the Asics physical GT-2000 will enter a raffle to receive the highly exclusive Asics x STEPN NFT airdrop. The NFTs have the utility of being playable on STEPN to move and earn on the Solana realm," Manghani shared.
?STEPN + ASICS Airdrop

Purchase the @ASICSamerica x @SolanaConf physical GT-2000 to enter the exclusive ASICS + #STEPN NFT airdrop raffle. There are 1 Rare, 150 Uncommon and 850 Common ASICS-STEPN Solana NFTs available.https://t.co/1L5HyRPF1x pic.twitter.com/1NYdxGIOAX

— STEPN | Public Beta Phase V (@Stepnofficial) November 4, 2022

Web3-Commerce
In order to instantly issue customers an NFT after purchase, Asics will not be stocking these shoes on physical shelves. Instead, those who want to purchase a pair can do so through Solana Pay from anywhere in the world – presenting an entirely new user experience through Web3-commerce.
"In a traditional e-commerce experience, the transaction is basically "complete" when a product is purchased. By leveraging Solana Pay to reward customers with an NFT instantly upon purchase, the transaction is never fully "complete" because the digital asset it produces will live on, giving our fans good reason to look forward to our next release," explained Joe Pace, Director of Web3 and Digital Goods at Asics.
By partnering with Solana, customers can pay for the sneakers using the digital dollar currency, USDC, to break down the geographic barriers in facilitating purchases from around the world – "without complicated currency or foreign exchange risks, which is appealing to Asics as a global brand," shared Josh Fried, Business Development Manager at Solana Pay
"Furthermore, Solana Pay, as a decentralized payments protocol built on the Solana network, enables a consumer to easily send digital dollar currencies directly from their wallet, and ASICS receives the funds (settles) immediately, with costs measured in fractions of a penny," Fried shared with Hypemoon.
Web3 has opened the creative potential for brands, like Asics to present new and engaging experiences for customers to partake in its original story and mission.
"Taking the UI Collection as an example, this campaign is about inspiring the Web3 community to move and find a healthy balance between digital and physical activity: shoes inspired by screens, NFT Badges that will unlock access to future products designed for movement, and the STEPN airdrop," said Pace.
One Purchase With Years of Access
Aside from the healthy aspect of this campaign, Asics has harnessed the power of NFTs to reward its customers with access to future token-gated events past the initial sneaker transaction.
"Most of us are familiar with experiences like giving an email address and getting X% off our next purchase, but what if, instead of a discount, Asics customers could get a piece of art that commemorates their purchase and will give them exclusive access to future ASICS products and experiences?," Pace pointed out.
As each sneaker purchase comes with an NFT, fans are provided with true ownership that comes with the choice to hold for future value or sell for someone else to have that opportunity.
"We're inspired to continue learning and evolving over time to define what Web3 loyalty and rewards mean for Asics customers and we're excited about the unknown/unknowable future and potential of Web3 tokengated rewards. Because Web3 loyalty/rewards has no established rules/norms, we have the unlimited creative potential to reach a global audience with amazing products/experiences that inspire them to build healthy and active lifestyles," Pace added.
In other NFT news, The beginning pages of 'Meebits' story have just been written.