Autograph and SLAM Bring Significant Basketball Culture to the Blockchain
Through digital collectibles based on various iconic covers from the magazine.
Autograph and SLAM Bring Significant Basketball Culture to the Blockchain
Through digital collectibles based on various iconic covers from the magazine.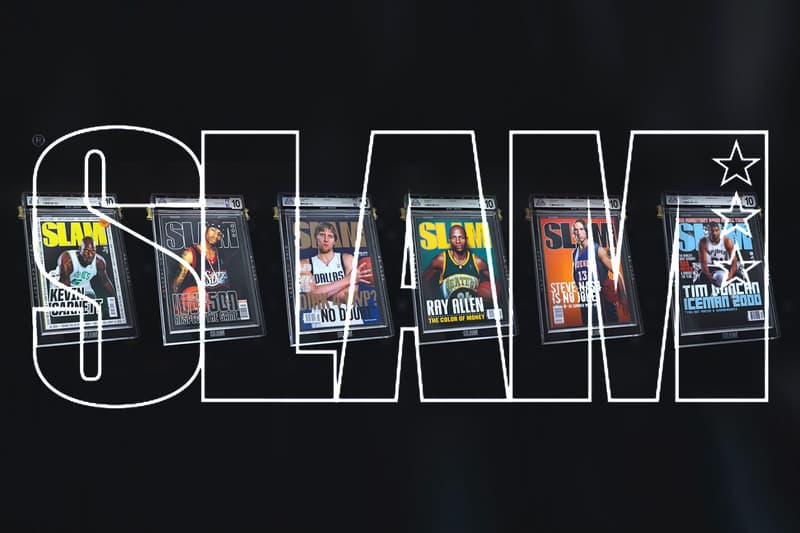 Industry-leading and culture-defining basketball magazine SLAM has announced the second stage of its partnership with Tom Brady's digital collectible platform Autograph, with the launch of an NFT drop.
In a recent Twitter space, SLAM magazine CEO Les Green, CMO David Schnur, and Autograph CMO Patrick Cassidy discuss the cultural significance of the magazine, details on the drop, and how content curation is being shaped in the digital age.
SLAM Retro Covers Vol. 1 Collection.
Dropping November 17.
? https://t.co/UvHfWqT4IU pic.twitter.com/YlktUpnzDp

— Autograph (@Autograph) November 8, 2022
The History
Founded in 1994, SLAM magazine has become one of the most iconic basketball-related publications and media brands to date. It carries advertising for basketball-related products, streetwear clothing, and hip-hop music — the company is often credited for displaying the areas in which these cultures intersect.
"The thing about SLAM's inception, it was meant to present basketball from a different point of view, actually from a hip-hop point of view if you ask the founder Dennis Page," shared SLAM CEO Les Green, adding, "I thought that was always a unique point of view and why it stood out and resonated with people than just any basketball media."
Green explained that this unique point of view has enabled the company's transition from just a magazine to a broader media company and that the perspective naturally translates into digital covers, content, day-to-day storytelling, and more.
Adding to the conversation, Schnur shared that "SLAM has really been a portal for all things basketball culture since its inception," explaining that "growing up in the 90s you had whatever was on ESPN and live games but SLAM was the only place you could see and feel the culture of basketball."
"The legacy that this brand has built over 30 years, being the number one name in basketball is incredible," shared Cassidy, adding that "those covers are to this day, the marker of when you've 'made it' in basketball."
When asked by a listener how society's transition into the digital age has affected SLAM's content, Green said "I think it's been really helpful."
Explaining how, he said "everyone knows we started out as a magazine and that is still a part of who we are and what we do but the print element can bring limitations," shared Green in response, he went on to add that "the digital age has allowed more people to have access to our content," more eyes on, a wider distribution, and increased virality.
Strategic Partner
Autograph continues to expand and make a name for itself in the digital collectibles world, from recent initiatives like its utility-based 'Signature Experience' offering to collaborative collectible drops with names like Tiger Woods and Tony Hawk.
"All of Autograph's partners have either built an incredible legacy or are in the process of doing so in real-time — you can see that with the athletes, the artists, and the other brand partners we have," shared Cassidy.
Cassidy, who was once in direct competition with SLAM through his previously founded Dime magazine continued to compliment SLAM on the legacy it has built, saying they were always top of the heap.
He went on to add that as Autograph enters the basketball vertical "it's important to establish partnerships with longstanding touchdowns in the game," he went on to add that "there is deep rich history with SLAM and it's important to us to connect with them and bring this incredible first collection to market."
Curated Drop
Speaking on how the featured covers for SLAM's first drop were selected, Green shared that they wanted to take into great consideration iconic athletes and moments in time. Due to the brand's long history, he shared that it made sense to start with retro covers from the late 90s and early 2000s because of the classic and pivotal basketball moments that happened during that period.
The media brand's first drop "Retro Covers Vol. 1" is made up of six different iconic magazine covers, with the earliest in the collection being its Allen Iverson SLAM 42 from May 2000 and the latest in the collection being its Kevin Garnett SLAM 194 cover from February 2010.
Allen Iverson on SLAM 42 (May 2000).

Learn more about the drop: https://t.co/De1vYt4ZHm pic.twitter.com/bVFzG3gAM9

— SLAM (@SLAMonline) November 8, 2022
Kevin Garnett on SLAM 194 (February 2010).

Learn more about the drop: https://t.co/De1vYsNWFm pic.twitter.com/4cRKw4LXqP

— SLAM (@SLAMonline) November 8, 2022
Other iconic covers include SLAM 47 featuring Tim Duncan, SLAM 87 with Ray Allen, SLAM 92 with Steve Nash, and SLAM 98 with Dirk Nowitzki.
The magazines themselves have been collector's items for over 28 years and are now making their way into the world of digital collectibles, where they'll be archived on the blockchain for decades to come, in what feels like a meant-to-be transition.
SLAM and Autographs NFT drop will be exclusively available on the DraftKings marketplace and was intentionally set at an accessible price point of $15 USD for logo pass holders and $35 USD for the public sale.
Similarly to other Autograph offerings, the covers will be released in mystery packs, with a range of rarity across the six covers that make up 12 different NFTs. Collecting various sets unlocks perks and advanced utilities like being able to redeem the physical metal edition of a SLAM cover that commemorates the top 75 NBA teams of all time.
More general utilities include a 25% discount code to the brand's shop, slamgoods, for holders of any one of the 12 various NFTs. The brand has already been hard at work on providing in-world utility, with many of its logo pass holders being able to attend its SLAM Summer Classic event at Rucker park.
Green described the event as "an amazing experience for any basketball lover," where over a thousand people were in attendance and some of the best high school players in the country came to show their talent.
"As we have more drops and we work with Autograph more we'll continuously evolve and add to the utility," shared Green concluding the space and announcement.
With SLAM moving into the digital collectible space, it is a signal that no matter the shifts in mediums, true culture will always have a place and find a way to be relevant.
In other news, could Nifty Gateway's "blocklisting" be a possible solution in the heated royalty debate.