DressX Is Now Housing a New Generation of Users Who Prefer Online Self-Expression
With a new subscription model that will provide users with direct access to hundreds of AR looks.
DressX Is Now Housing a New Generation of Users Who Prefer Online Self-Expression
With a new subscription model that will provide users with direct access to hundreds of AR looks.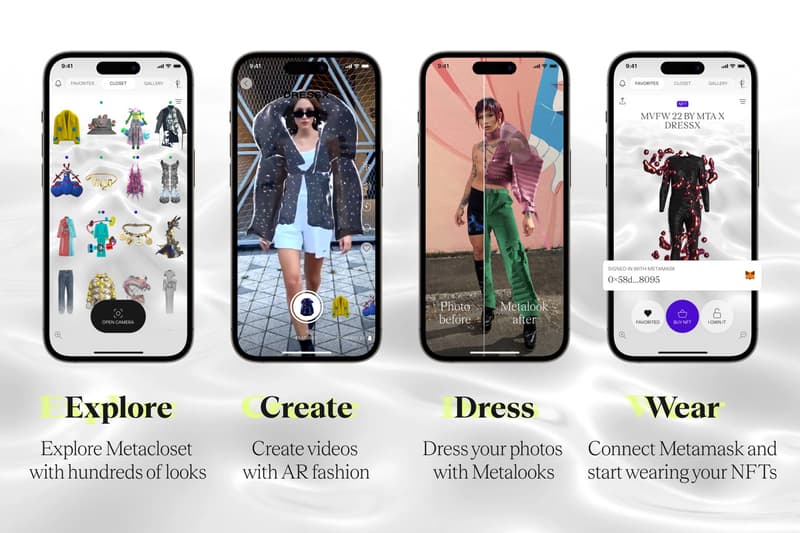 What began as an industry-wide solution to reduce fashion's environmental footprint in 2020, has grown to become today's largest 'virtual' closet of digital clothing.
DressX, a pioneer in digital fashion, was founded by two Ukrainian fashion enthusiasts — Daria Shapovalova and Natalia Modenova — as a wardrobe and "Metacloset" for apparel and accessories through AR and NFTs.
Since its August 2020 launch, the retail platform has gone from mere "startup" status to a well-balanced infrastructure that houses more than 1,000 stock keeping units by 100 different designers, including its own private label pieces that take inspiration from SpaceX and NASA. Other collaborations include Off-White, Balenciaga, Dolce & Gabbana, Palm Angels, and Burberry.
To date, the Los Angeles-based platform has successfully raised over $3 million USD in seed round funding, in partnership with The Artemis Fund, Alpha Edison, U.Ventures, and other strategic investors across multiple industries.
"The digital fashion space grows its popularity really fast and more influencers and celebrities dip their toes or sometimes go all-in exploring the direction from all of the different angles," Shapovalova shared with Hypemoon.
DRESSX has provided dressings for a variety of notable figures in both Web2 and Web3 like Madonna, Megan Kaspar, Nadia Tolokonnikova, Viktoria Modesta, Nina Hawkins, and many more.
In June, DressX partnered with Meta's avatar fashion marketplace, as the singular digital-only fashion provider alongside Prada and Thom Browne.
As an eco-friendly alternative to purchasing physical DressX offers its users virtual clothing that can be digitally worn in their photos and videos that can be shared across various digital platforms. Naturally, there has been an added demand by consumers to focus on "dressing up" their online avatars, rather than investing in high-end physical garments.
The retail platform's recent decision to change to a subscription-based model, allows for users to have free and unlimited AR try-ons with all of its metalooks included. Previously, the DressX app allowed AR styles to be tried on through weekly, monthly, and yearly subscriptions, where users had the option to purchase that particular style at its full price after trying it on.
"We are proud to now offer AR fashion experience for free to all of our clients, as this is the easiest and the most inclusive way to start wearing digital fashion," the co-founders shared.
"We are putting the efforts from our whole team to level up the digital fashion game and provide a seamless experience, uniting all the DressX products, including AR try-on, metalooks, and NFT collectibles."
Ready Player Me
In September, cross-game platform Ready Player Me announced its newest eye-catching collection in collaboration with DressX.
The DressX Snake NFT Collection is representative of a snake that regularly sheds its skin in its natural cycle of evolution and identity. With over 2,500 different games and metaverse-based worlds, Ready Player Me now brings DressX's ecosystem into its economy for new avatar wearables.
"The question of interoperability has been discussed a lot in digital fashion recently, however, we truly believe that adding more utility to the digital fashion assets and creating a truly seamless metacloset experience for the community is a key for making digital fashion accepted by the mainstream audience," Shapovalova explained to Hypemoon.
"…We are trying to create a unique experience for the DRESSX users, allowing them to take their DRESSX items from the personalized metacloset on the DRESSX app to the selected platforms, and get a sense of what interoperability in the metaverse will look like in the future."
Given that nearly half of active users in the metaverse choose to dress their avatars, DressX has also offered the Snake-inspired skin for both a user's online avatar and an AR edition that can be applied to that user's IRL photos.
"At Ready Player Me we are on a mission to bring down walls and make the emerging metaverse a more open and inclusive space for creators and users alike. Digital fashion plays an important role in that and DRESSX is among the most recognizable brands in the space," said Stan Georgiev, Head of Strategic Partnerships, Ready Player Me.
Make Your PFP a Trendsetter
Last week, DressX revealed its Genesis NFT collection with NonFungiblePeople (NFP). The upcoming mint will take place on  November 16, where holders will be able to add the wearable utility to their PFPs with the next wave of DressX NFTs.
What's *your* PFP wearing?! @TheModzKids

You can finally dress your PFP with the DRESSX GENESIS drop!!

allow list closes 11.15!! https://t.co/4JZtZQh1mb pic.twitter.com/ciUDBxNg8t

— DRESSX (@dressxcom) November 8, 2022
The Genesis NFT drop will consist of 444 unique bucket hats and will introduce the DRESSX digital fashion ecosystem to its own NFT marketplace and mobile app.
"The DRESSX ecosystem is about the discovery of digital fashion, new and fun shopping experiences, and friendly way of wearing digital fashion in augmented reality, in the virtual worlds, and in social media," Modenova told Hypemoon.
"The Genesis Hat bridges the gap for fashion – it is a piece you can wear in a metalook – means on the photo and use it in social media – and on your PFP – exposing your belonging to multiple communities. With this drop we want to educate the Web2 audience about the possibilities of Web3 and to shift the attention of the Web3 community from chasing the fortune (striking gold) to the exciting use cases on the edge of digital fashion and blockchain technologies."

"The utility of NFTs is more important than ever, and DRESSX is here to deliver a truly groundbreaking utility, spanning IRL to virtual, identity to PFPs, and providing a new utility to increase market value in a way never seen before," Shapovalova added.
In other metaverse news, Tutors and Kabuni present the future of education through the metaverse.