Instagram's NFT Pursuit Soars With Vinnie Hager's Sell Out Drop
The app's second official digital asset release after adding the NFT sales function this month.
Instagram's NFT Pursuit Soars With Vinnie Hager's Sell Out Drop
The app's second official digital asset release after adding the NFT sales function this month.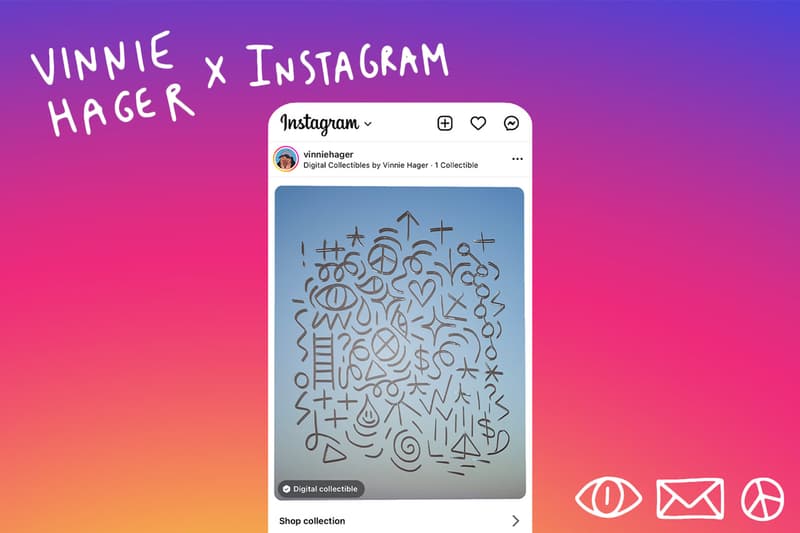 While Meta has been hard at work developing its own rendition of an "open metaverse," its famous social media platform, Instagram has ramped up its digital assets and NFT integrations into the app.
In August, Meta brought Instagram's NFT expansions global, as more than 100 countries worldwide received access to share their digital collectibles from Rainbow, MetaMask, Trust Wallet, Coinbase Wallet, Dapper Labs, and the Flow blockchain through the Instagram app.
Instagram took one step further into Web3 with its November 2 announcement, presenting that Instagram was developing an end-to-end NFT toolkit for creators to produce and sell NFTs on Instagram with support from the Polygon and Solana blockchain networks.
The following day, Instagram revealed the twelve artists that the app was working with to test out the platform's features of creating and launching NFTs.
One of those participants was the Maryland-based artist and designer, Vinnie Hager – who more recently picked up fame due to his successful hand-drawn NFT project, "Letters by Vinnie Hager."
Vinnie's NFTs have been greatly embraced by the Web3 community as many holders have replaced their PFP's backgrounds with art from "Letters." The project has accumulated more than 3,121 ETH (approximately $3.4 million USD) and was even pictured on Times Square's Nasdaq tower during NFT.NYC.
Today Only ? pic.twitter.com/ba1JT9wpiw

— Vinnie Hager (@VinnieHager) November 5, 2021
Vinnie's Instagram Intro
On November 20, Vinnie unveiled that his next NFT collection, "Lollygagging" would be in partnership with Instagram for the app's second official NFT drop.
The 25-piece mint took place on November 21 through Vinnie's Instagram account for a price tag of $249.99 each.
I am proud to announce my first digital collectible in partnership with @instagram ?
This piece is titled "Lollygagging" and will be an edition of 25 releasing tomorrow via my Instagram pic.twitter.com/xb0MLKup9V

— Vinnie Hager (@VinnieHager) November 20, 2022
"My creative process continues to evolve and change in tune with each artistic medium I experiment with. Creating artworks digitally has been at the forefront of my art practice over the last two years and this piece is the next extension of that process," Vinnie wrote via Twitter.
Despite NFT sales hitting their lowest numbers since July 2021, Vinnie's Instagram NFT release faced few effects from the current crypto winter.
The entire "Lollygagging" drop sold out in less than one second.
im speechless

— Vinnie Hager (@VinnieHager) November 21, 2022
With the app's new Web3 additions, Instagram has made purchasing an NFT just as easy as any other tangible good purchase through the app — as demonstrated by Vinnie's instant sell-out.
Since 2020, Meta has proven its strength in providing digital stores and e-commerce for brands with Facebook and Instagram's "Shop" feature. Instagram's newer compatibility and expansion into NFT sales attest to the rising impact and perceived value of digital products today.
The new functionality upholds the Web3 meaning of digital ownership as the NFTs differ from Instagram's traditional shopping experience by existing on the blockchain.
"This differs from branded content because it is connected directly to the creator, versus a brand the creator does not own," said Besidone Amoruwa, Global Innovation Partnerships Lead at Instagram in an interview with Vogue. "This is where the opportunity of ownership and entrepreneurship gets really exciting for creators. It gives them full control in providing a product offering to their community."
With more than 37 million influencers leveraging Instagram to share paid or self-produced content today, the new capability of NFT sales provides new opportunities for creators to be able to monetize directly through the app.
As of now, Instagram is focused on providing a seamless adoption of digital assets for its 1.28 billion global users. Therefore, the app will charge zero fees for displaying, sharing, and the selling of digital collectibles on Instagram until at least 2024.
In other NFT news, Magic Eden adds on Polygon for blockchain gaming growth.