Ledger's Continued Growth a Result of Creative and Technical Partnerships
From fashion collaborations with brands like Fendi to technical integrations of platforms like Binance.
Ledger's Continued Growth a Result of Creative and Technical Partnerships
From fashion collaborations with brands like Fendi to technical integrations of platforms like Binance.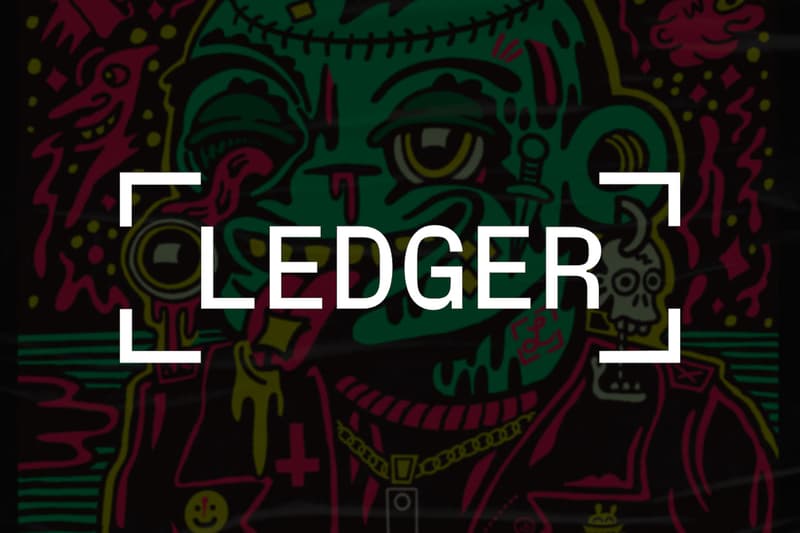 Ledger continues to grow in the space of crypto and Web3, not only because of the security its hardware wallet provides but also because of its ability to thoughtfully curate both creative and technical partnerships.
The crypto security solutions provider has been able to maintain growth and relevance through creative partnerships with names like Deadfellaz, VeeFriends, The Hundreds, and more.
In addition, Ledger continues to expand its presence across the crypto world through its Ledger Live integrations on Binance, FTX, and other platforms — it also supports thousands of tokens and coins with new additions frequently being made.
Creative Partnerships
NFT Community
The most recent collaboration in the NFT space is with popular project Deadfellaz and comes as a direct result of its recently launched Ledger NFT Marketplace — designed for curated NFT drops from culturally significant brands and artists, made possible in partnership with brands like Tag Heuer, RTFKT, Deadfellaz and more.
Ledger's recent collaboration with Deadfellaz comes in two forms, an NFT art airdrop to market pass holders, which was designed by Killer Acid, and an upcoming limited edition Nano X device that only pass holders will be able to mint.
As part of our ongoing partnership with @Deadfellaz, Ledger is tickled to death to be one of a handful of collaborating artists of this year's Deadfellaz Infected drop.

? https://t.co/E27uf5E2xP pic.twitter.com/26IsFu1FW7

— Ledger (@Ledger) October 31, 2022
GM everyone!

Are you ready for the next phase of the [ Ledger ] Market x @Deadfellaz drop?

For our 2nd [ L ] Market collab, we're thrilled to announce the custom Ledger x Deadfellaz Nano X, which [ L ] Market Pass & Deadfellaz holders will be able to claim.

?Learn more? pic.twitter.com/fFMmwcBFjh

— Ledger (@Ledger) November 2, 2022

Another recent collaboration was with The Hundreds, whose founder, Bobby Hundreds is also part of the marketplace's "Ledger Pro Team," alongside Mike Shinoda, Dan Held and Psych and Betty of Deadfellaz.
Like its other NFT community-based collaborations, Ledger teamed up with The Hundreds to release four variants of its Ledger Nano X, with three of the colorways being limited and only available to those with specific AdamBombSquad tokens and a fourth black colorway that is currently still available.
ICYMI :: We partnered w/ @ledger to create these special edition nanos! You know how much we value our community, so we're excited to announce that our Red, Blue, & Green nanos will be gifted to sticker holders. ?? *snapshot will be taken (5/24) between noon & 3PM* pic.twitter.com/7ltKgVqH79

— The Hundreds (@thehundreds) May 20, 2022

Around the same time, the Web3 hardware company partnered with Gary Vee's VeeFriends, to produce a limited run of only 555 gold Nano Xs, which were made available for purchase to the first 555 guests to check into VeeCon using a POAP.
The winners of the 555 @veefriends Nanos are…
Check this link! https://t.co/PontF76td2

Using the POAP ID from your @veecon POAP or your wallet address, check if you are one of the first 555 on this list. If so, congrats! Come to the @Ledger Space to purchase your special Nano. pic.twitter.com/o0MhWcxBgV

— Ledger (@Ledger) May 21, 2022

Through its various limited edition Nano X hardware wallets, Ledger has been able to attract various NFT communities to its ecosystem, many of which might not have been observing best security practices prior — in addition these communities have helped push the company into more than just a hardware provider but instead into a culturally significant player in the space.
Learn and Earn
Outside of physical devices and the physical world, Ledger has an ongoing partnership with The Sandbox, centered around learning and earning called LedgerVerse.
As The Sandbox's Alpha Season four comes to an end, Ledger shared that its LedgerVerse had over 309 thousand visitors and over four million Web3 educational and incentivized quests completed.
Yesterday was the last day of @TheSandboxGame x #ledgerverse Alpha Season 3.

More than 309,000 visits to the #ledgerverse and more than 4,000,000 quests have been completed by YOU to learn Web3 security!

Seen you in Alpha Season 4 – it'll be here before you realize ? pic.twitter.com/3C1gxyR0Jd

— Ledger (@Ledger) November 2, 2022

Fashion
The hardware provider has also been making its way into the world of fashion, through partnerships with brands like Fendi and Hublot, and celebrity collaborations like in the case of Gunna — where he wore a 20-carat diamond Ledger to the Met Gala.
In the case of the Hublot collaboration, only 50 limited edition Ledger Nano X wallets were created and paired with an equally limited timepiece by the watchmaker. The sets originally retailed at a price of just over $28,000 USD, however, to acquire one today would cost over $60,000 USD, based on listings from trusted secondary market sites like Chrono24.
Also designed as a limited edition luxury product, Ledger and Fendi collaborated to produce over four different Ledger Nano X cases, some of which retail as high as $2,000 USD.
These collaborations marked some of the first luxury Web3 products to get the attention of the media and fashion realm alike, helping to spark conversations around cryptocurrency and best security practices.
Ledger and @Hublot have come together to create a one-of-a-kind product that combines the best in #crypto and traditional watchmaking.

There's only 50 available before it's gone for good – and inquiries for purchase are now open! Check it out at: https://t.co/3bpjubzIqF https://t.co/Wp16yqLH7F

— Ledger (@Ledger) February 18, 2022
LEDGER X FENDI// @Ledger @Fendi
?????? pic.twitter.com/ajVDuc8pzx

— FVCKRENDER (@fvckrender) August 4, 2022

Technical Partnerships
Ledger Live
A majority of the company's technical partnerships come together in one way or another under its Ledger Live platform — its "one-stop-shop" for buying crypto and managing digital assets like NFTs.
Currently, the platform boasts over four million users and continues to see growth through partnerships, like its most recent with the popular cryptocurrency exchange Binance.
#Binance partners with @Ledger!

In an effort to increase the interconnectedness of the Web3 ecosystem, this partnership will allow verified Binance users to purchase crypto directly through the Ledger Live app.

Read more ⤵️https://t.co/wZdnyaP52D

— Binance (@binance) November 2, 2022
The partnership gives verified Binance users the ability to buy and receive crypto directly into their Ledger account with no need to switch between apps or manually transfer funds.
Another benefit of what is said to be the beginning of an ongoing relationship is the ability to purchase over 80 different crypto assets using a credit card and a few clicks.
Other recent technical partners to integrate with Ledger Live are platforms like FTX, which made it possible to swap and secure coins via a single transaction.
Ledger Live has also continued to provide support to popular chains, like in the case of Cardano, making it possible for users to now manage over 100 native Cardano tokens using the app.
Through both its technical and creative partnerships, Ledger is on a mission to "become your secure gateway to the Web3 Galaxy."
With this goal in mind it continues to collaborate and partner with leading crypto exchanges, NFT projects, payment providers, and significant Web2 and Web3 brands.
Starting as a crypto security hardware provider, Ledger has shown that through thoughtful collaboration and partnership, the only boundaries in Web3 are the ones we give ourselves.
In other news, it seems Meta has "interoperability" on its mind with IG NFT toolkit.