Magic Eden Adds On Polygon for Blockchain Gaming Growth
Continuing to prove its multi-chain promise three months after integrating with the Ethereum network.
Magic Eden Adds On Polygon for Blockchain Gaming Growth
Continuing to prove its multi-chain promise three months after integrating with the Ethereum network.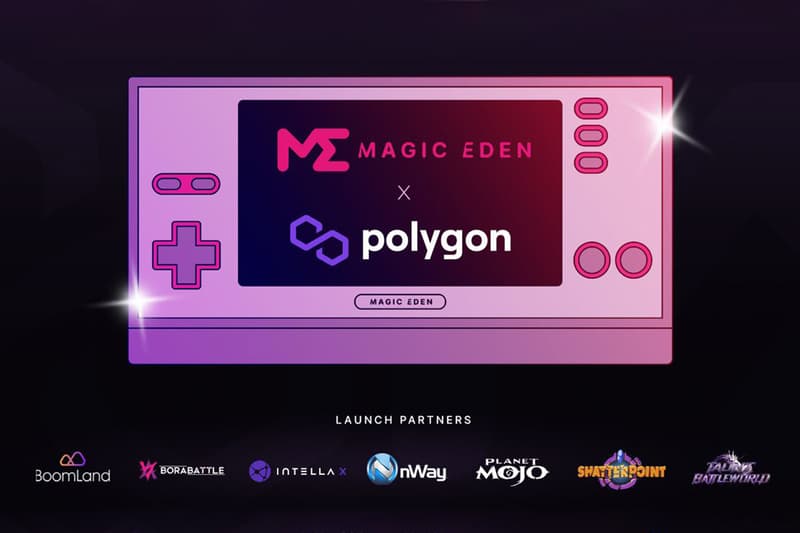 Today, Magic Eden has announced its plans to expand the NFT marketplace to the Polygon network.
Magic Eden started in September 2021 as the largest Solana-based NFT marketplace. In August, the marketplace went multi-chain by integrating with the Ethereum ecosystem.
Today's new integration will now allow Magic Eden to work with brands, developers, and creators of the Polygon blockchain.
1/ @0xPolygon ?? @MagicEden

Today, we're continuing our multi-chain vision by adding Polygon as our 3rd chain!

We can't wait to partner w/ world-class game developers, creators, & everyday brands joining web3.

Read more: https://t.co/hOCiGXOhji

Our launch partners ?? pic.twitter.com/93Uak9fYih

— Magic Eden ? (@MagicEden) November 22, 2022

Magic Eden will first turn an effort to providing the tools for its Launchpad and Marketplace using Polygon's native token, MATIC.
As the Polygon chain hosts some of the largest gaming projects in Web3 like Animoca Brands, Decentraland, Ubisoft, and The Sandbox, Magic Eden's Polygon expansion is focused on accelerating blockchain gaming growth.
"Given Polygon's popularity amongst game developers as a low cost EVM-compatible chain, integrating Polygon will continue to cement Magic Eden as the go-to web3 gaming platform. Game developers will now have the greatest optionality on Magic Eden; we can invest, launch collections, power in-game activity and drive user acquisition for developers building on Polygon with Magic Eden," commented Zhuoxun Yin, Co-Founder and COO of Magic Eden.
According to the company, Magic Eden has already attracted a variety of world-class games and publishers that are eager to present new games to ME's cross-chain audience.
Developers who have already committed to Magic Eden's Launchpad with Polygon include BORA backed by Kakao Games, IntellaX, nWay, Block Games, Boomland, Planet Mojo, and Taunt Battleworld.
2/ For months, we've been working behind the scenes. We're pumped to introduce these projects to you guys:@bora_ecosystem backed by @playkakaogames@TeamIntella w/ @neowizglobal@nWayplayNFT@ShatterpointGG created by @GetBlockGames@BoomLandGames@WeArePlanetMojo@PlayTaunt pic.twitter.com/4oXY57Pvht

— Magic Eden (@MagicEden) November 22, 2022

"In the short time that it has come to market, Magic Eden has become known for its ability to ship new product features and address pain points felt on the creator and collector side," shared Sandeep Nailwal, Co-Founder of Polygon.
"Magic Eden has also proven it listens to game developer needs and we are thrilled to have them work closely with Polygon's gaming partners in order support the growth of the NFT gaming ecosystem."
Regardless of the currently brutal market conditions, blockchain gaming has proven its stability with a 2,000% growth rate since last year.
A critical component of efficient blockchain games is the ability for users to seamlessly trade digital assets while in-game. As Polygon takes pride in its sustainable, fast, and low-fee transactions, Magic Eden's users benefit from Polygon's easy-to-use network for blockchain gaming.
Hopefully, this new announcement will help Magic Eden get back on its feet and attain new users as the platform faced more than a 30% decrease in sales volume and lost 40% of its active traders during this past month.
On October 14, Magic Eden shared that its marketplace would move to an optional royalty model which sparked great controversy and another heated debate surrounding NFT creator fees.
With the additional effects of FTX's recent bankruptcy, Magic Eden's Solana-based NFTs were also hit hard as Solana trading fell by more than 50% during the month of October.
Time will tell if the combination of Magic Eden's Polygon expansion, gaming focus, continued supporters, and $1 million USD "Hackathon" is enough to rebuild the NFT marketplace during the crypto winter environment.
In other NFT news,