Meta Seems To Have "Interoperability" on Its Mind With IG NFT Toolkit
That is focused on empowering creators with initial tests led by artists like Drift, Amber Vitoria, Danny Casale of Coolman Universe, and more.
Meta Seems To Have "Interoperability" on Its Mind With IG NFT Toolkit
That is focused on empowering creators with initial tests led by artists like Drift, Amber Vitoria, Danny Casale of Coolman Universe, and more.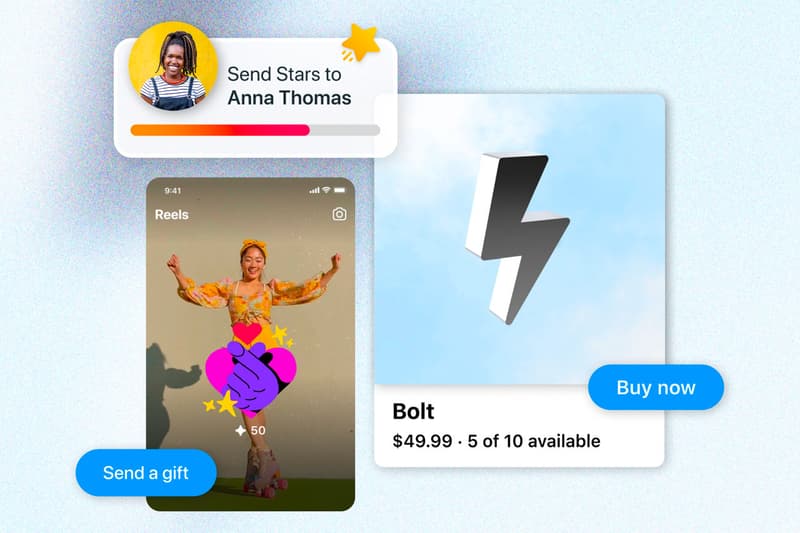 What started as a test trial in May, that allowed creators and users to display their digital collectibles, is now developing into a full-fledged end-to-end NFT toolkit aimed at empowering creators and the creator economy.
Announced in alignment with its Creator Week event, Meta shared updates for creator tools across its ecosystem of platforms — with the Web3 community being particularly interested in the newly enhanced NFT integrations making their way to Instagram.
With the new toolkit, creators will soon be able to create, mint, and sell NFTs both on and off-chain using the app, starting with support from the Polygon blockchain and integration of the Solana network as well.
The update ushers in a new era of creator empowerment and potential Web3 adoption across the platform's nearly 2.5 billion users.
Soon you'll be able to make and sell #NFTs on @instagram, starting with @0xPolygon. You can also now connect to @solana and Phantom wallet, and see information about @opensea collection: https://t.co/aH8035Tk8n

Comment your #NFT below ? pic.twitter.com/dvHau9n9Yu

— Meta (@Meta) November 2, 2022
Empowering Creators
While still a big first step for the platform in May, the initial integrations of the tech only allowed for limited use cases and engagement — with select users being able to post NFTs to their feeds and have the on-chain data reflected.
NFTs on Instagram ?

This week we're beginning to test digital collectibles with a handful of US creators and collectors who will be able to share NFTs on Instagram. There will be no fees associated with posting or sharing a digital collectible on IG.

See you next week! ✌? pic.twitter.com/VuJbMVSBDr

— Adam Mosseri (@mosseri) May 9, 2022
With the latest update, Instagram says that creators will soon be able to make digital collectibles and sell them directly to fans, both on and off Instagram.
Testing the toolkit is a small group of U.S.-based creators, many of whom are well-known and beloved by the NFT and broader Web3 community.
The group includes names like Amber Vittoria, Drift, Danny Casale, Diana Sinclair, Dave Krugman, and several other talented artists. Together they'll gather feedback and work closely with Instagram to share insight on how the platform can best serve creators and the overall creator economy.
"A major challenge creators face now is feeling like their relationships with their fans are "locked in" on specific platforms, resulting in creators building and managing a presence and community across many platforms," wrote Stephane Kasriel, Meta's Head of Commerce and FinTech in a recent Medium post.
He went on to add that "blockchain offers a solution by making assets and experiences more portable across platforms, ultimately
giving creators more control over their work, the communities they build, and how they monetize. We believe web3 tech, like blockchain, will positively enhance the economic model for creators by giving them the ability to create new types of digital assets to monetize and enable better and more sustainable ways for them to build their businesses."
An NFT Marketplace
Once the creator features — creation and minting — go live to the general public, Instagram will have technically entered the realm of NFT marketplaces, although there are a few details users should be aware of.
As Instagram is featured as an app on the Apple App Store, the platform will subsequently be subject to Apple's mandatory, highly controversial fees that the tech giant recently announced.
Having said that, Instagram and Meta have expressed that they have no plans to charge fees for displaying digital assets and additionally expressed a commitment to not charge any additional fees until at least 2024.
On the bright side, thanks to Polygon and its other network partners, Instagram will offer gas-free minting and NFT purchasing for both creators and fans.
Despite the fees, the opportunity to reach Instagram's massive user base is something that excites both creators and collectors alike.
When you go to post on Instagram, it'll ask if you want to mint it as a digital collectible. You'll connect your wallet and be able to sell your NFT both on Instagram and elsewhere like OpenSea. Crazy.

— bobbyhundreds.eth (@bobbyhundreds) November 2, 2022
Interoperability
Indeed, "interoperability" is something that today's most commonly utilized exchanges and blockchains have placed great interest in — something Meta also seems to be building towards.
Currently, Meta has partnerships in place with Rainbow, MetaMask, Trust, Coinbase, Dapper Labs, Flow, Polygon, and most recently Solana and its Phantom Wallet.
1/ @Instagram & @Facebook have integrated support for Solana NFTs! ?

In the Instagram app, go to Settings, click Digital Collectibles & connect your Phantom wallet. The integration is rolling out to all users over the coming days, get ready to showcase your favorite NFTs! pic.twitter.com/H91C9khTmD

— Solana (@solana) November 2, 2022
"As someone who spent his whole career working on the Creator Economy, it brings me great joy to see new tools being offered to creators to help them monetize via Polygon and Meta's partnership for Instagram creators," tweeted Polygon Studio CEO Ryan Wyatt, adding, "we take the responsibility of bringing Web3 to the masses."
Other efforts toward interoperability include the display of information for select collections where metadata has been enriched by OpenSea, like collection names and descriptions.
Though the related fee structures remain controversial and creators will need to look for a way to offset them — Meta and Instagram's continued march into the world of Web3 and NFTs is a hopeful one for creators looking to reach a wider audience and for the adoption of the space as well.
In other news, see the recent debates on NFT influencer ethics sparked by the Art Gobblers mint.