Nike Continues Decades of Innovation With Its New Web3 Platform '.Swoosh'
Nike's first Web3 marketplace for buying, selling, trading, and creating digital wearables and virtual sneakers.
Nike Continues Decades of Innovation With Its New Web3 Platform '.Swoosh'
Nike's first Web3 marketplace for buying, selling, trading, and creating digital wearables and virtual sneakers.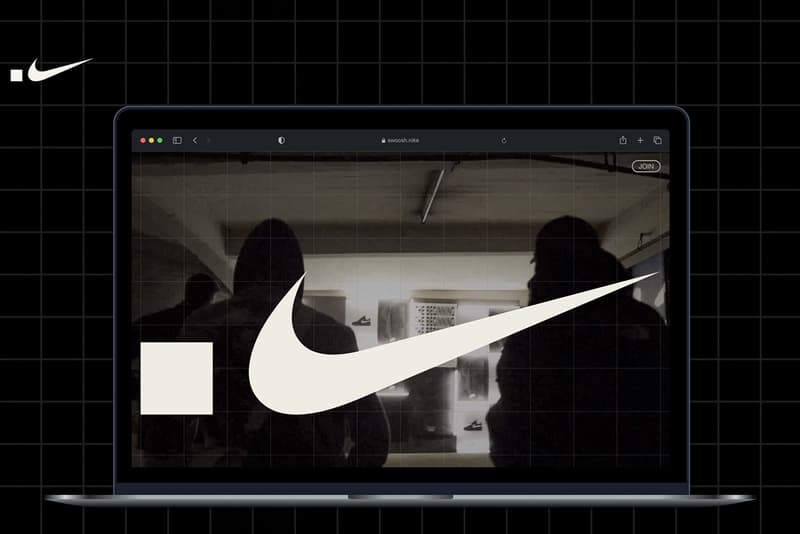 Since 1964, Nike has been a pioneer and trailblazer in the sports and apparel space – empowering the inner athlete in everyone around the globe.
What once started with Phil Knight exporting innovative running shoes from Japan has grown into a worldwide portfolio of brands, marketplaces, groundbreaking products, and a widespread community of passionate athletes.
Today, Nike is extended Knight's original mission from over 50 years ago into the next era of sports through the online web, digital experiences, and blockchain technologies by unveiling its own metaverse platform, ".SWOOSH".
The Next Chapter of Sport
Nike's .Swoosh will serve as the home for all of the brand's virtual products as well as the platform for the collecting of Nike's digital items for online gaming and immersive experiences — yet to be announced.
The power of the blockchain has presented an entirely new chapter of learning, building, and creating new opportunities for brands, products, and players to connect and unite with their supporters from anywhere in the world.
Therefore, over time, .Swoosh will evolve to allow the Nike community to buy, sell, trade, and even co-create new digital merchandise for a percentage of royalty streams.
According to Nike's first of many blog entries, the brand will slowly roll out a series of upcoming launches in the Web3 space for .Swoosh.
In the meantime, Nike is inviting its first cohort of participants to try out the beta, with a focus on diversity and inclusivity from loyal customers to those who don't typically receive access to new tech opportunities. Those with access will be able to create their own .Swoosh domain on Friday – which will act as users' online identity or "home" inside Nike's metaverse.
Beginning in 2023, .Swoosh will start to experiment with digital product sales and various utilities for the collections like IRL token-gated events or virtual activities.
For the time being, Nike told Complex that it will be prioritizing Web3 education with a six-city tour before selling any virtual goods on a regular basis.
It should also be noted that .Swoosh is a different initiative than the Nike-owned Web3 studio, RTFKT. As a Web2-native brand, Nike will leverage .Swoosh for its own unique products and bridging its established community to the greater Web3 ecosystem.
Hi-tech Dedication
As the world's largest sports brand today, Nike has continually prioritized digital innovation by staying ahead of the online curve since 1999 with the debut of NikeID – a customization service for customers to virtually design and physically receive their very own personalized Nike merch.
In 2006, Nike teamed up with Apple to present a state-of-the-art iPod sensor that combined sports and music for users to track physical activity with a portable track player for the first time. Three years prior to the introduction of the Apple watch, Nike unveiled its fitness wearable, the Fuelband, which worked in conjunction with the iPhone and later turned into Nike's app platform, Nike+.
The brand then first viewed itself as a growing tech company in 2019 with the launch of Nike Fit – a proprietary foot-scanning solution to precisely measure and match every person's foot size to the best fit product.
Just Doing It
With today's rise of the next generation of users and digitally-native sports fans, Nike has been "just doing it" in the metaverse for almost two years now – since launching its first digital experience in the well-known gaming world, Roblox in November 2021.
As blockchain tech took over mainstream attention this past year, Nike started 2022 strong by breaking headlines with its acquisition of the Web3 studio, RTFKT in late December 2021.
With RTFKT, Nike truly began to explore the metaverse with digital collectibles and experiences through the NFT sneaker collection, CryptoKicks, and partnerships with the famous, Takashi Murakami and popular NFT artist, FEWOCiOUS.
From there, RTFKT built a large virtual ecosystem with 20,000 digitally interactive characters and a metaverse environment with the arrival of CloneX. Nike has since tested out various Web3 campaigns like an auctioned CloneX avatar with the historical auction house, Christies, and NFC-chipped clothing that comes with an authenticated digital copy.
Through .Swoosh, CloneX holders will soon receive early access to register and be able to purchase digital wearables for their Clones inside the .Swoosh marketplace.
In preparation for today's announcement, Nike initially purchased the .Swoosh domain name for 19.72 ETH – a nod to the first appearance of the Nike Swoosh in 1972.
This past August, Nike earned itself a new title as the highest-earning brand in NFT sales beating competitors like Adidas and Dolce & Gabbana by thousands of transactions. As a result of years of success in the sports and retail industries, as well as more recent victories in the Web3, Nike fans are in for a novel and engaging experience with .Swoosh in the coming months.
In other metaverse news, FFFace.me leverages metamarketing and AR fashion for customers to create branded content.