The Hundreds' Badam Bomb Squad Launch Latest NFTs On Their Own Website
Without OpenSea amid the controversy around creator royalties.
The Hundreds' Badam Bomb Squad Launch Latest NFTs On Their Own Website
Without OpenSea amid the controversy around creator royalties.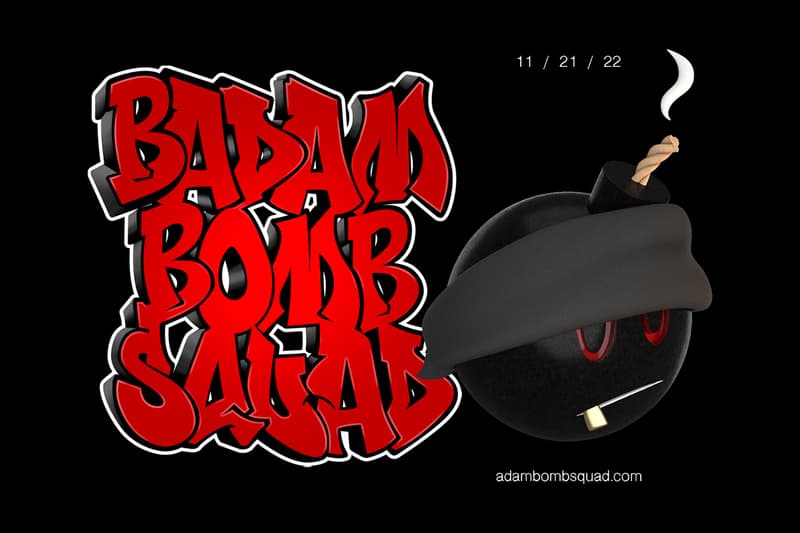 In August 2021, the streetwear brand, The Hundreds' launched the Adam Bomb Squad NFTs as a representation of how society would like to be understood. Despite the large supply of 25,000 unique NFTs, the project sold out in under 40 minutes.
Following its first successful NFT launch, The Hundreds is set to release its next collection today.
Ready? https://t.co/LIPR2eyPsp

— bobbyhundreds.eth (@bobbyhundreds) November 21, 2022
On November 21, Badam Bomb Squad (BBS) will drop a new collection of 5,000 digital assets for a price of 0.2 ETH each through the project's own website. Ownership of the BBS NFTs will include a The Hundreds X BBS T-shirt as well as access to the greater Bomb Squad project and community.
The new collection, Badam Bomb Squad (BBS) embodies traits that society misunderstands or misconstrues. Instead of smoke, red eyes, and a gold tooth signifying the binary good or bad value system, BBS represents a deeper message against diminishing what we do not understand and fearing whom we don't know.
A Change of Plans
Today's launch is extremely special for The Hundreds and Bomb Squad as the collection will be launched through its own website portal. The NFTs were originally scheduled to mint through OpenSea's NFT marketplace on November 10.
However, on November 8, The Hundreds' owner, Bobby "Hundreds" Kim tweeted that BBS would no longer be launching on OpenSea due to the marketplace's current stance on creator royalties.
? A message from @thehundreds and @AdamBombSquad on the release of Badam Bomb Squad ? pic.twitter.com/CZuO1z2BS4

— bobbyhundreds.eth (@bobbyhundreds) November 9, 2022

As the debate over creator royalties floods the NFT community yet again, Kim has served as an advocate for creators in the discussion – especially regarding OpenSea, home of the Adam Bomb Squad NFTs.
On November 5, OpenSea voiced the platform's position on creator royalties — which came with great confusion and uncertainty from creators. The temporary plans included enforcing creator fees for new collections only that are also able to utilize a new on-chain enforcement tool.
As Kim and The Hundreds were awaiting to see OpenSea's conclusion prior to launching BBS, the project has since shared that it has pulled its primary sale from the marketplace and will move forward without OpenSea's participation. Instead, the brand's second major NFT collection will be minted and hosted on the Adam Bomb Squad's own website.
If the Creator Royalties debate has taught us anything, it's that the artists/founders run the show here. Tomorrow, our friends at @Moonpay are helping us sell Badam Bomb Squad *INDEPENDENTLY* through our site with @hypermint. Support creators, fight for royalties, defend Web3 ✊

— bobbyhundreds.eth (@bobbyhundreds) November 20, 2022

The BBS project wants to display the brand and Kim's solidarity with the so-called "Web3 principle" of enforcing creator royalties along.
As Kim and The Hundreds see a "disconnect between the founders and their communities," the project hopes to reshape brand-consumer relationships by providing innovation toward collector royalties.
Therefore, approximately 1,000 bombs in the original Adam Bomb Squad collection will be airdropped a bomb from the new Badam Bomb Squad for free.
Additionally, the NFTs will be virtually bound so that when a BBS trade is made, the Adam Bomb Squad "anchor" will receive the sales royalties alongside The Hundreds.
Within the past 24 hours leading up to mint, the initial Adam Bomb Squad NFT collection has seen a surge in sales volume of more than 550% as well a 300% increase in the number of new holders.
It should be noted that on November 9th, OpenSea announced that its long-term plans will honor creator fees on all existing and new NFT collections.
1/ After hearing the passionate voices from the creator community last week, we believe marketplaces should honor a creator's choice to set fees on existing collections, not just new ones. Thread ?

— OpenSea (@opensea) November 15, 2022
In other NFT news, Snoop Dogg and Billy Ray Cyrus hype up fans through a gamified NFT experience.