Andy Krainak: "Graduating Gary Vee" Through VeeFriends to Reach New Audiences
In an exclusive interview during Miami's Art Basel 2022 about why characters like Forthright Flamingo, Patient Panda, and Tremendous Tiger are the bridge for Vaynerchuk to connect with new age brackets.
Andy Krainak: "Graduating Gary Vee" Through VeeFriends to Reach New Audiences
In an exclusive interview during Miami's Art Basel 2022 about why characters like Forthright Flamingo, Patient Panda, and Tremendous Tiger are the bridge for Vaynerchuk to connect with new age brackets.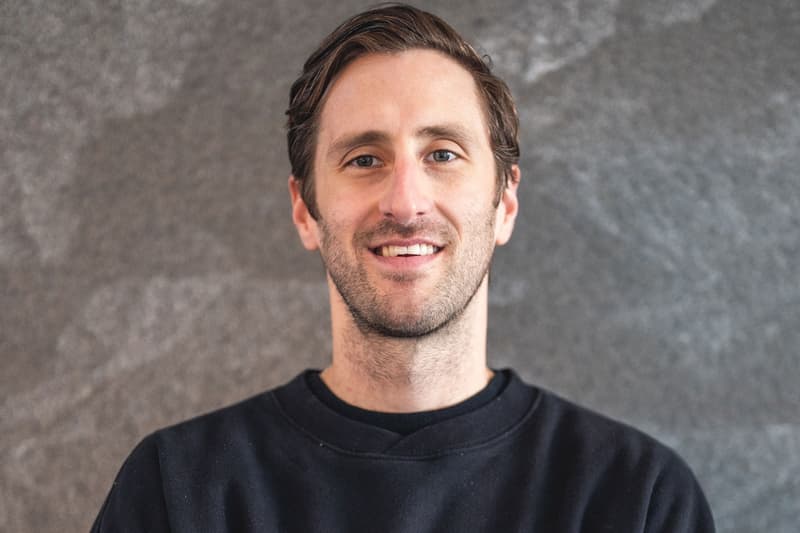 1 of 6
2 of 6
3 of 6
4 of 6
5 of 6
6 of 6
On Wednesday, VeeFriends released its VeeFriends Winter '22 Collection, adding to its growing portfolio of IP and ethos of positivity, commitment, and mental health awareness.
The Winter '22 Collection, which features 24 classic VeeFriends logo items and 5 seasonal characters – Patient Panda, Authentic Anaconda, Selfless Sloth, Competitive Clown, and Grateful Gar – were selected by Vaynerchuk as a token of friendship and appreciation for the time we all spend together. 
Its lookbook was shot at the iconic New York restaurant, Sweet Chick, which featured Alani Noelle, Kim Shui, Lil Polo Tee, Mona Vand, Mark Shami, Nia Spencer, and VeeFriends President Any Krainak. 
During this year's Miami Art Basel 2022, Hypemoon sat down with Krainak at Pharrell's The Goodtime Hotel just minutes before the grand opening of Vintage Frames eyewear in Miami.
Krainak, who has worked with Vaynerchuk for almost 10 years, served as Gary Vaynerchuk's brand director prior to coming onboard as President of VeeFriends. 
"I oversaw everything related to [Gary's] media content team at VaynerMedia. When NFTs started happening in 2021, he asked me to join him full-time on creating VeeFriends," he told Hypemoon. 
"Graduating Gary Vee"
Launched in May 2021 by Vaynerchuk, VeeFriends is an intellectual property company that began its journey with a 10,255 NFT collection of animal characters and traits that represent the new "spokesperson" for Gary Vee in efforts to connect him with new audiences and age brackets.  
"Our IP was established as NFTs first, but we're an IP company and we're going to continue to grow the IP of these 283 characters over the course of the next few years," Krainak told Hypemoon.
In the last three months, Krainak says that VeeFriends has grown by 30 employees, as it continues to identify and scale its business with the right collaborations, events, content, and character development. 
"Gary gives this analogy and it rings true to me – he talks a lot about accountability, patience, and kindness in his content. He and VeeFriends, collectively, really liked this idea that Gary Vee could 'graduate' and not be the single spokesperson for all of those traits and attributes – but could become almost the Vince McMahon and have the characters that he's created be the spokesperson for them. And hopefully we can impact and reach more people by way of that. I think only so many people can be attracted to someone like Gary, and I think Forthright Flamingo, Patient Panda, or Tremendous Tiger might be able to better connect with different age groups and demographics based on that character and how they look, sound, and feel."
Krainak told Hypemoon that he believes there are a lot of myths out there about who the community thinks Gary is as a person, emphasizing his deep admiration and respect for Vaynerchuk.
"He is exactly who he is on the screen, and I think you've tasted a little bit of that today," he said."
He continued with his belief that in the next five years, the term 'NFTs' won't be used anymore, as we (should) all be referring to them as 'digital collectibles.' 
"The concept of owning something on the internet will be an everyday thing, and I think we are just too early for it to come there."
Soft Skills and Algebra
Throughout the VeeFriends ecosystem, you will undoubtedly find characters that embody attributes in the mental health arena, which is no coincidence.
As the community follows VeeFriends on its journey, Krainak says that mental health will continue to play a major part in the company's overall growth and its storytelling and character development. 
The day prior to our interview, Krainak said that he was talking with a group of young kids and asked them to raise their hand if they knew what 'soft skills' were, to which he said most of them didn't. 
"I then asked if they had heard of algebra? Of course, they said yes, but those are 'hard skills.' I love the quote that 'soft skills are actually hard skills.' I think soft skills are rooted in having strong mental health, and if you can't work on your mental health, then I think everything else is vulnerable to crumble. I think everyone has a responsibility to take care of their mental health, and VeeFriends characters are indicative of that, just based on the different attributes and traits. Hopefully, VeeFriends will help progress that conversation in the next five to 20 years," he explained. 
First Time Art Basel Attendees
Right now, the crypto space, unfortunately, has been inundated with the consequences stemming from the collapse of FTX, which has both investors and those coming into the space (rightfully) upset and heated. 
Events of this magnitude also serve as a barrier to entry in Web3's mission to onboard the masses into next-gen technology and creation, further instilling levels of intimidation to the average person not yet comfortable dipping their toes into these nascent waters.
The beauty of Art Basel, however, is that the politics and drama should be left at home, and people can come together to appreciate and experience immersive art in new mediums. 
For those who attended Miami Art Basel for the first time, Krainak encourages everyone to take the opportunity to walk up to someone that you don't know and introduce yourself. 
"I think a lot of people chase the most relevant person in the room, and I think that's generally a bad strategy because you don't know who the person sitting next to you might be, and how your lives might intersect and cross paths."
Of the many verticals VeeFriends has continued to push forward in, fashion has become a more focused effort. "Fashion is how everyone communicates in some way – what we choose to wear on a daily basis, we decide for a reason. I think if we can play a role in that as a brand and as an IP to allow people to express themselves with VeeFriends characters, it's a great opportunity," Krainak added. 
Vintage Frames x Forthright Flamingo
As for last week's grand opening of Vintage Frames' new Miami store, Krainak said he was most excited to see the smile on Gary's face as they unveiled the first iteration of Vintage Frames x Forthright Flamingo alongside Vintage Frames founder, Corey Shapiro.
"I know how much this collaboration means to him. I know how much having this grand opening inside The Goodtime Hotel means to him, and I'm grateful that he was a partner with us. It's humbling to have Forthright Flamingo on such an iconic sunglasses company, so I'm excited to see Corey smile and to see the VeeFriends community come hang out with him and Gary."
According to Krainak, this collaboration between Vintage Frames and VeeFriends (Forthright Flamingo) has been in the mix for over a year. 
"When we first reached out to Corey, we wanted to do a sunglasses collab. Generally, when we are collaborating with artists, we just look at the VeeFriends character library and put the ball in their hands, allowing them to have the creative freedom to identify with whatever character they think is going to be best – excluding a few off-limit characters. And Corey identified with being forthright, and it's a pillar of how he's operated in life and in business of being upfront and truthful. I think we ended up with a really cool design and I'm excited to see people wearing them."
Shapiro told Hypemoon at the grand opening that he was most excited to see the combination of crowds come together, given the differences between he and Vaynerchuk's immediate communities.
"Even though we have a crossover crowd, [Gary] and I have two very different crowds. And the whole point of the brand is to not segment differently on talent, so I think it's the perfect kind of commonality combination – the melting pot of what we're trying to do," he said. 
He said that after doing Art Basel for eight years, he has seen it progress from mere "art" to culture, with NFTs helping create the accessibility for individuals to better appreciate new forms of art, such as eyewear glasses. 
We also asked Shapiro what he believes to be the "perfect" eyewear, to which he said is "very anti-LensCrafters."
"I believe that eyewear should never fit your face; it should only fit your personality. As you walk into our new store here, our stickers say 'kindly check your ego at the door.' As you're walking in, the staff have been trained to have an idea of how they want to place and get you into something, because eyewear provides a barrier between your face/eyes and someone else's. That's why we like to tell our customers that 'nothing fits them.'"
Shapiro, who started Vintage Frames 16 years ago, says the brand has the "most diverse designer vintage archive."
"All of our stores have two pairings – actual vintage, so they can understand the lineage and history, and our own line, which is the Vintage Frames line where we try and create a very high-end, transparent, inclusive eyewear brand."
He explained that because many eyewear companies are "licensed houses," the quality isn't always there. "You're just paying for a name, and most of the time we pay for the name and it's not even the designer. We try to dumb that all down and teach people what's involved and what they were really paying for, so when they try and make a purchase, they feel like it's a real equitable thing to support."
In other NFT News, OpenSea's Shiva Rajamaran: Art Basel attendees need to 'find the fringe.'