Vayner3's Avery Akkineni: "We've Pivoted the High's and Low's of What's Trending"
Putting on its immersive "V" experience at SCOPE Miami during Art Basel 2022 that included conversations about the role media publishers, brands, and creatives will play in the future of Web3.
Vayner3's Avery Akkineni: "We've Pivoted the High's and Low's of What's Trending"
Putting on its immersive "V" experience at SCOPE Miami during Art Basel 2022 that included conversations about the role media publishers, brands, and creatives will play in the future of Web3.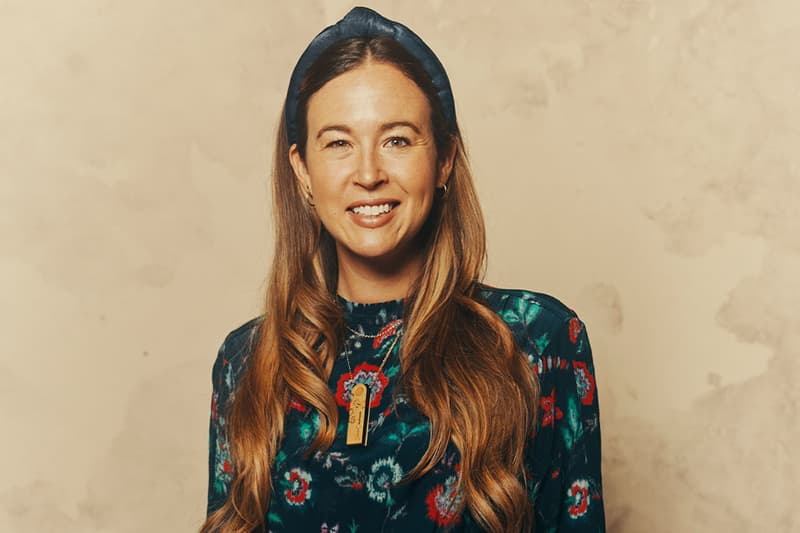 1 of 11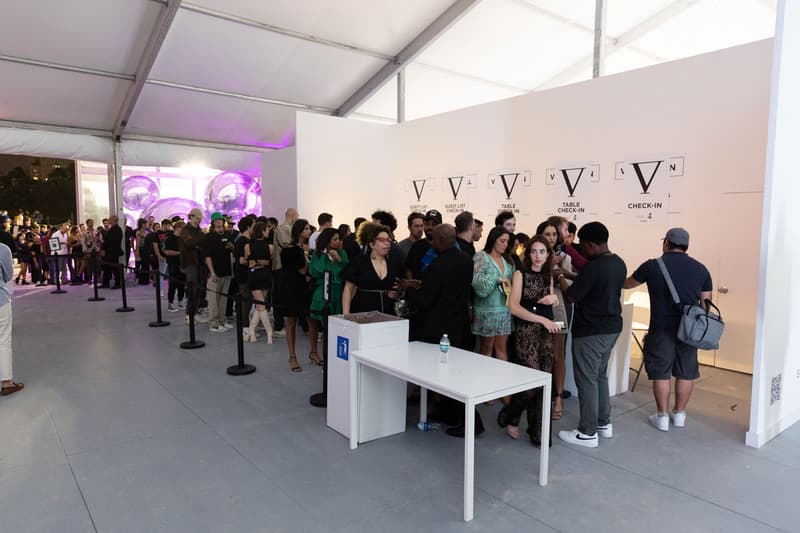 2 of 11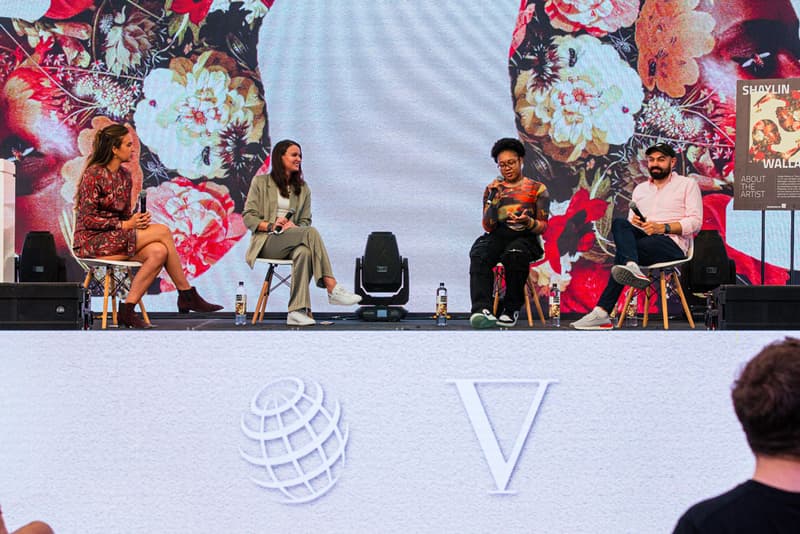 3 of 11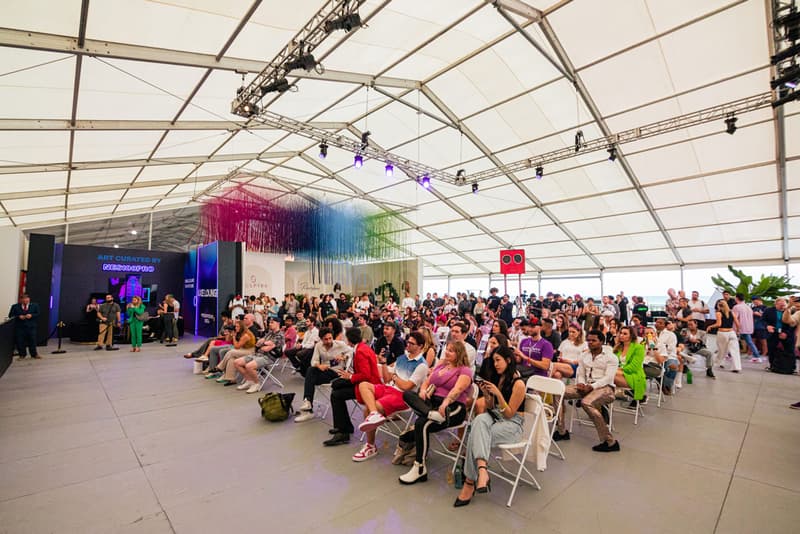 4 of 11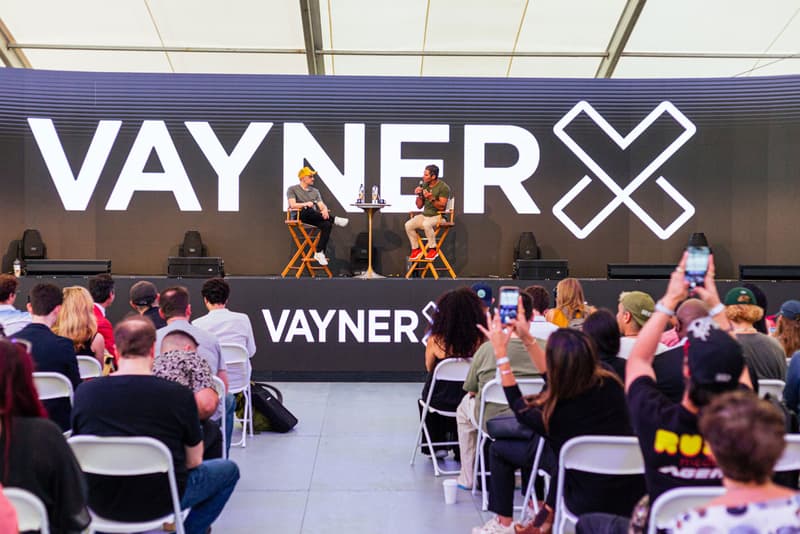 5 of 11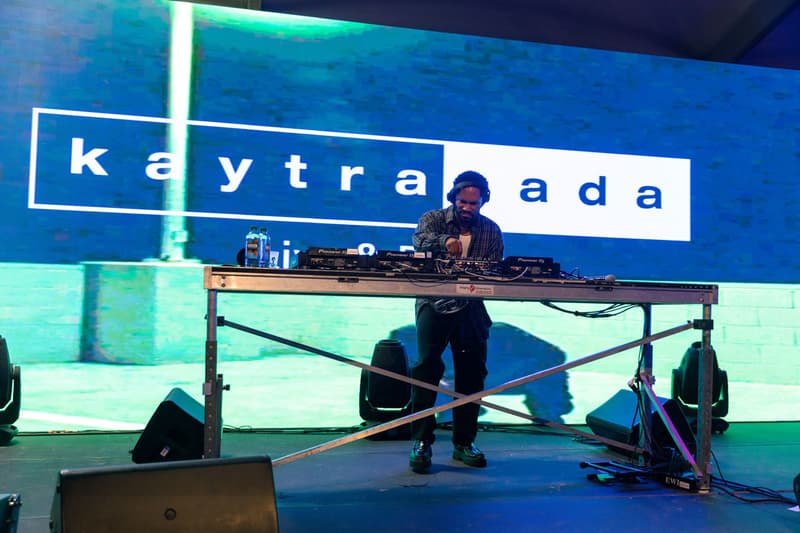 6 of 11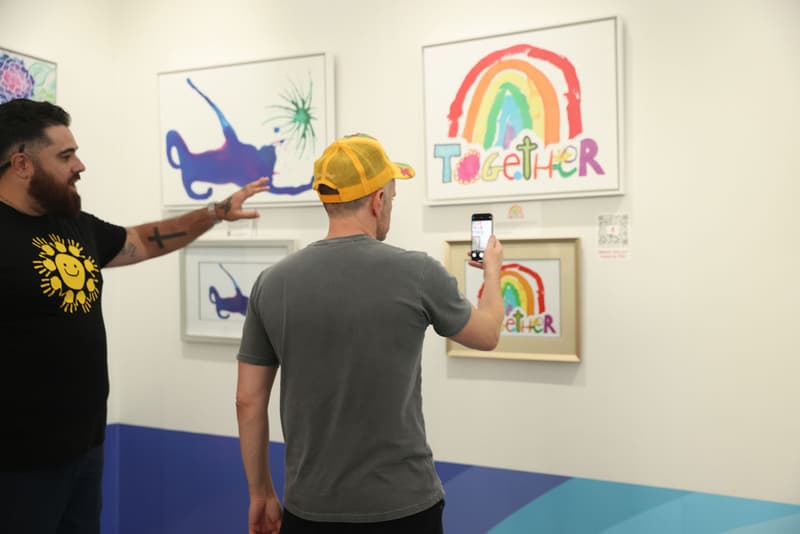 7 of 11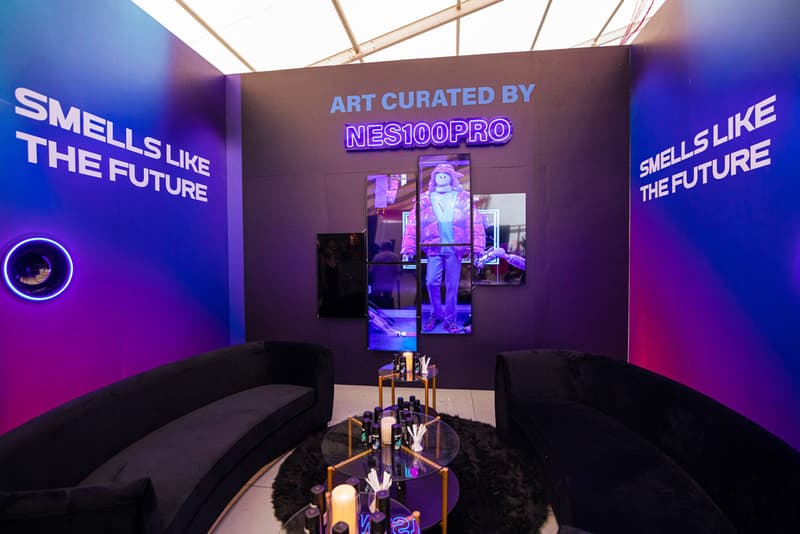 8 of 11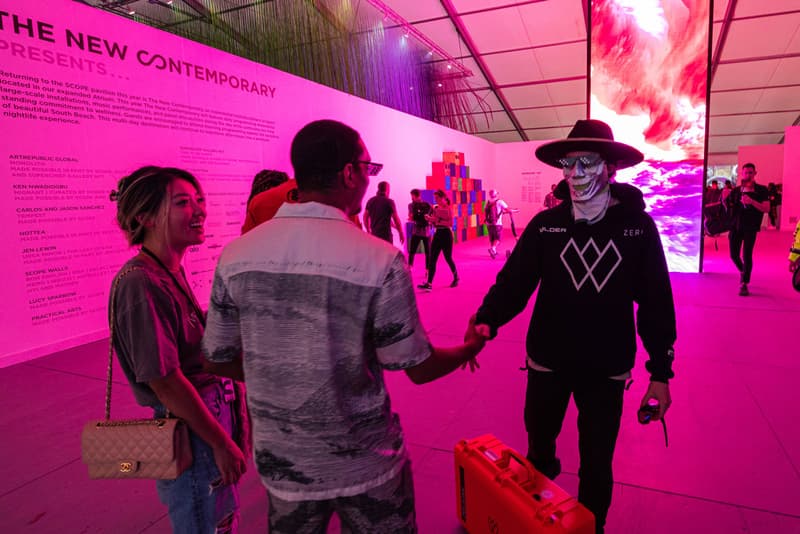 9 of 11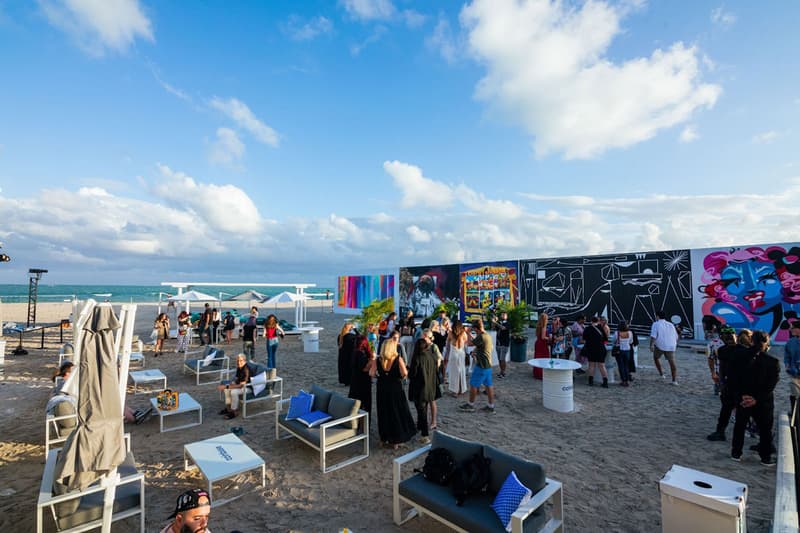 10 of 11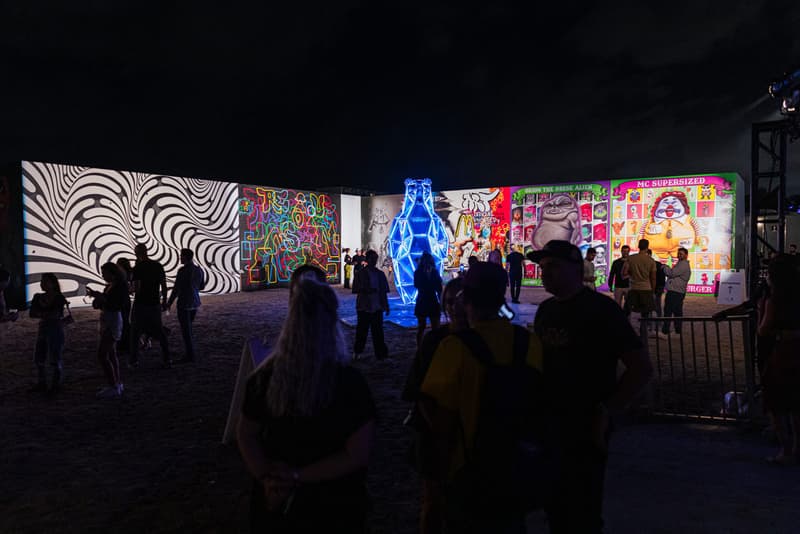 11 of 11
Kicking off Miami Art Basel was "V" at SCOPE Beach, an exclusive day of programming and token-gated events put on by Vayner 3 and VaynerX, in partnership with tokenproof, presented by Johnnie Walker, St. Jude Children's Hospital, AXE, One37PM, Coinbase, and PepsiCo. 
Throughout the day, "V" put on a series of truly impactful fireside chats and panels that included a particularly brilliant token-gated conversation led by Vayner3 President Avery Akkineni that featured PepsiCo's Kate Brady, digital artist Shay The Surrealist, and tokenproof's Fonz. 
St. Jude Children's Hospital
During the activation, St. Jude unveiled its first-ever patient art gallery, bringing an inspiring experience through immersive patient stories and artwork. On display, there were six art pieces created by St. Jude patients that were also available for purchase in addition to an opportunity to learn about their individual stories. 
AXE x One37PM Lounge
AXE, best known for its male grooming products, teamed up with Vayner's One37PM to announce its entrance into Web3 through its token-gated lounge with art curated by Nes100pro and designer John Geiger. 
Johnnie Walker
Token holders were invited to come into the Johnnie Walker zone, where they could interact with artwork featured on a limited edition VANDYTHEPINK x Johnnie Walker Blue bottle. 
Coinbase's HODL My Drink Lounge
Outside of V was Coinbase's HODL Lounge, where the industry's largest exchange hosted its second installment of HODL My Drink, a token-gated private experience that supports female and non-binary Web3 leaders. 
FTX's Collapse Won't Stop Us From Building
During V, Hypemoon sat down with Vayner3 President, Avery Akkineni, where she said that Vayner3 is actively looking to show people what they're doing and why it's impactful so that the average person can begin to participate in this new technological transformation. 
Vayner3, which is under the VaynerX umbrella, is a Web3 consultancy that works with enterprises to navigate their journeys into the world of Web3 – from crafting a go-to-market strategy and educating their organization to launching activations like V during Art Basel.
Akkineni, who manages a team of around 60 people, drives the ship in working with primarily Fortune 500 companies, including government associations, large scale intellectual properties, and large enterprises. 
"Over the last couple of years, we've really started to see [Art Basel] as a convergence of culture – a weaponry of art, music, and fashion. And we've seen people all across the United States and in the world come to Miami to celebrate what's new and what's next," Akkeineni told Hypemoon. 
Despite recent events and the ongoing fallout from FTX, Akkineni and Vayner3 remain optimistic about the direction our technological infrastructure is heading as we draw closer to a "realistic" Web3 framework. 
"Right now, we're coming off of everything that's happened with the collapse of FTX, and there's a feeling from CFOs that this was all a 'house of cards' waiting to collapse. Our belief is that the blockchain is a tremendous advancement in technology and something that we believe is going to be really foundational for the next era of the internet," Akkineni says. 
With the intersections between and among digital art, fashion, sports, music, and identity, this next era of the internet is predicated upon a crucial cultural and behavioral layer that puts the everyday consumer front-and-center.
Our attempts at understanding what exactly "Web3" is or is supposed to be has continued to take shape over the last two years as part of this "digital renaissance." 
Akkineni says that the framework in which she thinks about Web3 is spread across crypto, DeFi, NFTs, and the metaverse.
"That's all underpinned by two things – the technology, which is the blockchain, and the culture. I think the culture of what works in Web3 is still being developed and at Vayner3, I think we've pivoted with the highs and lows of what's trending and what's not trending anymore. We've really tried to embed ourselves with artists, creators, builders who are extending this world," she continued. 
As the building blocks to the "consumer blockchain," these emerging technologies are crucial in driving today's digital renaissance that will allow us to learn from the past and avoid the same mistakes investors made during the "dot com bubble."
Crypto.com revealed that global adoption of crypto has grown dramatically, with conservative estimates reaching over 300 million global users in early 2022. Crypto exchanges and investment platforms like Coinbase, have consistently added 5 to 15 million new verified users per quarter over the last two years. 
Reddit and the Foray Into the Consumer Blockchain
The biggest catalyst and spark for millennials and Gen-Z today has, without a doubt, been Reddit. This mechanism by which today's younger generations have placed their trust has served as the cultural backbone for how they choose to share and receive information – forget Twitter.  
Since the platform's July foray into Web3, Redditors have created more than 3 million Reddit Vault wallets to buy and trade digital avatars that are essentially PFPs. 
But Reddit wasn't the first to allow digital collectibles as their profile pictures – so why was this one of the most well-received launches?
It understands its audience, plain and simple. 
Earlier this month, Reddit hit another major milestone with a record 255,000 of its "avatars" minted in just one day. 
At the same time, Instagram, as part of its latest pilot program, recently announced that users will soon be able to create, sell, and trade digital collectibles – transforming from a mere photo-centric social media platform to a truly encompassing creator's platform. 
What to Watch For in Web3
This week, Vayner3 released its whitepaper, identifying a number of trends that the enterprises should be focused on approaching 2023 – and we're just at the tip of the Web3 iceberg. 
Brands Are Activating With "Intention"
If there's anything to take away from the emotional rollercoaster that was 2022, it's that we are past the "shiny new object" moments of brands blindly jumping onto the Web3 bandwagon.

The playbook for tasteful entrances into the space is actively being written and rewritten, because what worked early on for many of our industry's leaders and most successful creators – won't be the same strategy that keeps them and others who follow on a sustainable path forward for success. 
Vayner3 believes that those brands who approach 2023 with the goal of onboarding the masses, will be able to offer clear Web3 products, pursue nuanced consumer targeting, and develop intentional go-to-market strategy. 
It's not farfetched to assume that legacy brands like Nike, Dolce & Gabbana, and Tiffany will continue to hold the reins of bridging the gap between physical and digital goods, however, 2023 will undoubtedly focus on new forms of consumer engagement as it flips the pyramid on its head and targets consumer through nostalgia and mainstream habits they already understand. 
Perhaps, one of the most exciting and impactful emerging product archetypes was TIME Magazine. Under the leadership of TIME President Keith Grossman, TIME is arguably the first media publisher to integrate Web3 tech directly into its website (TIME.com) by granting magazine subscription access to TIMEPieces NFT holders who connect their digital wallet to the website. 
This week, Starbucks officially launched its long-awaited Odyssey Beta experience, which was first announced in September. Starbucks Odyssey is an extension of Starbucks Rewards, powered by Web3 technology, that unlocks access to new benefits and experiences for members by allowing them to earn collectible 'Journey Stamps' (digital collectibles) and Odyssey Points.
We Will Be Seeing More Consumer-Facing Pilots
The participation we have already seen from consumers as Reddit, Instagram, and Starbucks have launched their respective pilot programs is just the beginning.

Given that we have quite some time before we realize a "full" Web3, this current phase of innovation and piloting – or Web2.5, is ripe for tech giant investment that helps integrate blockchain-based tokens into core product offerings through cloud infrastructure, stablecoins, and developer services. 
In other words, it's worth keeping an eye on what companies like Shopify, Salesforce, Google, Twitter, Reddit, and Instagram continue to implement throughout 2023. 
Blockchain-Based Ticketing Will Take Some More Time
While we've already seen major announcements and token-based ticketing experiences from organizations like Ticketmaster/Dapper Labs and the NFL, Vayner3 believes that mainstream adoption of blockchain-based ticketing still has a ways to go – beyond 2023.

"We have already seen early proof points for a range of experiential use cases that drove enhanced IRL activations, deeper engagement with consumers, and new channels for retargeting and post-event community building," the whitepaper reads. 
The heart of this experimentation most certainly lies with the future of music festivals like Coachella, which sold 10 lifetime pass NFTs, generating $1.5 million USD in primary sales (irrespective of the now bankrupt FTX marketplace) and Universal Studios with its Halloween scavenger hunt. 
Web3 Mobile Apps Are Popping Up
In the last three years, Google Play and iOS app stores have seen a 500%+ growth in Web3-based mobile apps that have the phrase "Web3" in its title, subtitle, or description – whether they actually stay true to that, is another conversation.

Right now, over 50% of the existing "Web3" mobile apps are less focused on finance or mobile payments, and more on token-based access and experiences and play-to-earn (P2E). 
However, the ongoing war with Apple's highly controversial fee structure for apps on its App Store will continue to stifle any significant innovation and development in the Web3 mobile space. 
We Don't Actually Have a Fully-Functional Metaverse – Yet
Despite the overwhelming references and entrances into the metaverse, we actually don't have a fully-functional metaverse yet.

Another myth that needs immediate debunking is that there will never be "one" metaverse – there can't be and there shouldn't be. As we are seeing already, there will be (and should be) multiple metaverses that offer different types of experiences. 
While Roblox and Fortnite have often been referred to as "metaverse platforms," the reality is that their respective audiences haven't really found their way into the mainstream consumer market – despite them both leading the space in daily active users (57 million and 3 million, respectively). 
The "true" metaverse as we have envisioned it and marketed it out as is still a very long time away and we just aren't ready for it yet. 
Multi-Chain is Definitely the Future
Over the last three quarters, we have seen more brands experimenting outside the Ethereum ecosystem – with Q1 2022 seeing 50% of enterprise NFT drops using Ethereum to Q3 2022 seeing less than 25 percent.

As we've seen with Disney, Reddit, and Instagram, each blockchain serves a different purpose and resonates differently based on the culture they are attempting to expand upon –  Flow, Immutable X, etc.
Building the Right Team Matters
At the end of the day, none of this matters if you don't have the right team in place who can speak to the many facets that go into a tasteful go-to-market strategy.

"In our conversations with large enterprises, we have seen Steering Committees, Centers of Enablements, and Design Studios as the three most common operating models for early Web3 teaming," the whitepaper reads. 
Vayner3 added that it has seen F500 announcements of Web3 hiring in all industries – Entertainment, Retail, Fashion, Tech, and CPG, which it expects to see more following suit in 2023. 
Now, What?
Akkineni says that she would like to see the media world embrace what's happening to really reward their most loyal fans and followers – whether it's through NFTs or some type of token-gated solution. 
"Many people can recognize that banner ads and display advertising is not the solution for the world of digital media publishing," she emphasized. 
As for Vayner3's continued efforts at shaping culture, Akkineni says she's very proud of the culture the agency is building.
"We have a good mix of resilience, compassion, empathy, and wanting to do work that teaches hearts and minds. That's something we really try to instill in our employees, who are often with Vayner for many years. At the end of the day, humans crave connection and culture is that invisible bond that attracts people to something new – whether that's a sports team, a piece of art, a song, or an entire community."
In other Web3 news, Andy Krainak & VeeFriends talk "graduating Gary Vee" to reach new audiences.