Gary Vee: "Stop Buying Shit Based On Other People's Opinions"
In an exclusive interview with the VeeFriends founder about bringing IP 'tastefulness' to the table through 'intent,' 'karma,' and accountability.
Gary Vee: "Stop Buying Shit Based On Other People's Opinions"
In an exclusive interview with the VeeFriends founder about bringing IP 'tastefulness' to the table through 'intent,' 'karma,' and accountability.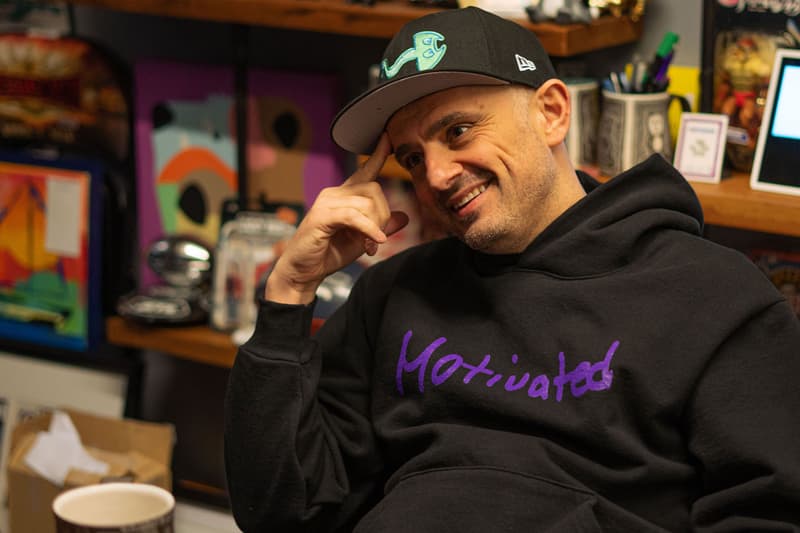 1 of 6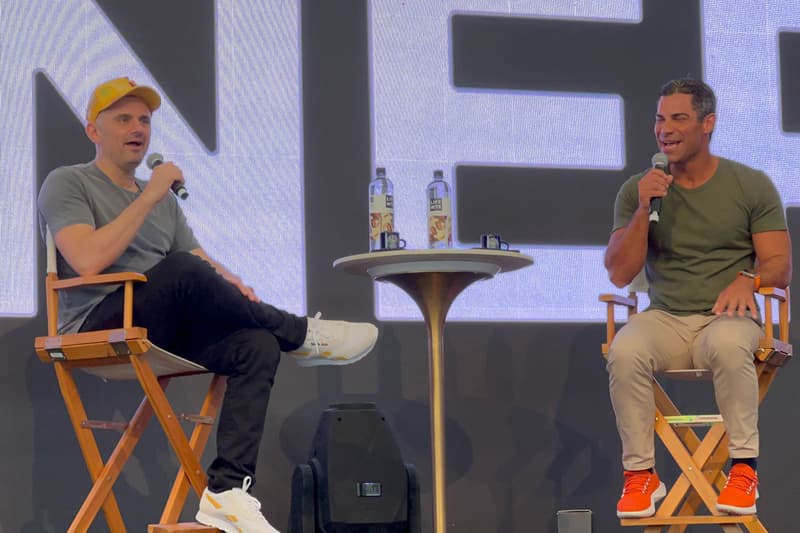 2 of 6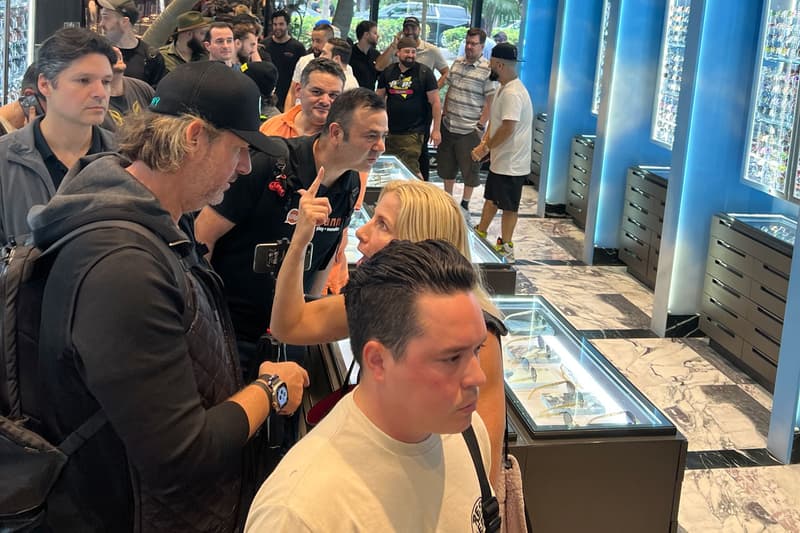 3 of 6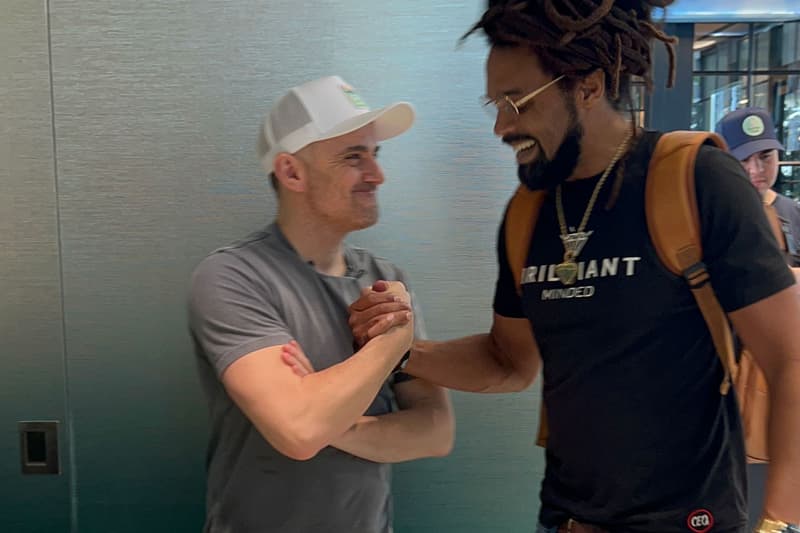 4 of 6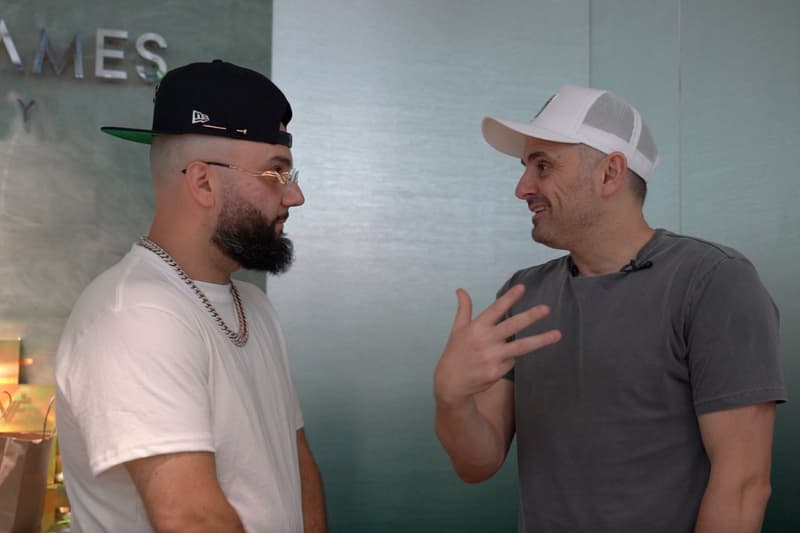 5 of 6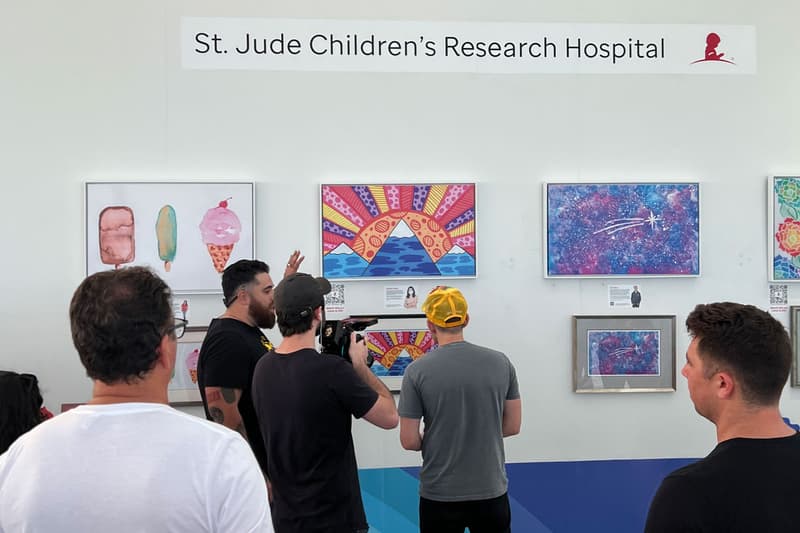 6 of 6
"When [my companies] do things like Art Basel, NBA All Star, SuperBowl, Cannes, and SXSW, I'm always thinking about how we reverse engineer a scenario, activation, collaboration, or an event space that creates serendipity, conversation, and relationship building?" Gary Vaynerchuk shared with Hypemoon in an exclusive interview from The Goodtime Hotel during this year's Miami Art Basel.
Hypemoon was invited to spend the day with Vaynerchuk and his team ahead of and throughout V SCOPE Miami, an exclusive day of programming and token-gated events put on by Vayner3 and VaynerX, in partnership with tokenproof, presented by Johnnie Walker, St. Jude Children's Hospital, AXE, One37PM, Coinbase, and PepsiCo.
"The punchline is how much karma can you put into the system during a time where a lot of people congregate on the same floor? I think too many businesses, people, and companies are too transactional when they're activating at events like this," he emphasized. 
Measuring IP Through 'Intent' and 'Karma'
From the many conversations we had with the VaynerX CEO to the rapport he extended to his VeeFriends community, Vaynerchuk's every move is driven by karma, intentionality, and fringe culture. 
Whether it's through VaynerX – the holding company to VaynerMedia and Vayner3 – or VeeFriends, his intellectual property NFT project, Vaynerchuk says he always leads with "intent," rather than a "money-first" approach.
"I think humans can sense that, so I go completely the other way in asking how do we do something that brings so much value to anybody that comes?" he told Hypemoon. He emphasized that he even goes so far as to invite competitors to his events to see what value they can extract for their own purposes.
Navigating through the massive portfolio of IP that Vaynerchuk has developed, he told Hypemoon that when it comes to assigning value to specific IP, he remains very affected by the world Jim Henson created beyond The Muppets and Sesame Street, such as the 1983 children's series, Fraggle Rock, which used fantasy creatures as an allegory to deal with serious issues plaguing the world such as prejudice, spirituality, personal identity, the environment, and social conflict. 
"Fraggle Rock, when it was handed to the woman that started the process of deciding what [the show] was going to be, asked what it was they were trying to accomplish – to stop war. That's profound, and I'm very affected by that," he said.
History has shown time and time again that if an individual can make a brand mean something, people will naturally pay a lot of money for it. Holding up a bottle of water he was drinking, Vaynerchuk recalled that this was a resource that was free for such an extensive period of time until someone said, "wait a minute, I'm going to sell something that's actually free."
For Vaynerchuk and the journey he is on in building out his IP, he says that selflessly, if he can create 300 characters in a "Pokemon, Sesame Street, Marvel-like world" where he can do what he's done for 15 years as "Gary Vee" in pushing out kindness, patience, and empathy – it's a legacy he really wants to leave. 
"Gary Vee is a very specific human being who's going to work for some people, but it's not going to work for others," he explained, adding that "this Patient Panda might be more effective of teaching people patience than me," referring to one of his hand-drawn VeeFriends characters.
How we perceive a particular IP's value is shown by the ways in which we choose to express ourselves, whether it's through an $8 pair of Puma socks or a tattoo. 
"These are all intentional references, and I'm able to understand you more in a hyper second simply by the choice of IP you're communicating to me right now," Vaynerchuk emphasized.
"I Desperately Want the World to Fall in Love With 'Accountable Ant'" 
It is that intentionality and appreciation of the self that translates into the VeeFriends ecosystem as it looks for those 'tasteful' partnerships and collaborations that make it more than just a digital collectibles project. 
"I'm not crippled by the concept of 'tastefulness,' because I know that it's everyone's subjective opinion," Vaynerchuk says. "The way I bring 'tastefulness' is that I'm not scared of it, where I think a lot of people are scared of it. They want it to be 'tasteful' to tastemakers; I'm not worried about that. I try to bring my 'tastefulness' to the table through intent. I want to make a great product and something that people really enjoy when they have it. I have no interest in anybody buying it if it's not something that brings them value."
Those familiar with VeeFriends are certainly no stranger to 'Accountable Ant,' one of Vaynerchuk's many hand-drawn original characters that resembles a trait that Vaynerchuk has spoken about over the past years and a trait that he believes would lead to increased happiness:
"I desperately want the world to fall in love with 'Accountable Ant,' and because I think accountability, if you fall in love with him before you're 18, will lead to less anxiety and depression. Accountable Ant is more than just a fun character — he represents the importance of accountability and personal responsibility in our lives. By embracing these values at a young age, we can set ourselves up for greater success and happiness in the long term."
Vaynerchuk also told Hypemoon that he wants to help people of all ages fall in love with 'Accountable Ant,' and by doing so, helping to create a more positive and fulfilling world for everyone.
Pointing to another VeeFriends character – Forthright Flamingo – Vaynerchuk said that the project's newest collaboration with luxury eyewear company, Vintage Frames, was extremely exciting for him on a personal level:
"I've struggled with candor my whole life," Vaynerchuk confessed, speaking to his train of thought when choosing that 'right' brand for a Forthright Flamingo collaboration. 
The rad appeal and feeling of rocking a pair of Vintage Frames with Forthright Flamingo and Gary Vee embedded in it, also presents the question of whether being "forthright" with that type of vibrant expression is actually a good thing?
"It is if you keep it in balance and you deliver it with kindness. There are millions of people around the world, like myself, who have struggled with candor, which has led to the things that have made them unhappy. And if I can storytell from collaborations – sneaker deals, glasses, children's books, movies, television, streaming services, toys with QR codes that let you watch a four minute video, the Cocomelon execution of all YouTube, the AdultSwim, Rick and Morty execution of television like Bart Simpson and everything in between Hello Kitty – then over time, for the back half of my life; the next 47 years of my life, I think I can leave a really meaningful impact." 
By approaching each potential collaboration with vigor, Vaynerchuk looks for which character is going to be his "cereal" by exploring the "why, what, how, and who."
"Once a week in my day-to-day navigation, I will give three minutes to 40 minutes of meaningful time of thinking about 'what's the one that's going to work,' and I'm going to do that well, because I know how to sell stuff. And I'm going to sell cereal, but I need to be very thoughtful. Am I going to make that a very healthy, clean cereal that may skew for a 25-year old coastal? Or am I going to make a sugar cereal that's just a little fun, a little escapism for nine year olds?"
Prior to the official launch of VeeFriends, Vaynerchuk says that he gave a lot of thought to building a "very big universe" that he could play with as his canvas – forever. 
"I didn't draw Mickey Mouse and then later build Pluto or Daisy Duck – from day one, there were 268 characters, because I knew what I wanted to do. It was to build a universe that will leave a positive impact in its execution of becoming pop culture."
Having invited his entire VeeFriends community to the IRL launch of the Vintage Frames x Forthright Flamingo event at The Goodtime Hotel, Vaynerchuk says this collaboration took the longest amount of time to come to fruition.
"On the Vintage Frames side, they wanted it right from their perspective. I respected their creative process so much that I was comfortable that it took us six to nine months than I initially had in my ideology," Vaynerchuk shared.
As for the event itself, he was even more excited to speak with members from the VeeFriends community who showed up to see him.
"Any excuse I can have to meet up with people that want to go out of their way to say hello to me, is something that's interesting to me. I don't know how to express in words what it feels like when people go out of their way to show up anywhere and everywhere you are publicly to get a few more minutes to say hello or ask a question. It's profoundly humbling."
You Keep Using That Word – "Culture"
"You keep using that word, I do not think it means what you think it means" 
– Inigo Montoya, The Princess Bride
The nascence of the Web3 space, including its exploration into digital fine art and collectibles, has also bred an annoying bad habit by many to cling onto specific "buzz" words and concepts – and then think that they will be taken seriously each time they use it in a sentence.
Of all the "buzz words," there is one that stands out above all others, as its oversaturated use diminishes this very moment in time that we, collectively, are working so desperately to shape and carve out for society's next-gen transformation – 
Culture.
Depending on the room we find ourselves in, our understanding of "culture" changes, and often, is conflated with a specific project – rather than the ecosystem it should be reflected through.
"For me, my brain goes to 'pop' – 'pop culture' – and then 'popular culture.' And what that means to me is 'people are interested in…,' and I think the word 'slang' today speaks a lot about urban culture and cool culture. However, I do think that sometimes people miss the bigger macro," Vaynerchuk explained.
He gave the example of his interest in doing more with VeeFriends in 'fishing culture:'
"There are millions of people who wake up at 5:00 am across the country and go fishing, and it's the most important thing to them. When we say 'culture,' we don't think 'hunting and fishing' – we think 'cool.' But for a lot of people, hunting and fishing is the coolest. I remember thinking that video games were going to be so much bigger than a lot of my friends saw, because it wasn't just for kids. Video games are even more important now than it was when we were nine. This is big. This is culture. I think of it very macro."
Turning back to 'tastefulness,' Vaynerchuk pointed to his own subjective creative opinion:
"If I think something looks cool, I know that means that millions of others will too– however, I also know that means millions of others won't, and that's fine. I think a lot of people are crippled by tastefulness and they become perfectionists. They become insecure and crippled, and they don't do shit. As long as I have good intentions and value my opinion, while recognizing that my opinion doesn't mean anything to 70% of the world, then that's great."
The rise of digital fashion and wearables has undoubtedly been the catalyst for high-end brands to find new avenues of accessibility when targeting younger demographics. "Fashion has been the place I've been most aggressive — Reebok, Starter, Kim Shui, Carrots, and now, Vintage Frames. It's disproportionately ahead of almost everything," he added.
With the majority of Vaynerchuk's online audience ranging from 15 to 45 years old, he says that fashion collaborations is the one thing he has been "running fastest" with, not doing as much with consumer packaged goods.
"Speed is an incredibly important thing to me and I love that through collaborations, we can get into market within a six or nine month period."
Where Are We Headed Next?
The collapse of FTX has certainly left the digital asset sector in such a vulnerable state, with regulators and investors finally heeding to the alarming wake-up call that will undoubtedly carry us through most of 2023 with a new perspective on how we view crypto and digital collectibles. 
As our conversation concluded, we asked Vaynerchuk to share one thing that he would like to see changed in the near future as it relates to digital collectibles:
"Innovation is always faster than the government," he said. "What I would like to see in the next half decade, are very clear laws from the sovereign nations around the world on how they are looking to handle an NFT. Let's get some thoughtful, logical, common sense laws around the world so that operators, entrepreneurs, governments, established businesses can start moving faster, because when it's gray, people are not sure what to do."
And to the younger generation that has started to take an interest in art for the first time, or perhaps attending Art Basel for the first time, the VaynerX CEO shared two pieces of advice:
1. Challenge Yourself to Say 'Hello' to Everyone
Coming out of a COVID-19 era, where for two years, we lost our sense of self and ability to communicate healthily with others, re-introducing ourselves into society is crucial.
"For the most introverted, challenge yourself to say hello to as many people as possible. The number one ROI from things like Art Basel and SXSW is the serendipity of relationships. And that is even more profound now, because for the past two years, there was no serendipity – the stumbling into somebody and becoming friends or business associates were eliminated. 
He advises first-time Art Basel attendees to expand their circles and get out of their comfort level.
"Challenge yourself to say hello to somebody, and if they don't reciprocate, that's an indication of them – not you. Don't feel bad because somebody shoos you off or hurts your feelings – don't have your feelings hurt when somebody's not crying, because that means they're not in a good place."
2. Stop Buying Shit Based On Other's Opinions
"When it comes to art for youngsters – NFTs, physical art, collectible sneakers – stop buying shit based on other people's opinions," he emphasized.
"Do not buy things to keep up with the Joneses. Do not buy things because everybody else thinks Andy Warhol's cool. I'll give you a good one – Jackson Pollock. I can't wrap my head around spending $100 million USD for Jackson Pollock. I can't wrap my head around spending $10,000 USD for something that looks like a Jackson Pollock, because I don't like that style. I think people have to get more comfortable liking what they like. Don't buy a VeeFriend because of Gary Vee – buy a VeeFriend if you actually like it."
He continued by encouraging folks to "[b]uy what you like for as long as humanly possible, because then it will become your natural place and that will be far more joyful than keeping up with the Joneses. That put's people in bad places and that's the reason people buy Mercedes and Birkin Bags, when they don't really even want it. If they're just using it to signal, it's usually a signal of insecurity."
At the end of the day, VeeFriends appears to be much more than an NFT project, but a crucial piece of IP that allows Vaynerchuk to spread his ideas globally using his characters (Patient Panda, Practical Peacock, Adventurous Astronaut, Accountable Ant, etc.) as the main vehicle and storytellers.
In other Web3 news, read more on Andy Krainak: "Graduating Gary Vee" Through VeeFriends to Reach New Audiences and Vayner3's Avery Akkineni: "We've Pivoted the High's and Low's of What's Trending."