LTD.INC Thoughtfully Curates the Physical and Digital Realm
With culturally relevant limited edition offerings from partners like Deadfellaz, Guido Di Salle, and most recently Ape Rave Club.
LTD.INC Thoughtfully Curates the Physical and Digital Realm
With culturally relevant limited edition offerings from partners like Deadfellaz, Guido Di Salle, and most recently Ape Rave Club.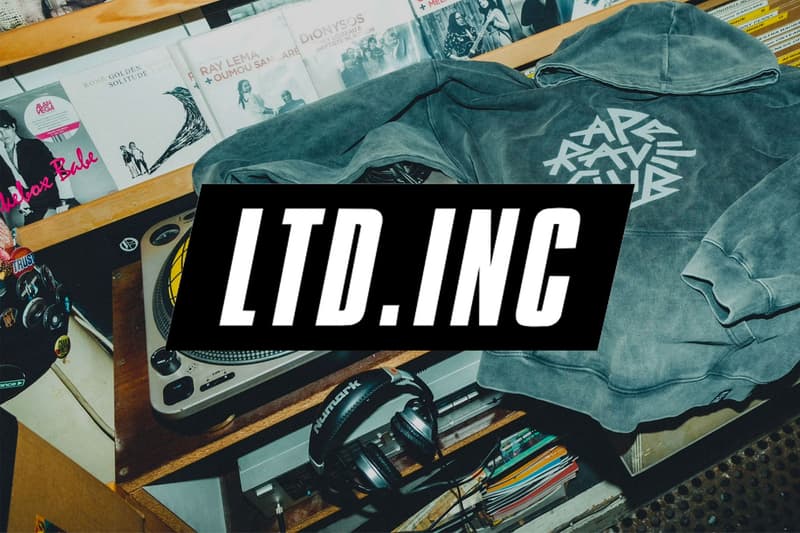 In an interview with Hypemoon, Daryl Kelly, the Founder, and CEO of LTD.INC, a physical x digital NFT curation platform, shared the ins and outs of how the business started, what it's up to today, and what it has planned for the future.
The platform has released several exciting limited edition drops with iconic names and brands in the Web3 space, like Deadfellaz, Guido Di Salle, and more — with thoughtful cultural curation at the forefront of each release.
Welcome to https://t.co/UX43zvthPT, in a nutshell we do premium physical + digital NFTs.

If you don't know how to get one or why, it's important to read on.

If you do… Go here – https://t.co/UX43zvthPT pic.twitter.com/F4N5FGRzsk

— LTD.INC (@ltdinc_official) September 6, 2022
LTD.INC
Sharing the backstory of how LTD.INC came to be, Kelly explains that "in 2016 I was introduced to Bitcoin and when I understood the concept of 'verifiable scarcity' I knew this was going to change the world forever."
He added that "the ability to truly verify an asset, commodity, or artwork, is unique or verify X edition out of a limited edition collection is something I knew the world would find valuable — especially in the business of art, fashion, and finance."
Kelly was primarily a Bitcoin maxi between 2016 and 2019, however, as he learned more about Ethereum and utilities derived from it like artists being paid royalties for secondary sales of their work, he says that he "fell in love with the concept of the creator economy."
As for the concept of LTD.INC, Kelly shares it is built on three main aspects, the first being the ability to create "super cool and 'verifiably' limited collections," which is achieved through LTD's highly curated and creative NFT platform and full-service agency — designed to work closely with some of the most interesting artists and creatives in both Web2 and Web3.
Its second pillar is the empowerment of creators, Kelly shared that the goal was and is to build a platform that fuels the creator economy as well as respects, protects, and enforces artist royalties, in perpetuity — this is achieved by implementing the fee structure on a smart contract level, which even LTD.INC can't change if they wanted to.
Last but not least, LTD.INC was designed to empower collectors, through its app, collectors can verify the authenticity of physical products with the touch of one button. The platform also has plans to build a secondary marketplace where users can buy, sell, and trade physical x digital goods — more on that later though.
Curated culture is at the center of everything LTD.INC does and if it wasn't clear based on its recent releases, its tagline is another indicator, which is "Invest in Culture."
"Our drops range from art, music, streetwear, luxury, fashion, ticketing, toys, and collectibles and we like to remain flexible to be as creative and nimble as possible, shared Kelly, adding, "I think so many people are drawn to this space because in Web3, we are breaking all the rules of Web2 and that's what we're interested in doing.
Kelly explained that it is important for each of LTD.INC's collections count for something and shed new light on what the platform is capable of producing.
Deadfellaz x Wrangler
Possibly its most iconic release to date is that of its collaborative offering with Deadfellaz and Wrangler jeans.
The campaign was launched with the release of a single comic book-style slide, illustrated by the Deadfellaz team concept artist Leon Lee. Art on the slide introduced an unknown character wearing a pair of Wrangler jeans, the comic would later be guided by the community, who were encouraged to vote via a multiple-choice poll to decide where the adventure would go.
As the story progressed, those who helped direct it were entered into a raffle to win the first pieces of the first Deadfellaz x Wrangler drop. Thirteen winners were selected to receive one pair of the extremely limited edition jeans, with only 20 pairs in total made.
With the help of LTD.INC, each pair was paired with a near-field communication chip (NFC), which was linked to an NFT of the final comic strip.
? vintage @wrangler jeans, made in USA.
?‍♀️ custom @Deadfellaz laser branding
? chipped NFC with community comic NFT https://t.co/88HhGKSOUO pic.twitter.com/QezHsK9Kpo

— SΞAN (@SeanWeb3) October 11, 2022
Ape Rave Club
LTD.INC's latest offering comes in partnership with Ape Rave Club (ARC), led by one of the world's first on-chain artists, who is also a Bored Ape Yacht Club holder. ARC has one main goal, to usher in the beginning of an "all-new generation of artists," through Web3.
The drop itself contains 100 premium, NFC-chipped hoodies that feature the Bored Ape behind ARC, Giba #9184 — who recently made an appearance during a headline set at Tomorrowland.
Through the embedded NFC in the hoodie, collectors can access an unreleased song from Giba, it also grants access to other perks including VIP access to future ARC events and drops.
Kelly shared that it has been fascinating working with the ARC group, which is made up of some of the worlds top DJs.
"Having a 'music-focused' physical NFT drop was an interesting challenge as music is generally not tangible," shared Kelly, explaining that his favorite part of the partnership was "the opportunity to show the world how music, streetwear, and technology can be combined to deliver  a new model of creation, engagement, ownership, and reward."
Kelly says that working with brands and artists like ARC will enable LTD.INC to continue to push boundaries and provide new experiences, products, and communities for fandoms.
TML x ARC POAP holders can mint 25 hoodies for free today at 12pm ET ??

OG Ravers, you're up next on Dec 8

Mint website: https://t.co/2lHmRmCId2…

Let's go bananas ??@ltdinc_official pic.twitter.com/ZzJzxYcKny

— Ape Rave Club ?? (@aperaveclub) December 6, 2022
Not a Trend
"This is definitely not a trend, this is a paradigm shift," shared Kelly, speaking on the significance of the merge between the physical and digital worlds. He added that the technology will change the way creators and their collectors interact with one another.
"LTD.INC's products offer a much more elevated and authentic experience and creators and brands are starting to take notice and understand how our tech gives them a huge competitive edge in the marketplace," he explained.
Kelly also shared that consumers are looking for new ways to own and interact with limited-edition physical and digital collectibles.
Consumers are looking for new ways to experience and own limited-edition physical and digital products that suit their lifestyles.  LTD.INC's blockchain-connected products are fast becoming the new standard and brands and artists are looking to push boundaries to create new ways to connect and reward loyal fans and customers.
"Verifiable scarcity and provable authenticity are still new concepts to most people but I think when the technology behind NFTs becomes more understood, scanning art and physical products will be the new norm," said Kelly.
A Curated Future
Looking forward, LTD.INC is steadily working on its mission to create a secondary physical x digital marketplace — though the idea is not massive volume like the eBay and Facebook marketplaces of Web2.
Instead, Kelly says that through the platforms Reseller Consultants Division, LTD.INC will offer "a white glove experience to facilitate the global transfer of ownership of certain categories of physical products backed by NFTs."
While he says they can't go into much detail about it just yet, they are very excited to roll it out and more info will be released in the new year.
In the meantime, LTD.INC will continue to launch creative, thoughtful, and tangible collections backed by the power of the blockchain — to push what is possible between the relationship of physical and digital goods.
Elsewhere, see how Ledger's new hardware wallet brings next-age security to the palm of your hands.