Magic Eden's New Rewards Program Lets Users Earn on Secondary Trading Transactions
Following this month's earlier announcement that it was changing its position on creator royalties with the launch of its "Open Creator Protocol."
Magic Eden's New Rewards Program Lets Users Earn on Secondary Trading Transactions
Following this month's earlier announcement that it was changing its position on creator royalties with the launch of its "Open Creator Protocol."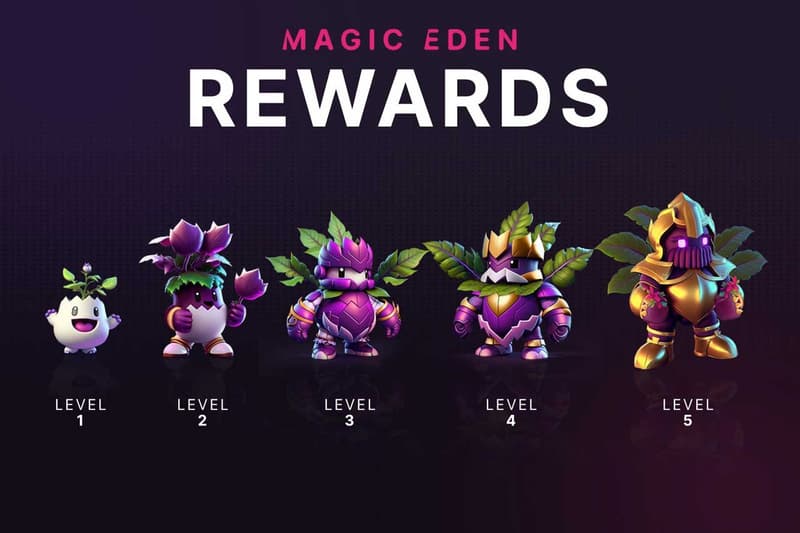 Leading cross-chain NFT platform, Magic Eden, announced the launch of its Magic Eden Rewards program that allows for collectors to create their own profile across wallets enabling them to receive rewards directly on the platform.
While this is a beta version, the rewards program currently allows all users to set up their own profiles, however, pilot rewards will launch later this month. 
"This is a really cool way for us to deliver value to our assets and a tool for creators to engage with new and existing collectors," said Jack Lu, co-founder and CEO of Magic Eden. "As a marketplace, we've been trying hard to ship innovation that goes beyond the pure transactional layer."
As an industry first, Magic Eden's new rewards program allows for collectors to earn "Magic Points" on secondary trading transactions and the spend amount. Depending upon a collector's spend, they will be placed in one of five loyalty tiers, which each contain their own level of reward benefits and fee discounts. 
In its announcement, Magic Eden shared that the first beta test of rewards will be released before the end of the year, which will eventually be accessible as NFTs in the Rewards Hub and airdropped directly to users' profiles. 
"We pride ourselves on delivering value to our creators and users and Magic Eden Rewards is a testament to that," Magic Eden co-founder and COO Zhuoxun Yin shared. "By offering progressively greater rewards, perks, and fee discounts based on user activity, we're excited to pair this up with creators and help them find ways to deepen engagement with their communities."
This latest announcement comes after this month's earlier announcement by Magic Eden that it would be changing its position, in part, on creator royalties for new collections that "opt-in" to its new open-source protocol – Open Creator Protocol (OCP). 
In October, Magic Eden struck nerves after it announced that it would be changing the once "mandatory" creator royalties on its platform to "optional" for all NFT creators. 
While it wasn't doing away with the option to pay a seller their proposed royalty, buyers have been afforded the option to "toggle" and choose to pay a seller either "half" or "none."
However, it would appear that older collections are still subject to its previously controversial royalty mechanism.
Built on top of Solana's SPL managed-token standard, OCP will give creators launching new collections the choice of whether they want to have royalties protected or to ban marketplaces that don't enforce royalties. 
While Magic Eden will be extending its waived platform fees through the end of the year, all Magic Eden users who sign-in will be provided fee discounts and grandfathered into an existing loyalty tier. 
For sellers, the marketplace will introduce a dynamic maker/taker model for fees, where the cost of trading will be distributed between sellers and buyers, with fees shared between maker/takers and determined based on a user's respective tiering. 
Earlier this month, Exchange.Art, another NFT marketplace launched its "Royalties Protection Standard" that ensures royalties earned on secondary sales of NFTs originating on the platform are enforced. 
In other Web3 news, PayPal is partnering with MetaMask for crypto integrations.