Our 2022 Crypto & Web3 Holiday Gift Guide
A simple and fun guide for those looking to spread some holiday cheer and gifts to your crypto and web3 enthusiasts.
Our 2022 Crypto & Web3 Holiday Gift Guide
A simple and fun guide for those looking to spread some holiday cheer and gifts to your crypto and web3 enthusiasts.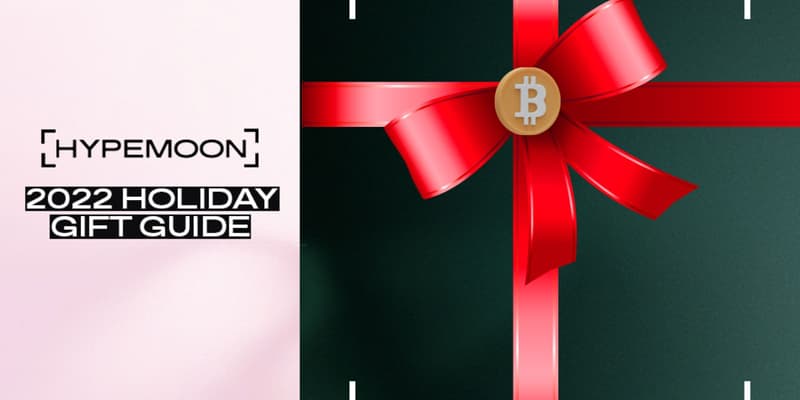 As we head into the holiday season, it can be tough to find the perfect gift for the crypto/web3 enthusiast in your life. If you have a friend or loved one who is interested in decentralization, blockchain technology, and the future of the internet, here are a few gift ideas for them. From hardware wallets to non-fungible tokens and web3 digital collectibles, these gifts will be sure to delight and inspire.
The Ledger Nano X is a hardware wallet that allows you to store and manage your cryptocurrency assets offline. It connects to your smartphone or computer via Bluetooth and allows you to securely view and transfer your digital assets.
Hardware wallets are an essential tool for safeguarding your cryptocurrency because they provide an additional layer of security. Unlike software wallets, which are stored on your computer or mobile device and are vulnerable to hacking, hardware wallets store your private keys offline and are immune to viruses and malware. This makes them a safer option for storing large amounts of cryptocurrency.
Overall, the Ledger Nano X is a convenient and secure way to store and manage your cryptocurrency assets, making it an excellent gift for anyone interested or already invested in cryptocurrencies. Ledger has also recently announced their latest product, Ledger Stax, which is also available to pre-order here. 
One of the often overlooked benefits of owning certain NFTs, like the BAYC is the ability to utilize the NFT art as an IP for a brand or business. Bored Coffee Lab LLC is a Venezuelan company based in Miami, founded by Erod. Erod is passionate about coffee, art, and collecting non-fungible tokens (NFTs) and physical art pieces.
Erod is also a founding member of the Magic City Apes decentralized autonomous organization (DAO) and a part of the JPEG community. Erod joined the Bored Ape Yacht Club (BAYC) community in July 2021 and Larvalabs Punks six months later. Erod has commissioned graffiti artists in Latin America to paint Apes, Punks, and Akus as a way of spreading awareness and understanding of NFT culture in the Americas.
The NFT themed coffee bags can be a great gift for both an NFT and Coffee enthusiast alike!
The Coinbase gift card is a convenient and easy way to give the gift of cryptocurrency to friends and loved ones. The card can be purchased online and sent via email, making it a quick and hassle-free gift option. The recipient can then redeem the card on Coinbase, a leading cryptocurrency exchange, and use the funds to buy their preferred digital asset.
One of the main benefits of the Coinbase gift card is that it allows even those who are new to cryptocurrencies to easily get started with buying and owning digital assets. It's a great way to introduce someone to the world of crypto and potentially spark their interest in further exploring and investing in the space.
"The Metaverse: How It Will Revolutionize Everything" is a book written by Matthew Ball that explores the concept of the metaverse, a virtual world where people can interact and transact in real-time. The metaverse has the potential to revolutionize a wide range of industries, from gaming and entertainment to education and business.
In the book, Ball discusses the history and evolution of the metaverse, as well as its potential future impact on society. He also touches on the technological and economic factors that will shape the metaverse and how it will be used.
Overall, "The Metaverse: How It Will Revolutionize Everything" is a thought-provoking and informative read for anyone interested in the intersection of technology and society, and the potential future of virtual worlds.
The Forthright Flamingo Sunglasses by Vintage Frames mark more than simply a limited edition release, the collaboration also marks the brand's grand opening of its Miami location during Art Basel. Which will be located inside Pharrell's The Goodtime Hotel.
Vintage frames often have a classic or retro aesthetic, and can be made from a variety of materials such as metal, plastic, or acetate. These frames can be a unique and stylish choice for those looking to add a touch of vintage flair to their outfit, all the while repping their love for Forthright Flamingo from the Veefriends collection.
Vintage Frames x Forthright Flamingo Collab
Web3 / Crypto Courses for Beginners on Coursea 
Gifting a course on web3 and cryptocurrency can be a great way to help a friend or loved one learn about and understand these exciting and rapidly-evolving technologies. There are a variety of online courses available that offer a range of topics, from the basics of cryptocurrency and blockchain to more advanced topics such as smart contracts and decentralized finance.
Web3 and cryptocurrency are important and increasingly relevant technologies that are changing the way we interact with the internet and the global economy. A course on these topics can provide valuable knowledge and skills that can be applied in a variety of settings, including personal finance, business, and more.
Gift Your Favorite NFT
Gifting a non-fungible token (NFT) or crypto art collectible can be a unique and meaningful way to show someone you care. NFTs are digital assets that are stored on a blockchain and represent ownership of a unique item or piece of content, such as a piece of art or a digital collectible.
There are many talented artists and creators who are using NFTs to showcase and sell their work, and there is a wide range of NFTs and crypto art collectibles available to choose from. From stunning digital paintings and illustrations to 3D models and digital sculptures, there is something for every art lover.
Not only are NFTs and crypto art collectibles a beautiful and one-of-a-kind gift, but they also represent the cutting-edge of technology and the future of art and collectibles. Gifting an NFT or crypto art collectible is a great way to show someone that you appreciate their interests and support their passion for art and technology and want them to part of a community that is special for you.
Meta Questo Pro VR Headset
The Oculus Quest or Quest Pro is a great gift for the web3 and metaverse enthusiasts. These headsets allow users to experience virtual realities and immersive virtual worlds without the need for a separate computer or gaming console.
Additionally the Quest Pro has a wide range of games and apps available to further explore such as, experiencing virtual worlds, games, art creation, and more.
Holiday Crypto Merch 
Nothing like a holiday sweater to kick off the season, and now you can do just that along with expressing your love and passion for crypto. There are many online stores that offer clothing and accessories with crypto themed designs, such as t-shirts, hats, and socks.
NotJustClothing is a great place to start when looking to rep your love for crypto in a fun and fashionable way.
In conclusion, giving the gift of cryptocurrency can be a unique and thoughtful present for the tech-savvy individuals in your life. Whether it's a well-known coin like Bitcoin or a lesser-known altcoin, there's something out there for everyone. Just be sure to do your research and understand the risks involved before making any investments. Happy holidays and happy gifting!
In other web3 news, Gary Vee: "Stop Buying Shit Based On Other People's Opinions"