Ark Invest CEO Says NFTs and DeFi 'Are Going To Be Incredibly Important'
Calling digital asset wallets "bank branches in our pockets." 
Ark Invest CEO Says NFTs and DeFi 'Are Going To Be Incredibly Important'
Calling digital asset wallets "bank branches in our pockets."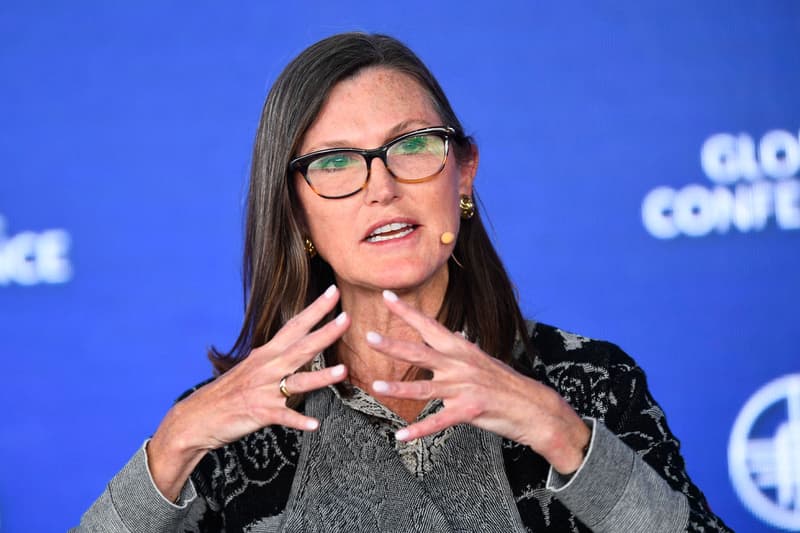 On Tuesday, June 28, Ark Invest CEO Cathie Wood told CNBC's Squawk Box that she believes NFT technology is "going to be incredibly important" and highlighted the benefits of digital property rights and DeFi use cases like digital wallets.
"We do believe that the revolution around #crypto is underway and it will not be stopped," says @CathieDWood. "We do believe that digital property rights which NFTs represent are going to become incredibly important." pic.twitter.com/gSq3wbQJH8

— Squawk Box (@SquawkCNBC) June 28, 2022
At the start of the interview, Wood was asked about Ark Invest's portfolio, particularly surrounding thoughts on Robinhood ($HOOD), FTX, and Coinbase ($COIN). She stated that $HOOD made up only 2% of its flagship portfolio now.
$COIN is in the investment firm's top 10 holdings because "we do believe that the three revolutions around crypto … are underway and that they will not be stopped," said Wood.
She also discussed DeFi, which she believes came of age in 2021. However, she added that in 2022, the reach for yield and abuse of leverage by some protocols had gone too far, calling out algorithmic stablecoins specifically. "As an economist myself, I didn't understand them, and it makes sense that they're not going to exist."
"A lot of people expected the Terra Luna meltdown to cause a systemic chain reaction," said Wood, "but so far the Ethereum blockchain upon which DeFi is built has held up very well."
Wood's thoughts on Web3 seem to be shared by celebrity investor Mark Cuban, who recently said that the bear market will end when a catalyst takes place — which he believes to be a new application of the available technology.
Additionally, Wood discussed what she identifies as the third revolutionary pillar surrounding crypto — NFTs. Wood said the technology is still in its infancy but that "digital property rights are going to become incredibly important," adding that based on her experience as an economist, "property rights lift people and countries out of poverty."
Wood concluded by stating that digital asset wallets will also play a large role as they are essentially "bank branches in our pockets."
In other news, RTFKT's "Space Drip" is turning NFT designs into real-world sneakers.