'Bored and Dangerous' Is Reinventing the Way NFT Projects Use IP Rights
Hypemoon spoke to the team behind the Web3 project about how holders are helping to shape the narrative.
'Bored and Dangerous' Is Reinventing the Way NFT Projects Use IP Rights
Hypemoon spoke to the team behind the Web3 project about how holders are helping to shape the narrative.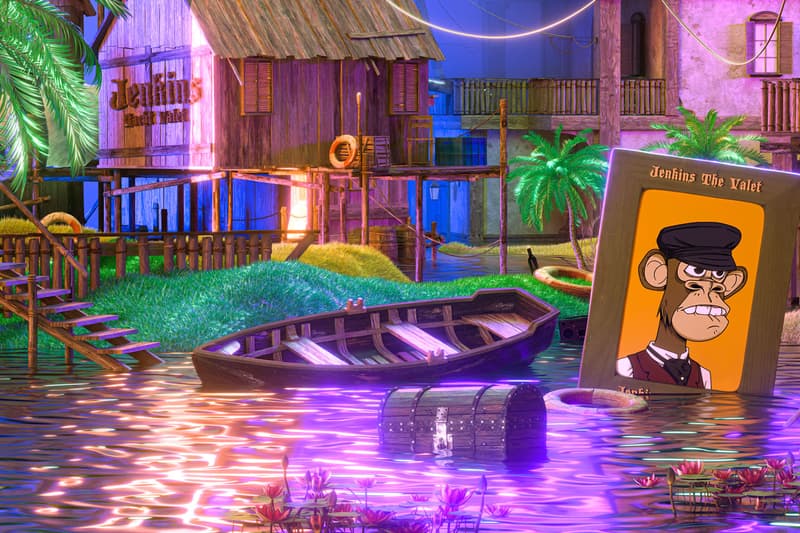 The creative minds behind some of the largest nonfungible tokens (NFT) projects have begun experimenting with various licensing agreements to incorporate intellectual property (IP) rights for their holders. Focusing on utilities and commercialization, NFTs are paving a new way forward for commerce, especially within the entertainment industry.
Through varying licensing and royalty agreements, holders are now finding more ways to monetize an underlying asset's artwork into their own merchandise, sales, and derivative projects. Blue-chip NFT projects, like Bored Ape Yacht Club (BAYC) and World of Women (WoW), have utilized NFT licensing to provide holders with full ownership rights, while collectives like Larva Labs, which recently sold its IP rights to Yuga Labs, have enabled commercial usage rights for its CryptoPunks and Meebits collections. CryptoKitties also offers commercial rights, but with a $100,000 USD limitation on annual gross revenue, as outlined in its Terms of Use, and in February, the ZINU NFT project introduced a "royalty-free" license, allowing holders to utilize their NFT in a number of ways without owing any royalties.
Enter Bored and Dangerous, a new project that is creating an example of how NFTs can be used for mass IP licensing. Two childhood friends, Safa and VJ, came together to co-own BAYC's Ape #1798 — now widely known as Jenkins, the Bored Ape Yacht Club's valet. Since acquiring the digital asset, the owners have launched their own project, The Writer's Room, along with Web3 media firm Tally Labs.
After their initial mint, Hypemoon spoke to Safa and VJ (their preferred pseudonyms) via phone to learn more about the new project.
"We welcomed a bunch of new holders and our existing community was able to deepen their relationship with us by minting 'Bored and Dangerous' books, as well as minting some for free," VJ said.
As the first book released by The Writer's Room, "Bored and Dangerous" will be written by the New York Times best-seller Neil Strauss. Created by Grammy-nominated producer Murda Beatz in collaboration with SuperRare's top 20-grossing artist MBSJQ, the NFT art also is paired with a digital music track that plays as the image rotates.
Bored & Dangerous: July 11th.

Words by 10x NYT Bestseller @neilstrauss. Art by @mbsjq. pic.twitter.com/AE6c2qzT4F

— Jenkins The Valet ? Is Feeling Bored & Dangerous (@jenkinsthevalet) June 27, 2022
Leveraging The Writer's Room community of 3,000+ NFT holders, the team encouraged its members to vote on the creative direction and plot of Strauss' writing as the "Bored and Dangerous" narrative develops. "You don't have to have an Ape or Mutant to vote," Safa explained, though only holders of a Writer's Room NFT can contribute to the project's creative direction.
While Jenkins The Valet will serve as the novel's lead character, there are over 4,000 other licensed Apes and Mutant Apes that will be featured throughout the story. The available licenses were split into tiers, which dictated the different levels of involvement holders would have in the work. For the upcoming novel, a 50% split of the book's net profits and royalties will be paid out to the thousands of licensed NFT works that appear throughout the story.
"People are excited by the book, they're excited by the concept of a few thousand people working together to tell a story, and they feel really positive about the mint experience," said VJ.
This licensing agreement allows the current wallet holder to receive revenue from the Ape's IP. If the NFT is to be sold or traded, the new wallet address will be paid for the asset's future royalties. Meaning, that any licensed NFTs placed on the market will include an additional income stream for future appearances.
Bored & Dangerous is the first project to emerge from the Writer's Room, showing that a globally distributed community of people can come together and create a better piece of work than any of us could do alone.#WeAreBookPeople ? pic.twitter.com/1z4mVtMmIv

— Jenkins The Valet ? Is Feeling Bored & Dangerous (@jenkinsthevalet) July 10, 2022
The two creatives worked with creatives, intellectuals, and artists, in-house lawyers, IP, and entertainment councils to craft a licensing agreement that they viewed as "Web3-friendly." Users can license their NFT to Tally Labs "with just a few buttons," Safa shared. Their goal for project members during the licensing period was "to make it feel like it was almost seamless," Safa added.
When it came to bringing the story to life, the creators built their own Web3 reader, allowing readers to navigate through the book in an interactive way. VJ referred to Bored and Dangerous as a true "content experience," with all featured NFTs having their own identities and backstories.
Bored and Dangerous, initially available as an NFT, plans to be available in retail stores as the first tangible book set within Web3. Safa and VJ are working to ensure the project "starts as Web3 but transcends to more traditional mediums" in the near future.
As NFTs are frequently misunderstood by mainstream audiences, this new business model could legitimize opportunities for collectors in this space. Providing IP rights through NFTs opens doors for opportunities and creators "operate on a much larger scale," Safa said.
"This project opened up a lot of people's eyes to what IP rights mean," VJ added.
In other news, Gmoney launches Web3 luxury house and lifestyle brand 9dcc.