FC Barcelona Launches Its First NFT in Club History
Which required over 10,000 production hours and a 40-person Hollywood talent team to create.
FC Barcelona Launches Its First NFT in Club History
Which required over 10,000 production hours and a 40-person Hollywood talent team to create.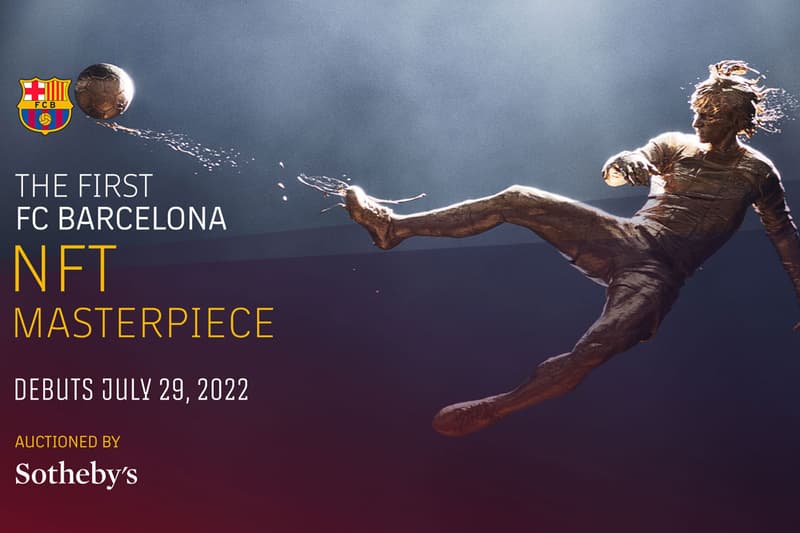 Spanish football club, FC Barcelona, announced via Twitter on Thursday, July 21, the debut of its first NFT project, which in its first series, will feature notable moments and players from the Club's history and legacy.
The newly announced NFT, titled, "In a Way, Immortal," draws inspiration from the late Johan Cruyff, and serves as the first piece of 10 in an upcoming NFT series for the team. The one-of-one audio-visual digital token will feature the team's iconic moment when Cruyff 'flew' in the air to score a winning goal against Atlético Madrid in 1973.
FC Barcelona launches "In a way, immortal", the first NFT artwork in Club history, which will be auctioned at @Sothebys New York: A digital work of art recreating @JohanCruyff's legendary 1973 flying kick and goal.

The bidding has started: https://t.co/FBkBQN8ZAk pic.twitter.com/1CMEqD6Srl

— FC Barcelona (@FCBarcelona) July 21, 2022
Sotheby's auction house will host an online live-auction for the dynamic piece beginning today, July 21. Aimed at a youthful audience, FC Barcelona's NFT project aims to create an exclusive collectible with cinematic qualities. Once minted, the NFT will offer a variety of utilities, including VIP Club benefits, experiences, and the Barca Digital Ambassador title.
In efforts to enhance the Club's innovations and Web3 commitment, the collection will rely on smart contact technology to issue access to meet and greets, visits to the Club's training academy, hospitality rights, and the official ball handover for live matches.
The holder, according to the announcement, will even receive the privilege to play at the Club's stadium, Spotify Camp Nou.
"In a way like no other, the NFT technology has not only unlocked infinite possibilities for digital artists to share their unique work but has also enabled a world-class club to immortalize an iconic sporting moment on the blockchain," shared Michael Bouhanna, Sotheby's Vice President, Co-Head of Digital Art Sales.
By turning unforgettable cultural moments into a virtual collection, new generations of supporters and fans will be brought to the FC Barcelona community.
"Barça with more than 400 million followers in social networks is constantly opening new ways to connect with our fans, and we believe that with the Clubs new NFT strategy we found a unique opportunity to continue growing and consolidating the Barça brand," said Joan Laporta, President of FC Barcelona.
Bringing the asset to life involved a large team combining visual effects with computer graphics. With a 40-person Hollywood talent team and over 10,000 production hours, the NFT artwork was brought to life, with the assistance of BCN Visuals and The World of Johan Cruyff.
"This project aims to become the new benchmark for the next evolution of NFTs where new digital artworks are akin to the masterpieces of yesteryear," shared Eric Sas, Founder and Head of Innovation at BCN Visuals.
Sotheby's special auction opens online today allowing for bids to be made with crypto or fiat currencies. In-person bidding will be held live in New York on July 29.
In other news, Usain Bolt partners with move-to-earn Web3 platform Step App.