FOX, Dan Harmon Launch First Animated Series on the Blockchain
With an entire 'KRAPOPOLIS' of dysfunctional humans, gods, and monsters.
FOX, Dan Harmon Launch First Animated Series on the Blockchain
With an entire 'KRAPOPOLIS' of dysfunctional humans, gods, and monsters.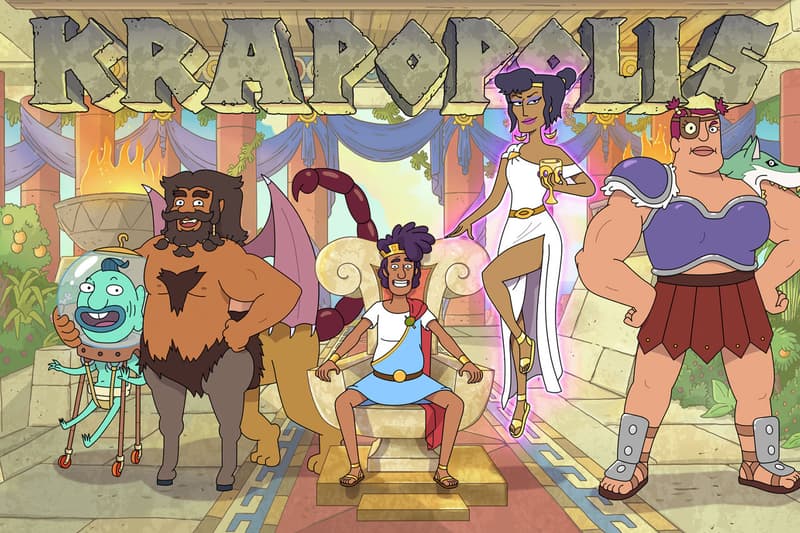 Earlier this week, "Rick and Morty" creator Dan Harmon, in partnership with FOX Entertainment's Web3 media studio, Blockchain Creative Labs, unveiled KRAPOPOLIS, the first animated comedy to be curated on the blockchain.
KRAPOPOLIS, according to the July 19 announcement, is set in mythical ancient Greece, and tells the story of a dysfunctional family of humans, gods, and monsters that try their hand at running the world's first cities – without trying to kill each other.
Ahead of the program's release, BCL will release 10,420 "Krap Chickens," a utility-focused, chicken-inspired series of NFTs that will drop for purchase on Thursday, August 11.
As for the 10,420 Krap Chickens, the creators believe that's how many seconds it would take for a chicken to run in a marathon. Each minted NFT will be produced and illustrated by KRAPOPOLIS animators, with all artwork originating directly from content that appears in the program, with varying degrees of rarity.
The NFTs will also give collectors access to KRAPOPOLIS' burgeoning digital ancient civilization, like token-gated access to content and private screening rooms, entry to Discord channels, invitations to meet-and-greets with cast and producers, KRAPOPOLIS merchandise, series voting rights, and first-look exclusivity to forthcoming NFT drops.
"In addition to being one of the most groundbreaking storytellers in the business, Dan is a master at cultivating fan engagement and building community among viewers," said Scott Greenberg, CEO of Blockchain Creative Labs and Co-Founder and CEO of Bento Box Entertainment.
Launched in 2021 by FOX Entertainment and its Emmy Award-winning animation studio, Bento Box Entertainment – BCL is a business and creative unit that provides content creators, IP owners, and advertising partners end-to-end blockchain computer ecosystem solutions to build, launch, manage, and sell their NFT content and experiences, as well as digital goods and assets.
"This first collection of KRAPOPOLIS NFTs, and the utility they will provide, represent the early beginnings of how Dan and other creators can harness Web3 to open the door and bring audiences closer to their content than ever before," Greenberg added.
Melody Hildebrandt, the Chief Security Officer at FOX and BCL President told Hypemoon that FOX, along with other major conglomerates have an advantage in the NFT space when it comes to maintaining security interests. "We already have maturity security infrastructure and established Trust and Safety teams and procedures that keep user security a top guiding principle," she said, adding that "to be backed by a name like that allows us to be a trusted partner, because we take very seriously our responsibility to our communities which have been build up over years or even decades."
BCL also manages a $100 million USD creator fund, established by FOX Entertainment and Bento Box, which identifies growth opportunities in the NFT space. Hildebrandt explained that FOX and BCL want to help solve many of the technical challenges today that make Web3 feel less accessible to mainstream consumers, and also tackle tis current air of exclusivity.
"Web2 nailed accessibility, but users gave up a lot in the process. An important part of addressing this challenge [in Web3] is making the experience of purchasing and interacting with NFTs as user-friendly as possible. We want to welcome fans into the world of Web3, and that means creating spaces that feel approachable for everyone — like 'Krapopolis,' 'The MaskVerse,' WWE's 'Moonsault,' USFL fans and 'Dollyverse' — no matter the level of crypto fluency."
KRAPOPOLIS is set to premiere on FOX in 2023, featuring the voices of Emmy Award winner Hannah Waddingham ("Ted Lasso"), Richard Ayoade ("The IT Crowd"), Matt Berry ("What We Do in The Shadows"), Pam Murphy ("Mapleworth Murders"), and Duncan Trussell ("The Midnight Gospel").
Hypemoon has reached out to FOX Entertainment and BCL for additional information.
In other news, Usain Bolt partners with move-to-earn Web3 platform Step App.