Meta Is Launching NFTs on Facebook
After its successful rollout on Instagram.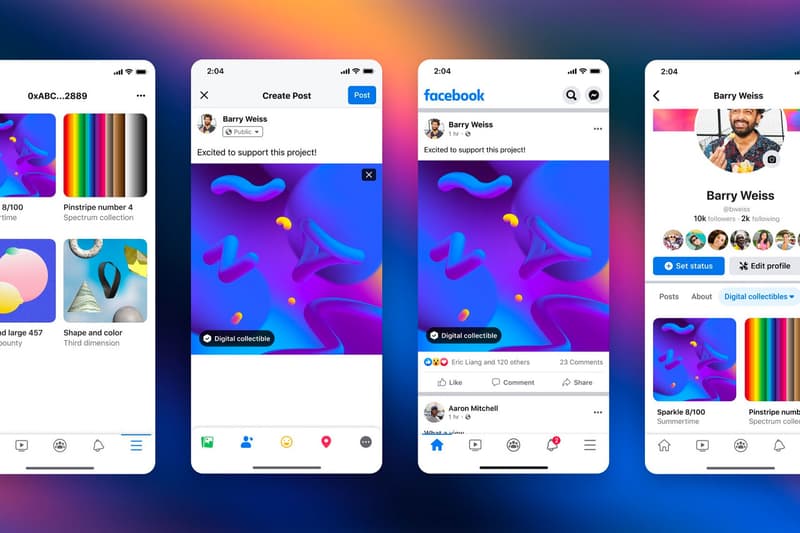 Meta is trialing new NFT integrations for Facebook, product designer Navdeep Singh shared on Wednesday, June 29. Testing of the new digital assets will be available for select users in the same way the integrations rolled out on Instagram earlier this year.
We're launching NFTs on Facebook! Excited to share what I've been working on with the world. pic.twitter.com/TaV66zRanV

— Navdeep Singh (@navdeep_ua) June 29, 2022
Last week, CEO Mark Zuckerberg hinted at what these digital assets could mean for the platform, stating that Meta was "expanding [its] test so more creators around the world can display their NFTs on Instagram."
"We'll bring this feature to Facebook soon too — starting with a small group of U.S. creators — so people can cross-post on Instagram and Facebook. We'll also test NFTs in Instagram Stories with SparkAR soon," he added.
While cross-platform posting has not yet been confirmed, Zuckerberg has previously hinted at future interoperability. It's unclear which blockchains Facebook might choose to run its NFTs on, though it is likely to mirror the ones currently used Instagram, which include Ethereum, Polygon, Solana, and Flow. At this time, Meta reports there will be no fees or ads run with the new integrations.
The evolving Web2 social media platform has continued to dive deeper into Web3, with its recent launch of Crayta for Facebook Gaming, a new partnership with Balenciaga, Prada, and Thom Browne for a Web3 digital fashion market, and its new metaverse wallet, MetaPay.
In other news, Doodles launched its "Genesis Boxes" bucket auction.