Pussy Riot's Fight for Freedom is Converging in Web3
Founder Nadya Tolokonnikova spoke to Hypemoon about using DAOs and NFTs as a means for social justice.
Pussy Riot's Fight for Freedom is Converging in Web3
Founder Nadya Tolokonnikova spoke to Hypemoon about using DAOs and NFTs as a means for social justice.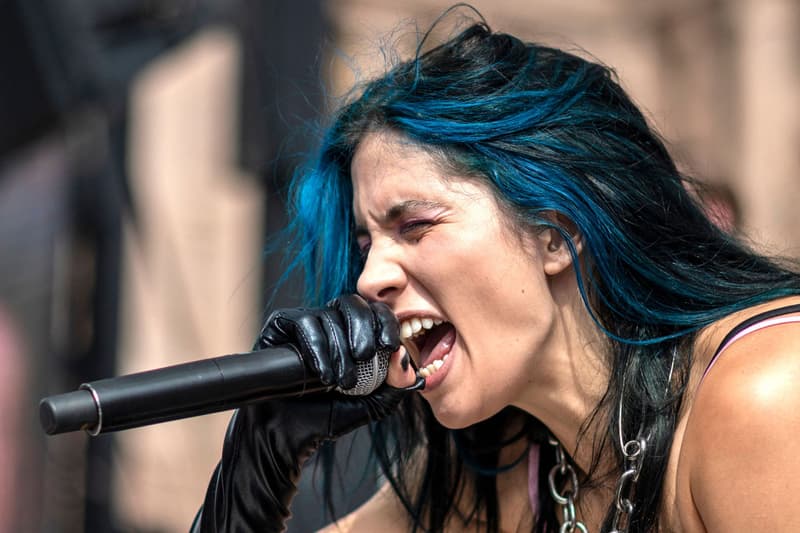 Since as early as February, following Russia's deadly invasion of Ukraine, groups known as decentralized autonomous organizations (DAOs) have stepped in to take action where more traditional channels have failed. In Ukraine's case, DAOs have been able to mobilize quickly to provide humanitarian aid and spread awareness.
Hypemoon chatted virtually with Pussy Riot co-founder and activist Nadya Tolokonnikova, a political activist and artist, to talk about how Web3 can fight back against social injustice and serve as an example of how blockchain technology can be used as a tool for real-world change.
Tolokonnikova, 32, who did not disclose where she was for safety reasons, has been labeled a "foreign agent" by Russia's Ministry of Justice since last year. In 2012, she was imprisoned in a Russian penal colony for "hooliganism" after performing a song critical of Vladimir Putin at Moscow's Cathedral of Christ the Saviour.
Pussy Riot is an artistic political collective that consists of over 100 members, who use punk rock performances and activism to help push for a more equal world, taking its global feminist art movement and bringing it into Web3. Over the past year, Tolokonnikova has helped mobilize the Web3 community to take an active stand across a number of initiatives that Pussy Riot has helped spearhead.
"We have evolved into a global civilization and we don't know what to do with it yet."
Shortly after Russia invaded Ukraine, Tolokonnikova, alongside Trippy Labs and members of PleasrDAO, launched UkraineDAO, a collective movement that garnered support from activists, artists, influencers, and media, to support Ukrainians on the ground.
In March, the organization auctioned a one-of-one image of the Ukrainian flag, which raised over $6.75 million USD (2,258 ETH) for the cause.
Encouraged by the success of the project, she soon launched UnicornDAO alongside her network of Web3 artists and builders. According to its website, the organization is aimed at "redistributing wealth and visibility in order to create equality for women-identified and LGBTQ+ people," both in the real world and in the Web3 space.
"We have evolved into a global civilization and we don't know what to do with it yet," Tolokonnikova said. "Right now, we're in this really fragile state, and I would love more people to understand that, because I don't want people to be devastated by political conflicts started by global inequality or climate issues."
As of May, the DAO had raised approximately $4.5 million USD with help from ConsenSys Mesh and Yuga Labs, and was further supported by World of Women, MoonPay, Beeple, Flamingo DAO, Polygon, Wave Financial, and others.
Tolokonnikova recently launched a new initiative in response to the U.S. Supreme Court's 5-4 decision to overturn Roe v. Wade, a landmark legal ruling that established the constitutional right to abortion.
Spearheaded by UnicornDAO, LegalAbortion.ETH was created as a resource for women seeking safe access to reproductive healthcare. A tweet on July 14 said that the initiative has already raised $350,000 USD, which includes $110,000 USD via a Proof-of-Protest (PoP) drop on Lens Protocol.
?? LegalAbortion.eth updates ?

$110k raised via Proof of Protest (POP) drop on @LensProtocol

So far, $350k raised for reproductive rights, including drops by @JohnKnopfPhotos, @dancebabbydance, @5putniko, @salemilese x Pussy Riot.

powered by @unicorndao_xxx ???‍☠️ pic.twitter.com/qHwffYJMCM

— ????? ????? (@pussyrrriot) July 14, 2022
The project is an Ethereum-based multi-signature wallet that allows people to donate crypto to the Endaoment Protect Reproductive Rights Fund, which will then be fully distributed to seven reproductive rights organizations – Planned Parenthood, URGE, NARAL, Center for Reproductive Rights, Fund Texas Choice, SisterSong Women of Color Reproductive Justice Collective, and Fos Feminista.
Requiring multiple private "keys" – or users to sign any given transaction – adds another layer of security to these wallet transactions by ensuring that multiple key holders remain accountable to one another. All multi-signature signers for LegalAbortion.ETH have agreed upon the final destination of all funds received.
"After Roe v. Wade was overturned, many people came to us asking us about what feminism in Web3 meant, and a big part of the Web3 community seemed to be really involved in regards to this reproductive rights issue – so we created a multi-sig wallet that would allow for people to donate in a transparent way," she explained.
"None of the existing reproductive rights organizations have crypto wallets, including some of the biggest organizations," she added, citing legal and political concerns with larger organizations, like Planned Parenthood, in setting up such a wallet.
Creating a DAO to help serve as an instrument and force for good, according to Tolokonnikova, comes down to the "universal question of values…and which set of values are going to prevail" moving forward.
We as a society can "only close our eyes up to a certain point."
Looking ahead, the collective is preparing for the August 5 release of their new mixtape, "Matriarchy Now," which features guest appearances by Tove Lo, Big Freedia, and Phoebe Ryan, among others.
Ahead of the release, Pussy Riot released "Plastic" – one of seven tracks on the tape, which features U.S. rapper iLoveMakkonen, along with a music video. The mixtape also pays tribute to a "Matriarchy Now" banner that the collective hung last month just outside the Texas Capitol, to protest the ongoing national attack on reproductive rights. The collective will also be debuting the release of the mixtape with a live show on August 4 in San Francisco and August 10 in Los Angeles.
⚡️⚡️⚡️ PLASTIC MUSIC VIDEO IS OUT NOW ft. @iLoveMakonnen5D ???

??? I don't want to make decisions
I would rather just obey.

video: https://t.co/xthcY794fe
listen to PLASTIC: https://t.co/FRWkvp4lkz
pre-save MATRIARCHY NOW mixtape: https://t.co/eqPGpNXmuL pic.twitter.com/WpqKOhSQUf

— ????? ????? (@pussyrrriot) July 8, 2022
Tolokonnikova's mission in advocating against social injustice across the globe has opened the doors for her and Pussy Riot's supporters to begin looking to Web3 for more concentrated and effective solutions.
"Web3 is about ownership over your work, content, and data," Tolokonnikova said, adding that "the era of centralization of the Internet has lasted too long."
The Russian-born anti-government activist noted that even the name "Pussy Riot" has long been controversial, as many traditional centralized internet platforms censor the name and make it difficult for users to find the movement's content. She offered other examples of when her art was rejected from mobile apps due to its name.
But in a decentralized world, she hopes that quality content will be easier to find, and big tech platforms will not have as much control over the flow of information. "I'm looking forward to a Web3 decentralized world, where you will be able to vote on where a project goes and it's going to be based on the number of contributions made in the form of work, content, and intellect," she said. "It goes beyond financial contributions."
In choosing to speak out on some of these bigger global issues, Tolokonnikova believes that the choice "all comes down to privilege, as it often does with activism," especially in a world that is growing more connected through the internet.
She added that while many of the world's most pressing human rights issues may not impact everyone directly, we as a society can "only close our eyes up to a certain point."
"Yes, it's far from you for a split second, but it quickly comes back to you as it impacts your economy, healthcare, and infrastructure," she stressed. "It affects your access to everything."
"We are living in a global world, where what's happening in one part of the world dramatically affects what's happening in the other," she concluded. "We have evolved into a global civilization and we don't know what to do with it yet."