Beloved Children's Franchise "Care Bears" Launches NFT Collection Ahead of 40-Year Anniversary
Bringing its "sharing is caring" world into the metaverse.
Beloved Children's Franchise "Care Bears" Launches NFT Collection Ahead of 40-Year Anniversary
Bringing its "sharing is caring" world into the metaverse.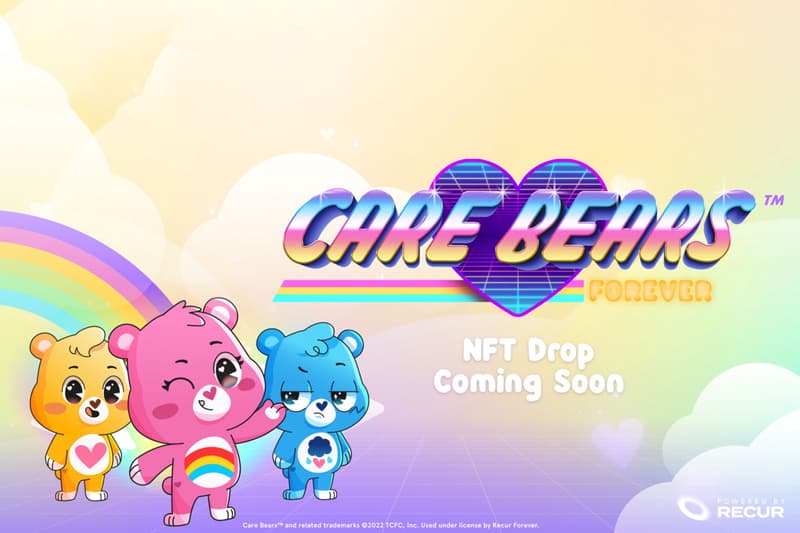 The beloved children's Care Bears franchise is turning the current bear market into a nostalgic and adorable collectible experience with the launch of a 10,000 PFP NFT collection, powered by RECUR, a blockchain-agnostic NFT platform and Cloudco Entertainment, in celebration of its 40th anniversary.
First introduced in 1982 through greeting cards, Care Bears was brought to life by children's book illustrator Elena Kucharik, who went on to create hundreds of full-color illustrations for cards, books, and various licensed products — ultimately, becoming one of the most popular and endearing children's properties in the world.
CloudCo Entertainment, formerly American Greetings Entertainment, is the owner of the Care Bears™ trademark, along with other multi-platform entertainment franchises.
You say Bear Market, we say Care Bear Market ?

It's time to spread love and cheer because #CareBearsNFT is almost here ?

Drop a WAGMI in the comments and tag a friend who should join us as we band together ? pic.twitter.com/hbvK9Agqry

— Care Bears™ NFTs (@carebears_nfts) July 5, 2022
Ten of the beloved original Care Bear characters are ready to share their care with a new community of fans and collectors with the Care Bears Forever project, which will allow NFT holders to engage in community-focused gameplay. The initial collection will include five of the admired characters in 5,000 Caring Chests digital assets, where each asset will contain one original Care Bear NFT.
Injecting the Care Bears' "sharing is caring" mantra into Web3, the NFT collection will be accompanied by exclusive prizes and playable challenges, encouraging holders to work together in boosting the Sharing Meter to unlock never-before-seen Care Bear exclusives.
"The Care Bears community is inclusive, supportive, and welcoming to all, and we're very excited to partner with Cloudco Entertainment to bring these classic characters to Web3," said RECUR Co-founder and CEO Zach Bruch. "We are thrilled to welcome Care Bears as the latest property to join the RECUR Platform and look forward to onboarding their incredible fans into Web3 by powering the dedicated home for Care Bears™ Forever."
Earlier this month, RECUR partnered with Paramount Global to debut Mashup NFTs based on Nickelodeon's 90's hit series "Hey Arnold!" and Rugrats, with DJ and producer Steve Aoki.
In March, Care Bears partnered with The Sandbox to offer a voxelated version of the Care Bears' Care-a-Lot kingdom. Players were able to explore the cuddly characters in a themed virtual setting with interactive activities and games.
"Over the last 40 years, Care Bears fans have created an enthusiastic and engaged community that champions sharing, caring, and kindness. Our strong relationship with our global fanbase allows us to explore new spaces and we are so pleased to see the positivity surrounding our entry to Web3. This is just the beginning…" said Robert Prinzo, Cloudco Entertainment Head of Global Licensing.
The sale will begin on August 3 for RECUR Pass holders, and the rest of the NFTs will be available on August 4 for the public.
In other news, Chipotle launches 'Buy The Dip' crypto giveaway.