Real Estate Finds Both Physical and Digital Web3 Use Cases
From digital to physical offerings.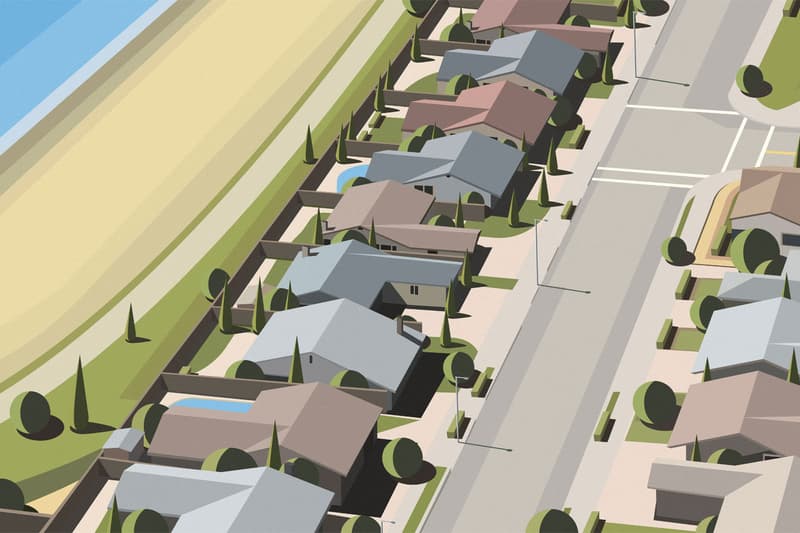 Real estate has begun to make its way into the Web3 space over the course of the last few months — from digital products and services to offerings of physical buildings.
Despite common beliefs, non-fungible tokens (NFTs) can be used for more than just static jpegs of cute collectible animals. In fact, at its core, the technology is simply a means to a more secure and immersive form of ownership, that can potentially compliment or accompany any type of existing goods and services.
Through the use of blockchain technology, traditional markets are being democratized, including the real estate sector.
In June, commercial real estate company Okada & Co. listed two NFTs for sale on OpenSea, one of them a 46,299 square-foot office building in Chelsea, NY. The token was listed for 15,000 ETH, worth roughly $27.5 million USD at the time. While the sale of the token did not reflect the transfer of deed or title, a process still required after purchasing the NFT, it is still a step in the right direction and proof of interest in the tech by the real estate market.
Other more recent examples of NFT integration in the real estate market include a unique token that would grant holders the right to rebuild Tokyo's iconic Nakagin Capsule Tower. With the original tower being deconstructed due to its age and risk to the public, the group behind the property Kisho Kurokawa Architect and Associates (KKAA) would like to see it live on elsewhere.
KKAA announced that it will be offering two NFTs, the first providing the holder rights to rebuild the tower in the physical world, with the group lending its assistance in the reconstruction. The second NFT will grant the owner rights to build the structure in any metaverse space. Currently both tokens are available for auction through OpenSea with a reserve price of one ETH to start the bidding which will run until October 20.
Here's your chance to rebuild Tokyo's iconic Nakagin Capsule Tower. pic.twitter.com/poylbvcuV6

— Hypemoon (@Hypemoon) August 22, 2022

Outside of these recent physical applications, real estate has also begun to make a splash in the metaverse. In early August, Animoca Brands shared the launch of a what it calls the "Initial Home Offering" (IHO), an integration for online role-playing game Highstreet World's that allows users to purchase homes and real estate within the ecosystem. Through IHO users were granted access to 5,000 futuristic All-Terrain-Trailers.
If trailers don't peak your interest, another recent offering in the metaverse might. Recently, in partnership with Everyrealm,  The Alexander Team, announced the launch of an exclusive metaverse real estate offering.
With a vast number of high profile and celebrity clientele in the physical world, The Alexander Team said it was inspired to provide an offering that provides the same level of exclusivity and immersive ownership. Only 30 NFTs exist and require interested parties to fill out an application to gain access.
Artists tapped to design the unique structures included Daniel Arsham, Misha Kahn, Andrés Reisinger, Alexis Christodoulou, Six N. Five, and Hard.
""The metaverse has no physics, no weather, and no limitations other than human ingenuity," said Everyrealm CEO Jannie Yorio, adding "The Row brings together visionary artists best known for their architectural landscapes and collectors seeking a unique, limited edition residence that they can deploy across many different metaverses over time."
Mona will be home to #TheRow ✨

A limited-edition series of 30 3D architectural landmarks, each sold as a 1-of-1 NFT, co-developed by @AlexanderTeamRE and @Everyrealm.

Learn more about the new members-only community ➡️ https://t.co/sCFlWkCDMy pic.twitter.com/yjYIAkLx86

— Mona (@monaverse) July 26, 2022
In another cross-section of real estate and blockchain technology, Selling Sunset star Christine Quinn announced the launch of a new crypto credit scoring system for the use in luxury real estate offerings.
The system, RealScore, acts as a crypto credit scoring platform that allows buyers and sellers of luxury real estate to leverage their cryptocurrency when establishing their purchasing power.
RealScore comes as an accompanying product offering to the brokerages existing RealOpen product — which is currently considered to be the first and only company in the world to focused on accepting crypto for luxury real estate transactions. It utilizes patent-pending technology to validate funds and instantly convert crypto assets into cash only upon the closure of a deal.
Whether you're buying real estate in the metaverse or a physical building, it is becoming increasingly clear that blockchain technologies will begin to play a role in the process — be it through a bill of sale, proof of ownership like a deed, or a means of financial leverage.
Elsewhere in Web3, take a look at how BendDAOs looming liquidity crisis might impact the entire NFT market.