A Look Into How Degen Toonz Has Thrived in a Bear Market
Through a deep dive into the team behind the brand and the importance of community.
A Look Into How Degen Toonz Has Thrived in a Bear Market
Through a deep dive into the team behind the brand and the importance of community.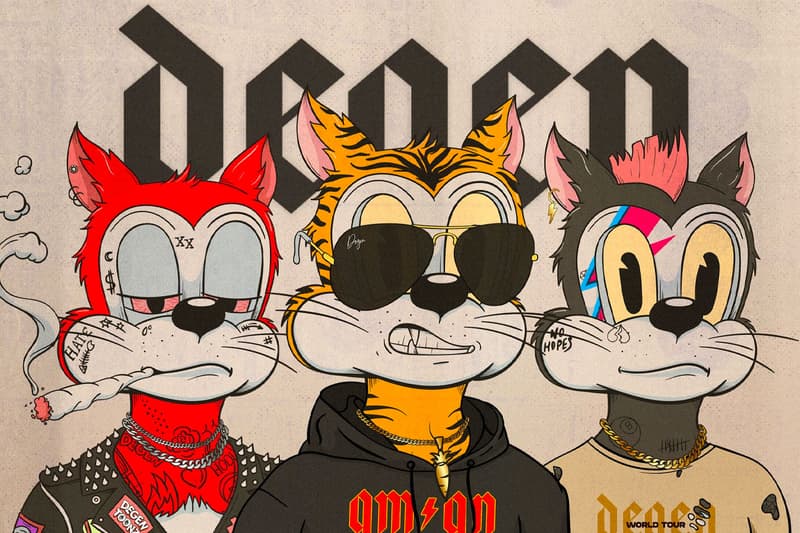 In an exclusive interview with the founders and team of the Degen Toonz NFT brand, Hypemoon dug into how they got where they are today, as well as what it takes to not only survive but thrive in a bear market.
"One day, we kind of had this crazy idea to start an NFT project."
The story of Degen Toonz starts with its two co-founders, Bader Asad and Prince Lail, who have been friends for nearly 13 years.
Asad shared that he was originally in the fashion and jewelry industry prior to Web3 but that he had always been into crypto, first being introduced to it through a computer science class in 2010.
Lail on the other hand is the artist of the two and is largely responsible for the direction of the art, and its execution. Prior to the Toonz, the duo had worked on a number of projects together, from custom clothing offerings to music covers for musicians — then "one day, we kind of had this crazy idea to start an NFT project, but we didn't know quite where to start," shared the co-founders.
Trial, Error, and Inspiration
After nearly a year of developing the artistic direction and learning how to deploy smart contracts as well as produce generative art, the Degen Toonz project came to life in February.
"Bader and I had always related inspiration back to the Saturday morning cartoons — you know, you feel like a kid again when you saw them or when you sat down to watch them," shared Lail, going on to explain that he wanted to capture the feeling of grabbing a bowl of cereal as a kid and sitting down to watch your favorite cartoon.
"Our goal was to design these cartoons as if they grew up with us," shared Lail, pointing out that a lot of the assets are heavily tattooed (like himself) and draw on a streetwear stylization when it comes to the clothing and accessories on the NFTs.
We just hit 4K unique wallets and over 960 ETH trading volume! We love seeing all the new #TOONZ Drop your collection below! #toonztothemoon #toonfollowtoon #ThatsAllToonz pic.twitter.com/QNuuhxsdM4

— Degen Toonz (@DegenToonz) February 24, 2022
Even with a clear art direction and vision for the brand, the two founders did face a bit of a learning curve when stepping into Web3.
Bader shared that the biggest lesson was understanding the differences between operating a traditional brand and business versus one in Web3, stating that "everybody in Web3, has a voice, you know, that's the whole point of Web3 and decentralization." The biggest takeaway that both of the co-founders shared is that listening to that voice is one of the most crucial aspects of running an NFT brand — something they have now built up as a core characteristic of Degen Toonz.
A Warm Welcome
Traditionally, brands in any industry will have to reach out to ask for collaborations just after a launch. However, in the case of Degen Toonz, the concept and the art was very well received and the brand had a number of collaborators knocking at their door.
Some of the most notable collaborations to date have been with The Hundreds, Bored & Hungry, and Jarritos. Notable individuals who've shown interest in the brand include names like Steve Aoki, Bobby Hundreds, Lil Baby, Snoop Dogg, Rebel Wilson, Seth Green, and more.
As for how the group has been able to execute on the initial interest, Bader pointed to his executive team members Joel Contartese, the brand's business development advisor and Chris Watt, the brands lead community advisor.
The Hundreds X @DegenToonz at next week's New York Pop-Up Shop. @AdamBombSquad: pic.twitter.com/g85qn9ssKi

— bobbyhundreds.eth (@bobbyhundreds) June 17, 2022
TOONZ in NY! @BoredNHngry @FoodFightersU pic.twitter.com/D8fu6Yyqir

— Degen Toonz (@DegenToonz) June 24, 2022
Art & Meme Contest ?

We have partnered up with @Jarritos to give away this Custom Mini Fridge to one lucky TOON!

Yes, it will include your favorite Jarritos flavor as well.

Contest Details are Below! pic.twitter.com/bw1lshq4jU

— Degen Toonz (@DegenToonz) August 31, 2022
The Power of Community
"The community, from day one, has always been so tight knit," Watt said, sharing that "it started with Bader and Prince being in the Discord very early on and being so accessible to everyone," something that Watt said he has carried over into how he operates as well — working to make everyone feel as though they're at home.
Contartese added that "the community honestly, from day one, has been extremely, extremely active," sharing that understanding the need for consistent communication and acknowledging it with twice weekly Twitter spaces has played a huge role in growing such an engaged community.
To date the brand still hosts two weekly Twitter spaces, it's Toon Talks every Tuesday, reserved for more serious updates and its Happy Hour Toon Talks on Friday, a more relaxed session, hosted by two of the brands female holders, Kelly Blumberg and Lyn Tan — whom also play the roles of brand strategist and events coordinator respectively.
Join us for TOON TALK today at 6:30pm PST ? pic.twitter.com/CE1jliAtAK

— Degen Toonz (@DegenToonz) May 24, 2022
Thriving in a Bear Market
Sharing his advice on how to survive and thrive in a bear market, Asad shared that "one thing I always tell people is to really just keep delivering." While the advice might seem simple in nature, and maybe it is, Asad pointed out that a lot of Web3 brands fail to stay on top of this and that the job of founders does not change even when markets change.
Through keeping their heads down, staying in constant communication with their community, growing through collaborations and continually executing on promised deliverables, Degen Toonz has been able to defy the bear market.
On another note, Bader noted that responsibly managing funds and reinvesting them into the brand has paid dividends in terms of continued success. He also shared that the brand has now been to create and fund both a community wallet and a charity wallet — extending its value even more.
Fashion at the Core
It has become pretty common to see NFT projects and brands tout merchandise as "utility," however, very few get the quality right, with most offering sub par graphic print t-shirts.
That isn't the case with Degen Toonz, Contartese shared that he also has had experience in the fashion industry, specifically the manufacturing side of the business.
"It was very clear from the beginning that quality was at the top of the list, it was a priority, and there was no penny pinching on that," he shared, adding that the current manufacturer the brand utilizes is also the manufacturer to a number of high profile streetwear brands.
The brand utilizes high quality standards when it comes to the quality of its products, with its t-shirts at 220gsm and hoodies at 470gsm — in other words, they're heavy and what you see with top streetwear brands around the world.
TOONZ! Apparel goes live at 2:00pm PST! ?

Website link will ONLY be available on this Twitter account and our official Discord announcement channel. pic.twitter.com/vK7UXWMj7Q

— Degen Toonz (@DegenToonz) July 22, 2022
Looking Forward
"Everything that we've done has been intentional and I think that is what continues to set us apart, shared Contartese.
This intention can be seen in the roll out of the brands NFT ecosystem, which now consists of its original, dynamite, mutated collections, as well as a minter rewards access card. Unlike what has become industry standard, these collections feature a deflationary aspect, which maintains the balance between supply & demand and will keep the additional collections more limited from the genesis — ultimately helping to maintain value.
"Out main focus is to not dilute the existing intellectual property," said Asad — an objective that appears to be working as only 500 of the original 8,888 genesis collection NFTs are listed on the secondary market. The co-founder shared that the only reason another collection would ever be created, is to compliment increased adoption, and that the brand would never flood the market with another collection just for the sake of increased volume or liquidity.
Contartese also pointed out that even if there is not another collection, the brand aims to provide other ways for interested parties to interact and become part of the community.
GM GN
Asad briefly shared that under the Degen Toonz umbrella, it is looking to brand the "GM GN" phrase as a category offering to the space, with more details to come soon.
"It's very cool to see a once standard phrase in Web3 become something a lot bigger than that," he said, adding that "it is definitely something that is going to be delivering long term and not only for Degen Toonz, but the entire space in general.
Other alpha the group shared is that holders should keep their eyes out for a reward system that is coming soon as well as a number of interesting collaborations that are right around the corner.
In other news, Meet Jeremy Fall, the celebrity restaurateur behind Probably Nothing who sees food and Web3 as cultural unifiers.