Magic Eden Expands Marketplace With Ethereum Blockchain Integration
Beginning with the Psychedelics Anonymous project, EZU, as the first ETH-native project.
Magic Eden Expands Marketplace With Ethereum Blockchain Integration
Beginning with the Psychedelics Anonymous project, EZU, as the first ETH-native project.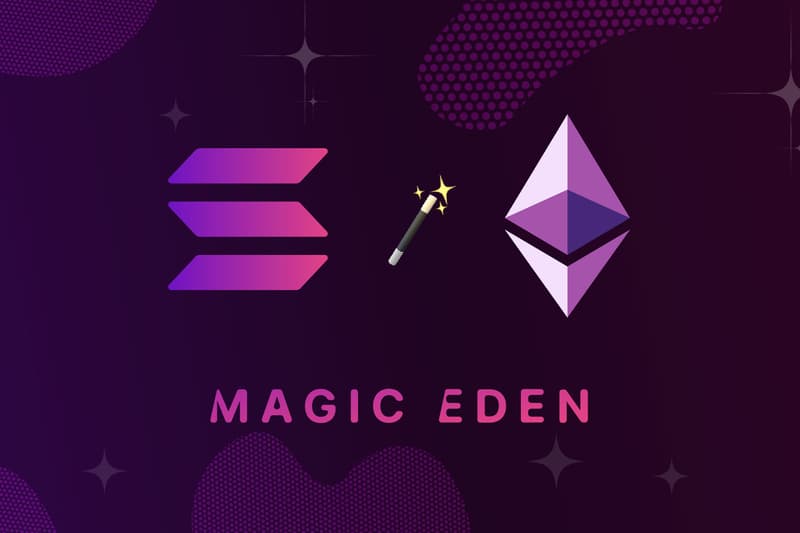 Solana's largest NFT marketplace, Magic Eden, announced on Tuesday, August 2, its integration of the Ethereum blockchain into its platform.
With a current NFT trading volume of $2 billion USD, all trades on the marketplace have been done through the Solana (SOL) blockchain since its September 2021 launch. Magic Eden's decision to add a second supported blockchain to its marketplace not only converts it into a multi-chain platform — allowing for new ETH-based projects — but also rewrites the industry standard of only using a singular blockchain to power a marketplace.
Specifically, Magic Eden can open the doors to new audiences, introducing its current collectors to new types of NFT projects that will now allow for all-in-one launches, added liquidity, and whitelist tools for the emerging digital space.
Ethereum Support and Tools
Choosing to incorporate Ethereum into the platform certainly opens the doors to added developer resources for the marketplace.
The Magic Eden Launchpad, for example, will benefit from ETH and SOL compatibility alongside the running beta, which tests a cross-currency trading product for users to discover and purchase NFTs from either of the two blockchains. The cross-chain trading tools are reportedly expected to be available in the next upcoming months.
"Through our cross-chain Launchpad, creators will unlock a new set of audience through which they can amplify and grow their projects, as well as tap into additional sources of liquidity. Creators launching with Magic Eden will no longer have to face the difficult decision of choosing one chain over another at the cost of limiting their potential audience reach. Web3 is a place for us to share knowledge and evolve together," shared Zhuoxun Yin, COO, and Co-Founder of Magic Eden.
Another major development tool Magic Eden referenced was a new Drop Calendar for community members to track long-awaited NFT mints throughout the Web3 space.
"We believe in a collective NFT community that exists across multiple chains," said Jack Lu, CEO, and Co-Founder of Magic Eden. "Launching collector tools like the cross-chain Magic Eden Drop Calendar will be the first step towards realizing that vision. The more creators and collectors can reach across chains, the more we can collectively experience powerful cultural moments on the blockchain," Lu added.
Kicking-Off the ETH projects
The company will debut its ETH-friendly "Launchpad" with EZU, an NFT collection connected to the notable Psychedelics Anonymous project. EZU will serve as Magic Eden's first Ethereum-native project, allowing users to mint NFTs in both ETH and SOL for the first time.
Founded by Lewis Gale, who is known by the alias "Voltura," Psychedelics Anonymous has experienced previous success through its accumulation of over 38,000 ETH in NFT trading volume. The collection is recognized for the tokens' unique utilities that provide mental health resources to its holders. Through EZU, Magic Eden aims to push forward efforts in growing the mental health community in Web3, by providing more accessible resources to community members.
Prior to the ETH integration, Magic Eden announced its creation of the industry's first semi-fungible token (SFT) marketplace, in partnership with gaming blockchain platform Genopets.
In other news, OneOf closes funding round with $8M USD and American Express partnership.