Non-Fungible Films Brings National Lampoon Into Web3
The comedy veteran is known for titles like Vacation, Animal House, and Pledge This.
Non-Fungible Films Brings National Lampoon Into Web3
The comedy veteran is known for titles like Vacation, Animal House, and Pledge This.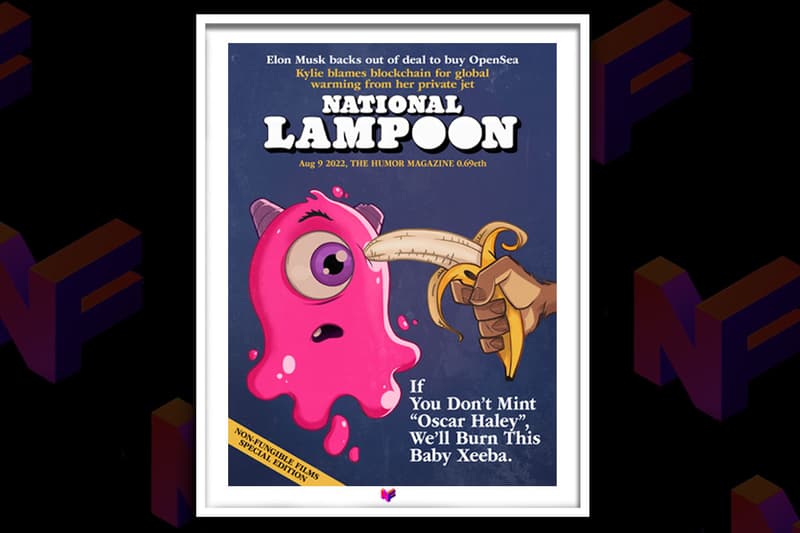 Non-Fungible Films (NFF) announced today, Tuesday, August 9, that it will be partnering with veteran comedy house National Lampoon, in an exclusive interview with Hypemoon. Known for its groundbreaking and irreverent film titles — like Vacation, Animal House, and Pledge This — NFF aims to continue the trend with the Web3 community at the forefront.
Our NFF team is comprised of filmmakers, storytellers, Web3 enthusiasts, & artists. All of us have creative backgrounds & a passion for building a better place for all types of artists. We believe blockchain technology can help with this. We are building everyday ?

— Non-Fungible Films ™️ (@NonFungibleFilm) July 22, 2022
Getting its start with humor magazines in the 1970s, National Lampoon quickly evolved into a name that would become synonymous with American comedy through a variety of mediums like TV and film. It is now considered to be one of America's most valued and historical comedic institutions.
"National Lampoon represents a zeitgeist of counter-culture and rebellion through freedom of speech and thought-provoking art which makes it a perfect brand to find an exciting resurgence in Web3," said CEO and Founder of NFF Cameron Moulène, sharing that "National Lampoon defined my generation as well as my parents', so I'm thrilled at the opportunity to partner alongside them to find new ways of reaching today's audiences, and share ownership of assets with our joint communities."
When expressing his excitement behind the partnership and how it came to be, Moulène said that "I think I won them over because of how much I love the National Lampoon canon,"  sharing that "on our first call I was basically just a big fanboy film nerd and talked about how Animal House was one of the greatest movies ever made and how comedy is dead and they could save it."
The CEO also mentioned that the experience has been an awesome one so far with the team at National Lampoon being big believers of Web3 and a clear direction for building meaningful communities.
In an example of how blockchain integration can play a major role in the entertainment industry, Moulène shared "what if Squid Games or Queens Gambit had not needed to wait 20 years to get made? The creators could have developed a compelling pitch deck, presented it on a Web3 native platform, raised the money, and in exchange provided a meaningful piece of ownership in the form of Tokens, NFTs, or even royalties to believers, and then developed the value of that project alongside their initial believers while retaining ALL of their core IP rights over the property."
With National Lampoon and its own in-house titles such as Oscar Haley & The Great Beyond, NFF aims to develop intellectual property (IP) around NFT assets that will be launched into Web3 as legacy IP and in so accelerate a new era of consumer ownership and viewership engagement.
The three primary verticals the studio will utilize to achieve these goals are NFT communities, Film, and Television, as well as what it is coining "View-2-Earn" streaming.
Without sharing too much detail, NFF has said that there are big things in store for the studio and its collectors with more information to come over the following weeks.
To celebrate the National Lampoon partnership, the studio will be releasing a free-to-claim commemorative NFT art piece on the Ethereum blockchain for its Executive Producer pass holders.
Additionally, it has launched a scavenger hunt for 10 ETH and an executive producer pass that all current holders can participate in. Promotional materials for the event are voiced by none other than Christopher "Doc" Lloyd — the window to win the prize is open for the next three months.
In other news, GameStop and Immutable X push full steam ahead with early access to Web3 wallets.