Exclusive: NY Doorman Shares the Power of Friendship and Community in Web3
Highlighting the wide range of opportunities available to anyone in the space who will take the initiative.
Exclusive: NY Doorman Shares the Power of Friendship and Community in Web3
Highlighting the wide range of opportunities available to anyone in the space who will take the initiative.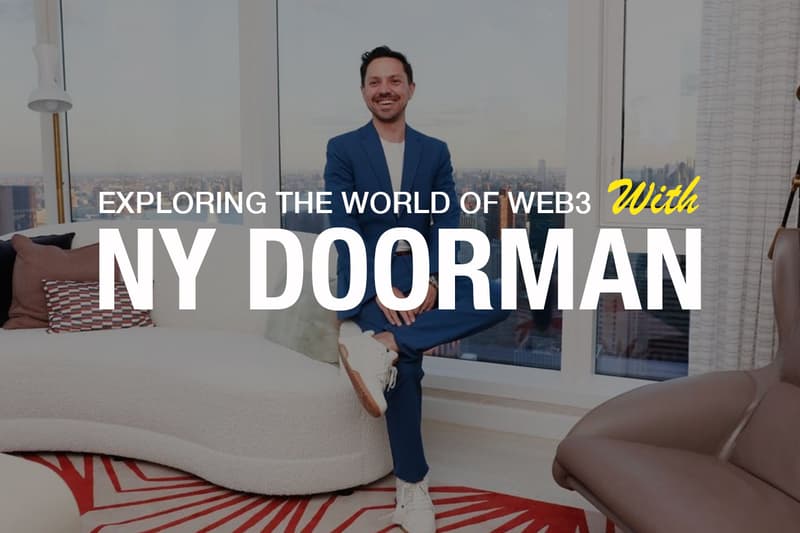 Some know him as Michael Tommasiello, others Mike, but on social media platforms like Twitter and Instagram, he is known as NY Doorman.
A lot of people have one or two things that they "do" and do well — Tommasiello however, does a little bit of everything. He has experience in a variety of industries, ranging from cannabis to fashion, and now finds himself in the middle of the wild world of Web3.
Through the course of his marketing career, spanning over a decade, the multi-talented creative has also had a host of high-profile clients, from real housewives of NYC to most recently the Starcatchers NFT brand — but we're getting ahead of ourselves.
To understand how everything came to be, NY Doorman took Hypemoon through an exclusive look at his Web3 journey so far, highlighting various opportunities, and giving insight on market crossovers along the way.
A Friend and a Fascination
Tommasiello credits his best friend Matt Medved, the founder of NFT Now, as one of the main reasons he got into Web3, explaining that "he and I would spend hours going back and forth about it until I finally made the jump into the space."
gonna mint this picture of @mattmedved not wearing a black T shirt pic.twitter.com/dqufzQgTia

— nydoorman.tez (@NYDoorman) July 27, 2022
Diving a bit deeper into other aspects that drew his interest to Web3, he shares that "I love how everyone is afforded an opportunity to develop and buy their interests — without the gatekeeping nature that has long plagued the traditional art and culture worlds."
"I would be remiss to not mention the financial component of being in the space and how it really has the ability to change people's lives, which is incredible."
He went on to share that some of his favorite stories to read are those of people getting lucky with NFT mints or of individuals who trade their way up from nothing to tokens like CryptoPunks — an example of "everyday people, having extraordinary opportunities."
However, NY Doorman didn't always have such a cheerful and optimistic outlook on the space, and his entry into Web3 did come with a learning curve.
Onboarding
While he has always found himself attracted to emerging industries and sub-niches like cannabis, fashion, hypebeast culture, and sneakers — NY Doorman's entry into Web3 did not come without growing pains.
"I spent a lot of time fighting against it and getting in my own way," he shared, adding that, "plenty of friends who had already made the jump into the space told me that due to my understanding of the sneaker and art world, I would LOVE Web3."
Finding himself with some free time in December of 2021, Tommasiello began to do his own research on the space. Some of the problems he faced, like anyone new to the space, was trying to find consistent education.
"Buying ETH is not intuitive or easy, especially for someone who doesn't know about the space. And GAS! Oh my god was I taken aback — I was like 'what on earth is this weird fluctuating tax that I'm being charged on top of what I'm paying for the NFT!'"
Another area that presented a learning curve was the utilization of allow lists for hyped project releases, however, Tommasiello quickly drew comparisons to his experience in Web2 and began to develop a strategy.
The Strategy
"I realized I could use my web2 strategies in web3, which was just, and this may come as a surprise to many — being nice to people."
With this strategy, Tommasiello quickly found that by looking to provide more value to others, he began to receive value in return. What started as a means to an end of purchasing NFTs led to what he says became great friendships in the space.
"Every DM to a founder or a project, the request, if it came at all, would always come last," he explained, adding "I would always tell the founder/project what about their project had interested me, my background, how I might be able to help and then ask if there was a way to get on the list if they felt like I could be valuable to the community. More often than not those conversations led to making some really great friends in the space."
From an Observer to a Leader
After spending some time simply observing and getting to know the space, NY Doorman decided it was time to contribute to the space himself.
"Once I felt a little more comfortable to speak and offer an opinion, I started to get to know the founders better and saw that a lot of the issues they were having building their brands were issues I had seen my entire career across new industries, which inspired me to get involved more directly with the management and development of some of these projects."
To provide the desired value to the space, Tommasiello joined no.9, an agency he helped to co-found with Kiana Anvaripour — his business partner in LA that he had known since the early days of cannabis legalization in California.
Though originally designed to market cannabis brands, Tommasiello shared that "we saw that there was A LOT of overlap between cannabis and Web3. So we combined one of our cannabis clients with one of the projects I was friendly with, Starcatchers, and we produced their first event — an amazing party during NFT LA that combined cannabis and nfts. From that point on we were hooked and we couldn't get enough of developing web3 brands."
But wait, THE Starcatchers? How?
The Space Is What You Make It
In what some in Web3 would describe as a "degen move", Tommasiello minted a one-of-one NFT of a brain scan he had done on himself.
Originally a joke, it soon turned into something much more.
"After conversations with some friends in Miami during Art Basel last year [2021], I realized I could make it a bit tongue in cheek, call it 'Pick my Brain' (since I get a lot of these types of requests) and sell it with utilities attached to it — those being consulting hours with me on your project."
Of all the people who could have purchased the NFT, the buyer turned out to be Maurice of Starcatchers, which Tommasiello credits for his first big break in the space.
After the initial Starcatchers event, the brand signed with no.9 for it to be its agency of record. Since then, no.9 has produced the brand's NFT NYC party, handled various press roles, development strategy, merchandising, utility integration, partnerships, and more.
just getting started, friends ?

?: @NO9agency pic.twitter.com/ATLbkOHyHI

— Starcatchers (@StarcatchersNFT) June 28, 2022
Highlighting another opportunity he discovered to add value, Tommasiello shared that "I continued to expand my work and prominence within the NFT space by becoming a middle man in the Moonbirds community because so many of my fellow bird holders were getting rekt selling and trading their birds.
"I had very publicly, trust traded my way to a rare bird," he explained, adding that "in an industry that is built on your reputation and trust, I was thrilled to have been able to become a trusted asset to such an incredible community."
I told y'all @moonbirds was going to the moon and I meant it. ? ?

Thanks @CLTguy_ETH for helping me get to outer space pic.twitter.com/zQOZioaoTt

— nydoorman.tez (@NYDoorman) August 10, 2022
"The Barneys of Web3"
Most recently, NY Doorman finds himself on the team of a soon-to-be-launched Web3 wearable project by the name of Watch and See.
Tommasiello shared that he was first introduced to the project through mutual friends and then one of the founders, Lauren Moberg — someone he had known from his life in the fashion industry and was excited to reconnect with.
The project "combined some of my biggest passions, which were and continue to be watches, Web3, and fashion," he said, going on to share that "not only are they creating a genesis collection of luxury watches, but they're also creating a luxury department store for the metaverse — they're building the Barneys of Web3."
Its been a GM and a GW (coining the Good Week) – love seeing what people are building and doing in the space and excited with what we have in store for our community

One of our favorites from the genesis collection pic.twitter.com/k6YHQPiu7v

— Watch and See NFT (@WatchandSeeNFT) August 19, 2022
"We look at watches as tokens that will last a lifetime and we leave for our children and the idea of this being traced back to the blockchain and living there forever was a great expansion to the story of watches," explained Tommasiello, highlighting one of the key value points of the project.
"What Lauren and the rest the of the team are creating is incredible and I'm stoked to be able to be a part of the team and help plan the launch. We're going to make a splash in a very big way in Web3."
The Future of Web3
Looking at what the space currently is and what it might become, Tommasiello shared that "you can only buy so many PFPS before you're just inundated with stuff, adding "I think the real value in Web3 comes from the amazing art and advances in technology from some of these creators."
He went on to share that "I always think of Viagra and how it was originally a medication for hypertension. Pfizer didn't scrap the product altogether they just pivoted when they realized there was a better application to what they had created. I suspect something similar is happening in web3."
NY Doorman also highlights some day-to-day areas of life that might see a benefit from Web3 technology, like the security of documents surrounding home deeds, vehicles, health records, and more. "Anything susceptible to being lost, damaged, or destroyed will be migrated to the blockchain for safety and security."
In an overview of the current market status, Tommasiello shares that too many are focused on short-term gains rather than long-term value. "I don't think that all the brands and projects are going to make it. I think the teams that are building and trying to take their brand from a project or start up to a real company that provides value to its holders are going to do very well in the long term."
Alpha
In a word to Hypemoon readers, NY Doorman said to "stay tuned to all the utility for the projects I work on because I'm working on the partnerships and I'm tapping all of the brands and friends I have in various landscapes and bringing them all as utility and value to these communities."
A few examples he provided include luxury fashion, travel, dining, and more — hinting at tokenized access to discounts for hotels, festivals, and other experiences.
"I'm going to build real, everyday utility, that will offer people opportunities they can engage with on a daily basis."
Elsewhere in the world of Web3, meet Amber Vittoria, a freelance visionary and painter.