Probably Nothing: Meet Jeremy Fall, the Celebrity Restaurateur Who Sees Food and Web3 as Cultural Unifiers
Helping to safely and securely bring people over into Web 2.5 through familiarity.
Probably Nothing: Meet Jeremy Fall, the Celebrity Restaurateur Who Sees Food and Web3 as Cultural Unifiers
Helping to safely and securely bring people over into Web 2.5 through familiarity.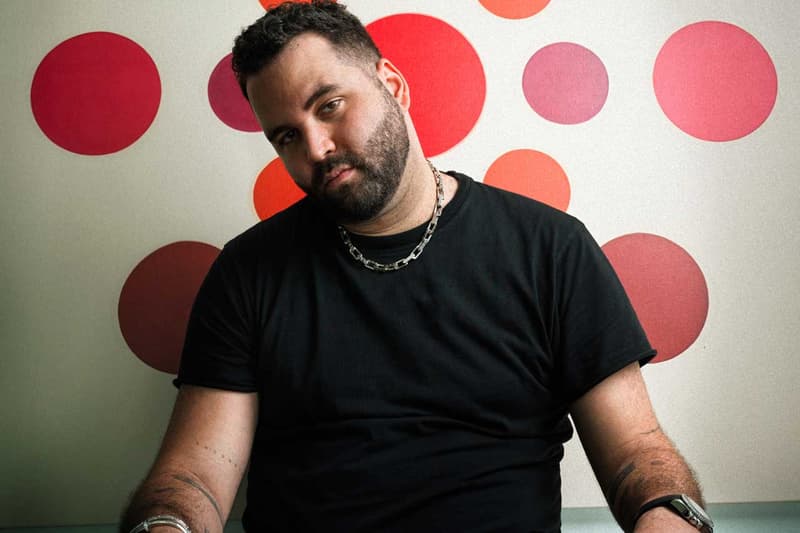 Probably Nothing creator and celebrity restaurateur, Jeremy Fall, has used his passion and love for food/hospitality and turned it into a cultural unifier to help bring people together – in this case, to facilitate the mass adoption of these new technologies giving rise to Web3.
By age 27, Fall had already launched five restaurants across Los Angeles, California, and Chicago, Illinois, with his recipes and restaurants featured on national television programs, including Diners, Drive-Ins and Dives, Guy's Big Project, Going Off the Menu, Home & Family, and Food Network Star. His success from 2014-2019 finally earned him a spot on Forbes 30 Under 30, Food & Drink list in 2020.
But for tech enthusiasts, Fall, 32, has since evolved his branding, curating his latest recipe – "Probably Nothing."
Launched in January, Fall has cooked up a way to help bring together two worlds that have their own vision for what "creative innovation" should look like in 2022, sitting down with Hypemoon for an exclusive interview.
With approximately 14 bars and restaurants under his belt, Fall has now opened his kitchen's doors to Probably Nothing's mission in providing the necessary menu items that will help provide the most realistic experience for individuals today – and that is to build for "Web 2.5," a middle-ground where both legacy brands and Web3 innovators can (peacefully) co-exist, co-create, and build memorable experiences together in a safe, secure, and fun manner.
"We're All About Decentralization…Until We Get Hacked"
"Web3 is a really beautiful concept, but I do not believe it will ever be possible, as it's currently defined," Fall told Hypemoon. "I don't think we need to erase Web2, but instead, pivot to finding the best of both worlds – Web 2.5, where these major brands can help give the Web3 space the resources it and its users need to grow that economy."
The industry's biggest irony right now, according to the Probably Nothing founder, is how individuals conveniently throw around the term "decentralization," based on the benefits current technology has afforded us.
"Everyone is a personal brand; everyone is now a media company – all owned by massive corporations…people are all about 'decentralization,' until their wallets get hacked – until they lose something, and when they do, what's the first thing they do? They try to contact customer support or take to Twitter. They start looking to have conversations with these centralized companies."
Not shy of holding out Probably Nothing as a "centralized" Web3 media brand, Fall also says that companies like Coinbase, MetaMask, and Yuga Labs are all necessary in building towards this vision of Web3.
"If we take Web3 in its true form – its concept is merely predicated upon Web2. Web3 has essentially given the tools to creators to create modern day culture by taking ownership of that culture back. People like to put their money into Coinbase Wallets, because it's safe and FDIC-insured. As a publicly traded company who protects those funds, this could not be more centralized."
He continued, "I think people don't realize that you want that, because there's been these technologies and infrastructures that have been built over decades to be secure. We don't want to wait decades of losing money and watching people lose their livelihoods to get to that point of what we call 'decentralization.' Why don't we find a way to make both Web2 and Web3 work together?"
It's "Probably Nothing…"
If you haven't figured it out yet, the early stages of Web3 and NFT participation is almost like a new membership into a cult – think about it.
For those new to the space, becoming familiar with terms like "LFG," "WAGMI," and of course, the everyday "GM" leads a person down the rabbit hole to then discover there are more context-specific phrases like "degen" and "probably nothing" – which only makes a person's head spin.
Don't worry, we're all going to make it – this cult happens to be shaping the fabrics of how we come to better understand this space beyond the illusion that this is simply a fad and nothing else.
The phrase "probably nothing" has undoubtedly become the norm in communicating rumored hype and information that ultimately sends everyone off to the races in search of any hints leading to more concrete information behind the hype.
Turning his attention again to the recipe book of how to create that next "cultural unifier," Fall found his next venture, launching the Web3 media brand, "Probably Nothing" in January.
The same way in which Fall was able to create conversations around ideas using food, he says he also discovered a "very obvious parallel" in Web3:
"Discord is like running a restaurant, where you have your mods (or operations), your creatives (chefs), and your offering. That's what I love about Discord, because I treat it as a restaurant. If someone isn't happy, I address it immediately – almost like Yelp."
By creating more "off-the-cuff" ideas with technology, the restaurateur has been able to target people around the world, making Probably Nothing as refreshing, tasty, and comfortable for the masses who choose to consume it.
Is web3 impossible? pic.twitter.com/J1VfbyvHVC

— Probably Nothing ™ (@probablynothing) August 23, 2022
Within eight months, the Probably Nothing brand has skyrocketed to the top of the industry's radars for that "next best thing" that we've all been waiting to read about, but know absolutely nothing about.
"Similar to what I've always done with food, you need to give people something they're familiar with, and then elevate it," Fall explained.
As a centralized Web3 brand, Probably Nothing is able to thrive because of "its ability to employ a full-time team on payroll, while simultaneously providing its community access through free mints, utility, and not leaving people high-and-dry."
Fall says the Probably Nothing team doesn't have interns – only full-time employees. "Everything we do is all legal on paper, which is why we're able to provide and bring in bigger Web2 projects like Warner Records or Bose – to continue helping onboard people into the space so they can have those conversations with real companies. And that's okay."
Introducing 'Familiarity' and Then Elevating It
Through its vibrant, digestible content and project agnostic collaborations, Probably Nothing has been able to implement its "mass adoption" mission in helping to safely and securely onboard as many people into Web3 as possible.
"I'm not coming in to try and compete with those individuals already raising hundreds of millions of dollars to facilitate these technologies," Fall told Hypemoon.
"I wanted to create a brand that's attractive and one people can connect with. We leave the market's financial analysis to those outlets like CoinDesk and Bloomberg, who will do it better than us. Instead, we want to create an MTV-esque retro brand that people will want to buy into and connect with. And then, I'm going to use my Web2 connections like ROC Nation, Warner Music, and all of these resources to help bring as many people in."
The brand's biggest focus right now, according to Fall, is figuring out how to educate people in the right way that "resonates with people."
Honing in on "familiarity," Probably Nothing has already collaborated with on the following NFT drops:
Excited to collab with Jeremy and @probablynothing on this project, reflecting on world history together https://t.co/R5o1NcboAd

— Vault by CNN (@vaultbycnn) August 3, 2022
"When we're doing these collections and NFT drops, we need to be smart about when they come out and make sure we execute everything properly," Fall explained, emphasizing the importance in choosing projects that are able to yield realistic results for both the market and brand.
"If I said 'yes' to everything, we would be drowning. We have 100 Warner-type projects that we'd love to have, but we have to pick the best – and even some that are amazing, we just can't do, because it could hurt us. And coming back from that is hard. Sometimes, it's really hard, because you get really excited – but we literally can't right now."
In that determination, considering the realistic ROI in harmony with the allocation of capital is another major factor.
"We will only sell when a project requires capital to be able to execute at our best level, otherwise, we give it away for free – because, once you start selling things and you get greedy selling everything and making $50 million USD, that's amazing, but you have to deliver $100 million USD worth. You have to overdeliver."
Consumer Confidence is Key to Mass Adoption
Fall encourages everyone to do your own research and see who the players are and formulate your own opinions – without the undue influence of industry leaders.
"Everything comes down to credibility and consumer confidence – decades of building eyeballs that I could not spend enough money in the world to buy," Fall emphasized.
"I want to be able to bring that confidence to that person who didn't really believe in NFTs – but then saw what conglomerates like CNN, Warner Records, Bose, and Netflix are doing. These companies wouldn't risk their lives scamming people," he continued.
Speaking to the onslaught of the industry's biggest "rug pulls," Fall says the phrase "needs to be reeled in," as we are starting to see a shift.
"Why are some of these projects 'rug pulls?' While some of them are certainly scams, a lot of them are simply kids that just don't have the business acumen and don't realize what they're getting themselves into. Just because a project doesn't deliver the craziest roadmap within its first weeks launch, doesn't mean they're a rug pull. NFTs projects are like publicly-traded startups, and startups f*** up. And that's normal. That's why they're startups, because all companies mess up at some point. It's why I think it's good to still have the influence of bigger companies that predate these NFT projects, who can come into the space and help clean it up."
And as the interview concluded, Fall finally shared his definition of what he believes Web3 is:
"We're taking our sh** back, and we're going to own it. It's going to be owned by us and the people, with no central authority or company to later claim they own our content and can do whatever they want with it, essentially holding the keys to our existence on these platforms hostage."
In other Web3 news, Meet Amber Vittoria, a freelance visionary & painter.