Singapore Is Ready to Hear Legal Cases in the Metaverse – And It Actually Makes Sense
Explaining how "hybrid" elements will allow Singapore to remain competitive in the international market, while allowing courts to take legal dispute resolutions one-step further.
Singapore Is Ready to Hear Legal Cases in the Metaverse – And It Actually Makes Sense
Explaining how "hybrid" elements will allow Singapore to remain competitive in the international market, while allowing courts to take legal dispute resolutions one-step further.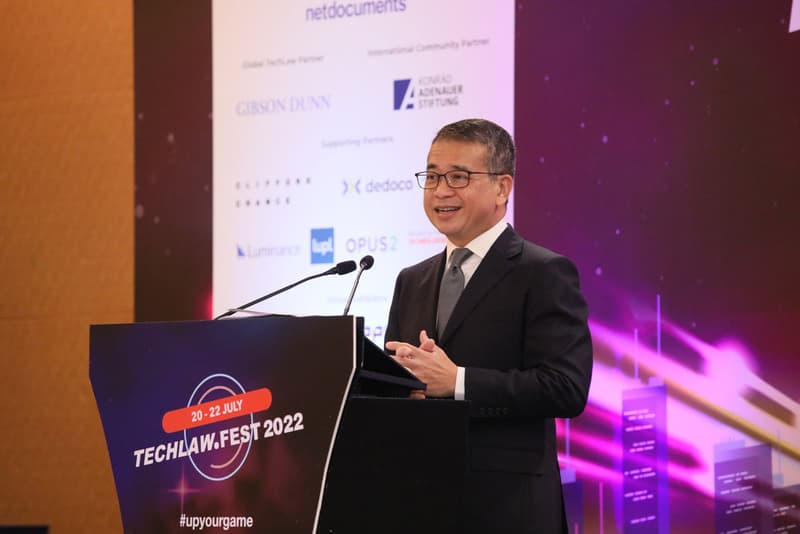 Singapore's Second Minister for Law, Edwin Tong, recently shared that the country is ready to dive deeper into the metaverse by beginning to leverage how its government utilizes court case disputes, government services, and legal marriage proceedings.
On July 20, Minister Tong spoke at TechLaw Fest 2022, highlighting how the COVID-19 pandemic has opened up the doors for our legal landscape to start approaching how it chooses to leverage its resources, including the courtroom and associated technologies.
According to Tong, virtual reality and the metaverse allow for legal dispute resolution to be held online, as virtual meetings continue to be widely used, despite most aspects of life returning back to some semblance of "normalcy" in the real world.
"…even dispute resolution – once seen to be a physical, high-touch process – can also be held almost entirely online. You must see the witness, look at the whole demeanor. Cross-examination is a particular skill that used to be very much in-person," he said.
Thank you @ChannelNewsAsia for the feature! TechLaw.Fest 2022 kick-started with a positive outlook in the legal scene in Singapore and we look forward to the developments in tech that will improve accessibility and competitiveness for firms. https://t.co/XNLIxxJfaW

— TechLaw.Fest (@TechLawFest) July 22, 2022
Since the pandemic, dispute resolution institutions like Singapore International Arbitration Centre (SIAC) and Singapore International Mediation Centre (SIMC) have been conducting arbitration hearings and mediation sessions remotely.
He also revealed that the country's real brick-and-mortar space, Maxwell Chambers – which was designed to be a physical setting for arbitration, mediation, and other similar meetings – has already been providing online and virtual solutions for the last 1.5 to 2 years.
Tong, who was previously a disputes resolution attorney, practiced his last case in 2018, before joining the government and has never had the ability to argue his case over Zoom.
"So, the question for us is, can this be taken one step further, beyond just having the hearing or cross-examination done virtually – with end-to-end dispute resolution services offered on a single virtual platform, or even in the metaverse? One day, some of you might come across Justice Aedit or Justice Lee, and their digital twins online. I believe we can be reasonably confident of the overall momentum and trajectory towards this outcome."
He referenced an example of a personal injury case where issues of a slip-and-fall or accident containment are present – emphasizing the importance for a jury and the court to actually see the location that is integral to the case.
"In construction disputes, 'transporting' the disputants to the construction site instead of poring over 2D plan diagrams, as I used to do, very often not realizing that I had been looking at it upside down for a while. You can put yourself into the actual tunnel or the oil containment facility to look at the construction dispute from the perspective of an augmented reality, representing the actual space – allowing parties involved in the dispute resolution to feel like they are looking at the relevant defect in question and making sure that we are all on the same page literally."
In short, Tong says that courts can now allow for the viewing of these locations in three-dimensions through a "single virtual platform" using augmented reality (AR) technology.
"I believe such an integrated platform will make the whole dispute resolution process more convenient, efficient, and it keeps pace with how the rest of the world is developing. Even if users prefer and choose to do part of it online, like hearings, there can always be a hybrid element," he pointed out.
Taking that hybrid approach, according to the Second Minister of Law, will be critical for the country to stay competitive internationally.
"If we leave tech adoption to the market alone, smaller firms who do not have the same economies of scale will not adopt tech in a big way, given the cost barriers. Legal tech is critical for us to stay competitive, not just amongst ourselves in the Singapore market, but internationally."
Continuing, Tong presented a number of questions that Singapore's legal landscape needs to address:
"How do we level up Singapore law practices, how do we ensure that as we compete for cross-border work that we will provide the same level of technology services as our international competitors? In many cases now, the larger firms, larger corporate banks will not consider a firm as part of the tender if that firm does not have technology, or AI as part of its armory of services. Because they do not want lawyers who are highly skilled and highly trained to be spending time doing administrative work. It is increasingly important for us to level up using technology."
At the end of the day, Tong believes that the metaverse and virtual reality will of course bring their own set of challenges and cutting-edge frontier legal issues – but it all comes down to balance.
"Similar to the physical world, we will seek to balance between promoting economic vitality, preserving social stability, and protecting public security in the digital domain. International coordination of regulatory approaches to the metaverse and associated technologies will also be crucial, given the borderless nature of these technologies," he concluded.
In other Web3 news, Web3 Foundation Achieves Its 400th Approved Project for Grant Support.