Web3 Digital Sneakers Still Require That "Physical Experience," Says Blanksoles CEO
After its IRL debut in the newly-opened Solana Spaces retail store in New York.
Web3 Digital Sneakers Still Require That "Physical Experience," Says Blanksoles CEO
After its IRL debut in the newly-opened Solana Spaces retail store in New York.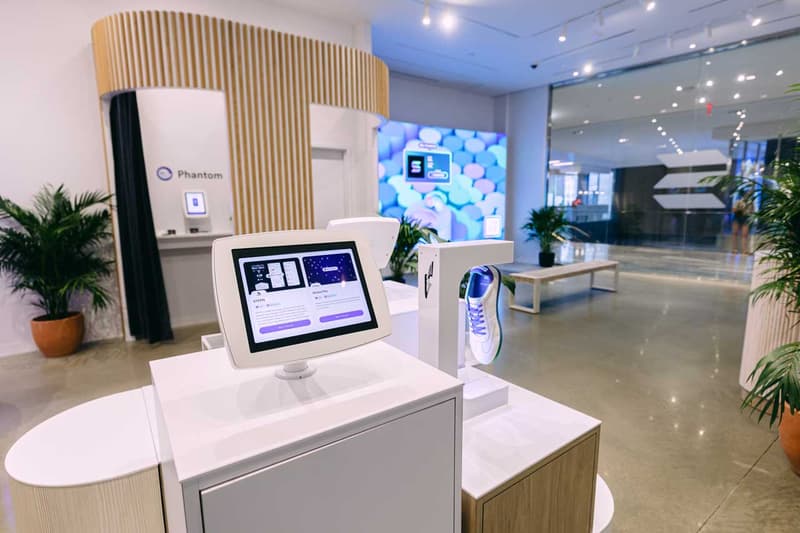 Last month's launch of Solana Spaces marked a major milestone in our journey towards Web3, as New York's Hudson Yards now serves as a permanent "cultural center embassy" for its physical retail, educational, and community space.
Its long-term vision of featuring a roster of new products and brand collaborations began with its opening week debut of a limited-edition physical and digital show designed in collaboration with Blanksoles.
Launched in December 2021, Blanksoles is one of the first decentralized sneaker companies that bridges the physical utility gap by offering holders limited edition physical apparel along with exclusive access to virtual and real-life experiences. In democratizing the creative process, the company provides its partners with several transparent white sneaker molds to then collaborate on the shape, design, and drop model.
Originally incubated under the advisory of Sacramento Kings' owner and chairman, Vivek Ranadive, Blanksoles' team includes co-founder Raymond Dong, Anthony Stead (Sans Permis NY, YEEZY ), Mark Scepi (President of SNKR Project), and Y-Combinator engineer, Stevie Huh.
Blanksoles began its journey in partnership with the Sacramento Kings for the team's limited NFT collection – "Laid Back Lions."
In March, Blanksoles announced its partnership with former NBA champion Metta Sandiford-Artest (known as Metta World Peace), to launch "Metta Designsoles" – a limited-edition series of Solana-based NFTs and physical sneakers.
Sandiford-Artest, who won a championship title in 2010 with the Los Angeles Lakers, told Decrypt in a previous interview that he had always wanted his own shoe, and that when he was presented with the opportunity to do so with Blanksoles, he went all in.
"Now that I'm retired, I wanted to do something for basketball players using the existing technology or building a platform," he explained, to add the logos and personal messages he wanted to the NFT sneakers.
Hypemoon spoke with Blanksoles CEO Anthony Stead, following the sneakers' debut in the newly opened Solana Spaces retail store, explaining Web3's need to use physical innovation to help improve traditional retail sneakers.
Stead, the founder of NY-based streetwear brand, Sans Permis NY, also spent a year working with Kanye West and his $1 billion (USD) sneaker brand, YEEZY, focusing on footwear strategy and operations. He eventually joined Jake Paul and Geoff Woo's team at Anti Fund, while joining the fashion team at Animoca Brands.
Stead says that Blanksoles' uniqueness is in marrying the technology of a Web3 digital sneaker with high-quality physical product.
"What's new in this space is delivering this real physical experience through a high-quality, tactile, physical shoe. We use technology to feed the desires of our sneakerhead fans, while still delivering on that base hunger," he explained.
In Solana Spaces' opening week, only 300 physical Blanksole sneakers were made available for in-store purchase. Individuals who were able to purchase the shoe were immediately airdropped an NFT of its digital render.
Just purchased a @blanksoles from the @solanaspaces store in Hudson Yards. Surreal moment.

Exciting things coming ??? pic.twitter.com/7stIhh4MiJ

— stevie @ genesishouse & blanksoles (@steviejhuh) July 30, 2022
From a design perspective, the sneaker itself is a "traditional low-top soccer silhouette, reimagined with Solana colors and futuristic details including luminous gradient midsole," while the upper is "one piece of full-grain Italian leather with laser-etch details and an antimicrobial microsuede lining" that pops Solana's light-green colors.
Stead says that the Solana Spaces experience is the first use-case of an in-store, physical-to-digital in-store purchase experience, which they intend to continue innovating with.
He added that in choosing to incorporate the NFT into the physical purchase experience, it would eventually function as a membership pass where buyers will be able to unlock many new experiences – although, he says they are keeping the process under wraps right now.
"We're currently in talks with a major European sneaker retailer that aligns with our vision, and is willing to take those calculated risks with us in Web3."
In other Web3 news, Dapper Labs and Los Angeles Rams bring new meaning to "Team NFTs" with Super Bowl LVI Ring.