Web3 Latinx Conference "Hola Metaverso" Brings Immersive Experience To Bogotá
Los Angeles' biggest Web3 Latinx conference, Hola Metaverso, is now coming to Colombia's capital,
Web3 Latinx Conference "Hola Metaverso" Brings Immersive Experience To Bogotá
Los Angeles' biggest Web3 Latinx conference, Hola Metaverso, is now coming to Colombia's capital,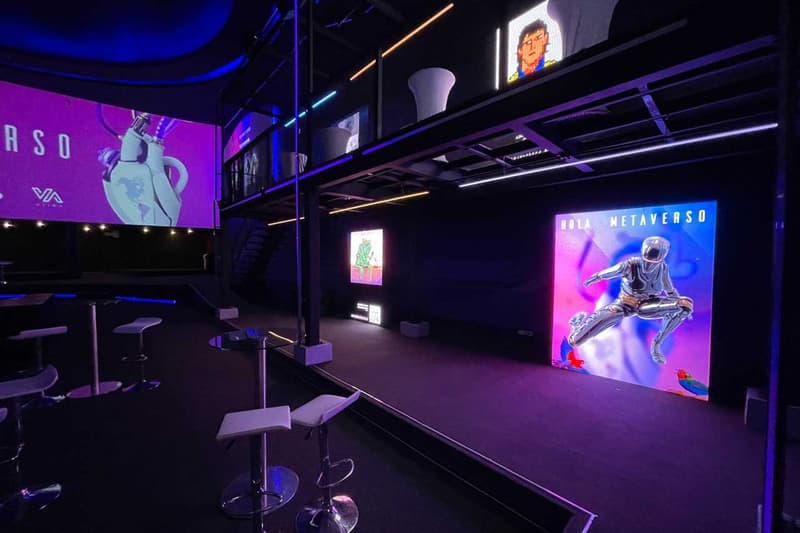 Los Angeles' biggest Web3 Latinx conference, Hola Metaverso, is now coming to Colombia's capital, Bogota, according to its Friday announcement. The two-day conference, led by Hola Metaverso, Disrupt3rd, and VIIRA, will run from August 26-28 — bringing together creatives, projects, and communities throughout Latin America and the United States.
Hola Metaverso's ongoing mission to advance inclusion and amplify diversity in Web3, now extends to specifically providing LatAm culture with cultivating experiences and IRL opportunities to identify mentors, connect with investors, and join communities.
In April, the conference successfully launched its first-ever live event in Los Angeles, California — bringing together individuals, teams, and Web3 (metaverse, blockchain, crypto, NFTs, DeFi, DAOs) communities from across the U.S. and Latin America — with participants hailing from Puerto Rico, Dominican Republic, Mexico City, New York, Miami, and more.
A 2020 U.S. Census revealed that over 49% of Los Angeles County's (nearly 10 million) residents are Latin American. However, much of the Latino community has been left out of Web3 conversations.
"Our Web3 community continues to grow organically and it is our mission to continue to bring awareness, education, workshops, and create and provide event experiences that connect our members," said Oszie Tarula, Founder of Hola Metaverso. "I am proud of our collective (Disrupt3rs, Web3 Familia, Marte247, & VIIRA) coming together to bring this special experience and highlight talent, and provide a platform for creators, artists, investors, and dreamers. The connections being made at these first Web3 international event experiences are set to make Hola Metaverso a game changing event, not just in this sector, but throughout Latin America."
This month's conference will showcase over 50 emerging and established Latinx artists, experts, and builders who are now shaping the future and industries in Web3.
Day 1 ready with OG Beemer @film_freako ! So happy to be connecting with amazing Latinx talent throughout these next few days. #film3 #holametaverso @disrupt3rs @TessFenn @izmontoya @stephmnews @natisvelez @Nelo_eth pic.twitter.com/kYozxRno6E

— Beem ✨ web3 live streaming & distribution (@beemxyz) August 26, 2022
Campus DAO founder, Elmer Morales, emphasized the DAO's excitement in sharing the stage with the diverse array of speakers, identifying "how innovative brands like Bored & Hungry and Exotics DAO are leveraging Web3 and NFTs to go global and disrupt traditional industries."
Campus DAO is a no-code educational platform for Web3, designed to teach students through gamified learning and a blockchain token-reward system.
Catie Romero-Finger of BABs Labs shared that "[t]here are thriving creator communities in Latam that are building great things and they are eager to play a part in this new world economy that blockchain has opened up. I am confident that this is the market to pay attention to and looking forward to supporting its growth. BABS is excited to be partnering with Hola Metaverso to support their mission and get this message of inclusion out to the world."
Indeed, Latin America has become the first region to take that next step towards mass adoption, with El Salvador continuing to lead the way.
On September 7, 2021, El Salvador became the first Latin American country to accept Bitcoin as a legal tender. In July of this year, president Nayib Bukele expresses his strong belief in bitcoin after purchasing 80 BTC, totaling over $1.5Million USD. 
Argentina affirms its position in crypto as well. Just this month ETHLatam, an international crypto conference hosted in Argentina was known to draw in an unexpectedly large crowd. This follows their latest initiative in launching incubators for web3 startups, creating the opportunity for entrepreneurs and companies to get involved.
Crypto is very much in its beginning stages and is still known and used within a small percentage of the global population. Argentina has been a hub for innovation on Web3, and El Salvador was the first country to accept Bitcoin as a legal tender. Latin America is the first region that has taken a step toward mass adoption, with El Salvador leading the way and further opening up the conversation to other countries in Latin America. 
For those who are interested in attending the Hola Metaverso event, but cannot make it to Colombia, are encouraged to create an online avatar and attend virtually.
Tickets to the event can be purchased on their website, which includes access to the event panels, workshops, networking opportunities, parties, and even an authentic Colombian cuisine experience.
Hola Metaverso has also hinted at Mexico City being the next location for the conference in September. If there's one thing to take away from this massive transformation, it's that Web3 and crypto have the potential to unlock an entirely new set of services and possibilities for creatives and builders around the world. 
In other Web3 news, Snoop Dog and Eminem Bring The Metaverse To The VMAs