Balmain Expands Haute Couture With "Non-Fungible Thread" Partnership
Partnering with MINTNFT as it becomes the first fashion house to debut an NFT membership program.
Balmain Expands Haute Couture With "Non-Fungible Thread" Partnership
Partnering with MINTNFT as it becomes the first fashion house to debut an NFT membership program.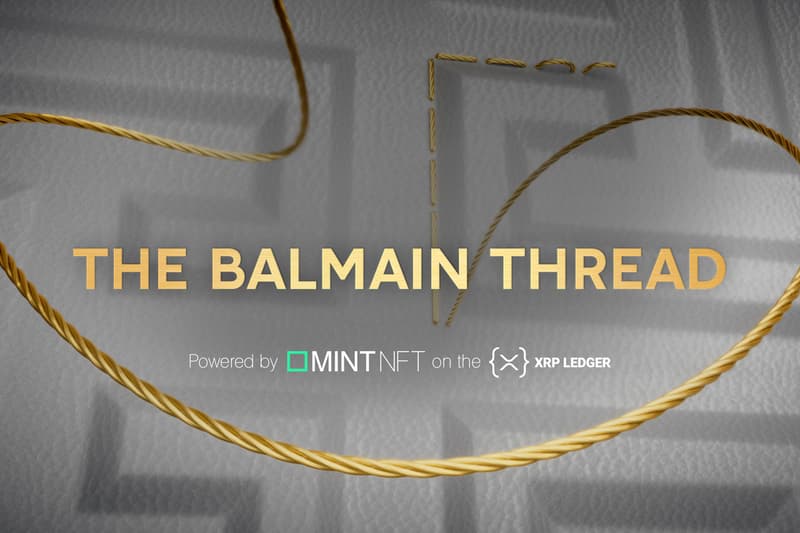 High-end French clothing brand, Balmain has partnered with MINTNFT to develop a new NFT-based membership program for the luxury fashion house.
During Paris Fashion Week 2022, Balmain introduced "The Balmain Thread," which will reportedly serve as the luxury industry's first NFT rewards initiative.
The Balmain Thread, which launches later this year, will serve as Balmain's take on MINTNFT's latest product — "The Club," which assists brands to form their own membership, loyalty, and reward solutions through Web3 technologies. MINTNFT is an NFT minting studio and marketplace focused on collaboration, as it works to bring over Web2 brands into the metaverse.
Balmain's program will offer a series of NFTs that provide owners, known as the "Balmain Army," with access to VIP in-person events, specially curated house collections, dynamic digital experiences, and community voting power.
Early members of the Balmain Thread will receive token-gated access to the third annual Balmain Festival on September 28th.
Over 75 Years of Innovation
In the early 1940s, Pierre Balmain wanted to present a novel and innovative representation of haute couture, launching the luxury powerhouse in post-war Paris, which many have considered to be central in revolutionizing French style. The brand's initial showcase in 1947, debuted a post-war fashion trend of bell-shaped skirts with small waists, finding itself at the forefront of empowering women by dressing them in modern-day power pieces.
Indeed, Balmain was a trendsetter in bringing bold and feminine curve-enhancing silhouettes to the fashion space for the first time.
Over the past ten years, Balmain's Creative Director, Olivier Rousteing, has fostered Balmain's original goal of developing unique and original designs while staying relevant to Parisian customs. Since first joining Balmain at 25 years-old in 2011, Rousteing has continued his focus of evolving Balmain's design tropes for the modern day woman.
Through 75 years of timeless creations, Balmain further signifies one long "unbroken strand" in a modern way, turning to NFTs in executing its newest global marketing strategy.
"Maintaining a thread is key in fashion," said Rousteing. "In order to extend a clear vision and advance a distinct aesthetic, each and every collection that a fashion designer oversees must be tied together by a single, unifying thread."
A "Non-Fungible Thread"
The new partnership proposes a one-of-a-kind NFT — a "Non-Fungible Thread," which according to the announcement, will evolve over time as a key component of Balmain's future accessory, sneaker, and fashion celebrations.
With many of today's biggest fashion houses already exploring NFT technology, Balmain has been noted as one of the first adopters in its experimentation with Web3's offerings, including the metaverse:
"I've never aimed to simply be cool," shared Rousteing. "Instead, my goal has always been to ensure that this house's designs are timeless. A designer needs to create collections that are tied together by a unifying thread. And it's important to never break that thread—because the moment that happens… well, it means that you've failed. It means that you haven't been able to extend a clear vision and advance a distinct aesthetic."
In August 2021, Balmain officially stepped foot into the space with the debut and release of its 1/1 virtual  "Flame Dress" that it issued as an NFT for Vogue Singapore.
At the start of 2022, the French house collaborated with Mattel's "Barbie" line to produce a nostalgic NFT collection, where Balmain's CMO, Txampi Diz, referred to NFTs as a "powerful tool." The two brands presented three digital deliveries of Barbie, along with a physical set of Balmain clothing sized for the doll.
Balmain's Blockchain
Perhaps one of the more intricate aspects of its partnership with MINTNFT, is the marketplace's patent-pending "Video Verified" technology, which helps to enhance customer experiences. The platform aims to tastefully onboard Balmain's conventional network, while preserving its 75-years of good will and tradition.
"In a world plagued by NFT speculation and plagiarism, our minting platform and strategic input help protect Balmain's intellectual property and iconic legacy," said MINTNFT co-founder James Sun.
Recently, MINTNFT raised just under $5 million USD from notable blockchain companies including Ripple, Dapper Labs, and Alumni Ventures Group.
"To develop a truly innovative Web3 strategy, it'd be hard to think of a better set of partners than MINTNFT and Ripple. We're excited to work closely with them to create Balmain's space in the metaverse—and to work on a host of singular and exciting projects in the future," added Jean-Jacques Guével, Balmain CEO.
The Balmain Thread NFTs will be minted on RippleX's chosen XRP Ledger (XRPL) network to utilize a sustainable and carbon-friendly blockchain — in line with Balmain's dedication to environmental conservation. The digital asset-based membership will become the first fashion-related NFTs to live on the XRPL blockchain.
In other NFT news, Comic book culture finds a new home in NFTs.