From Fast Food to Fine Dining, Restaurants Continue to Join Web3
Most recently, Mos Burger, one of Japans most popular fast food locations.
From Fast Food to Fine Dining, Restaurants Continue to Join Web3
Most recently, Mos Burger, one of Japans most popular fast food locations.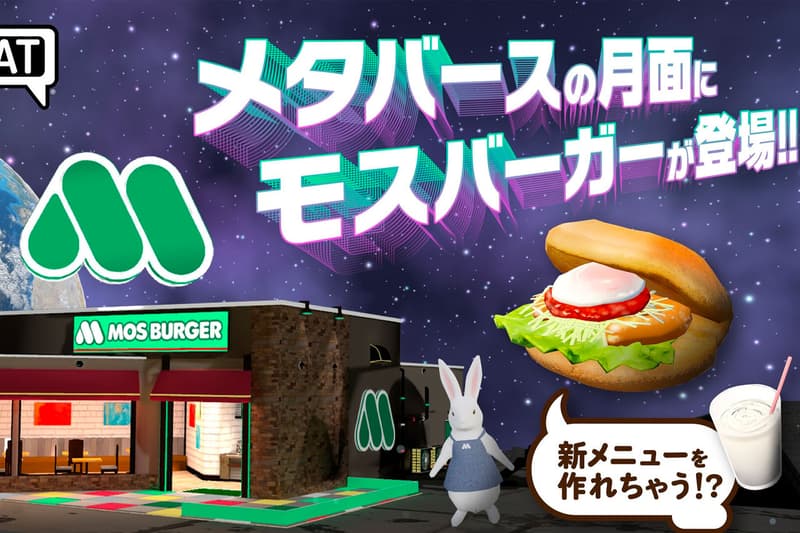 As the understanding and popularity of Web3 technologies grow, restaurants, both fast food and fine dining based are looking to get involved. The various brands are doing so through the metaverse, NFTs, and more — to create more unique and immersive experiences for consumers.
Mos Burger
In tandem with its current Sailor Moon anime collaboration, popular Japanese fast food chain Mos Burger has launched a metaverse location — in what it's calling "Mos Burger ON THE MOON."
The metaverse location was created to put more eyes on its physical meal offering, the Tsukimi Focaccia Sandwich, which is part of its collaboration with the anime series.
Two of the branch's physical locations will be offering a VR experience on September 14, where guests will be able to watch how the special collaborative food offering is made. The experience is also available now through the restaurant's website.
Bored & Hungry
Also on the moon last month, was the Bored Ape Yacht Club-themed burger restaurant Bored & Hungry.
What started as a pop-up experiment quickly turned into a permanent location and is now a global restaurant brand — recently opening a new location in South Korea. Bored & Hungry takes things a step further from just a place to grab a burger and instead looks to create a unique and memorable consumer experience.
It has done so by collaborating with brands like Degen Toonz and most recently the Mindblowon NFT project — engaging active communities like these has been a key to the restaurant's continued success.
Bored & Hungry ultimately led to the creation of the Food Fighters Universe restaurant group and NFT project, which as you'll see has set out to provide utility to its holders in the hospitality space.
Huge shoutout to the @DegenToonz community for comin thru and blowin' up the spot this month! ?

We're open until 9pm TONIGHT for your LAST CHANCE to get your claws on a #ToonzMeal! While supplies last! Hurry! ?? https://t.co/IQEarRwRHP pic.twitter.com/Wj5RXgoXub

— Bored & Hungry | Home of America's Best Burger (@BorednHungry) August 12, 2022
Who wants to try our special Burgers at @BorednHungry? ??

? Location: 2405 E 7th St. Long Beach, CA 90804, USA pic.twitter.com/t5FqRFrxwZ

— THE MINDBLOWON UNIVERSE (@MindblowonNFT) September 7, 2022
Food Fighters Universe
Co-founded by Andy Nguyen of Bored & Hungry, the Food Fighters Universe (FFU) is a Web3 restaurant group made up of several different brands — including two owned by Snoop Dogg and his son Cordell Broadus. The group also has over 10 different supported restaurant locations for its NFT program.
At the partner locations, holders of the FFU NFT can redeem a free monthly meal by simply having their tokens scanned. Other perks holders are entitled to include access to exclusive hidden restaurants, food and music festivals, airdrops, merch, and more.
pull up, scan, redeem ⏭ get your @BorednHungry combo for ? with your @FoodFightersU tokens ? pic.twitter.com/zI1j3jrgLQ

— Bored & Hungry | Home of America's Best Burger (@BorednHungry) September 4, 2022
Flyfish Club
Taking Web3 into the world of fine dining, the Flyfish Club (FFC), co-founded by Gary Vaynerchuk, is a restaurant that utilizes NFTs to create token-gated experiences.
Holders of the token will be granted access to the New York-based restaurant club that is slated to open sometime in 2023. The club is planned to span over 10,000 square feet and will include a cocktail lounge, upscale restaurant, intimate omakase room, an outdoor space, and more.
In the meantime, the club has made several other culinary and cultural experiences available to its holders, including a wine tasting with Vaynerchuk, as well as other founding members, and an exclusive omakase event at ITO in Tribeca.
Membership to the club was offered in two tiers of NFTs which are both now sold out, retailing at 2.5 ETH and 4.5 ETH. The floor price on secondary markets for the primary token is 2.9 ETH or approximately $4,650 USD at the time of writing. The more exclusive token which includes access to the omakase room currently has a floor price of 10 ETH or roughly $16,000 USD at the time of writing.
A look back at our recent wine tasting and q&a with @garyvee and the FlyFish Club members pic.twitter.com/jD51M13yYX

— Flyfish Club (@Flyfishclub) September 2, 2022
A look at our omakase member party at @itotribeca this past weekend.

Great vibes and conversations over nigiri, sashimi, hand-rolls and sake by @chef_kevinkim @chef_masa & the ITO team ?@rodolitz @garyvee @chefcapon @ConorHanlon83 pic.twitter.com/IJPBGBkGc9

— Flyfish Club (@Flyfishclub) August 16, 2022
In conclusion, whether in the metaverse or physical world — NFTs and blockchain tech will likely continue to play a role in creating a more immersive and exclusive consumer experience for the hospitality sector.
In other news, see how this art-driven modeling agency wants to help monetize modeling careers through 3D avatars.