Comic Book Culture Finds a New Home in NFTs
As both collectors and creators embrace the technology, with offerings from massive IP names like Marvel and DC.
Comic Book Culture Finds a New Home in NFTs
As both collectors and creators embrace the technology, with offerings from massive IP names like Marvel and DC.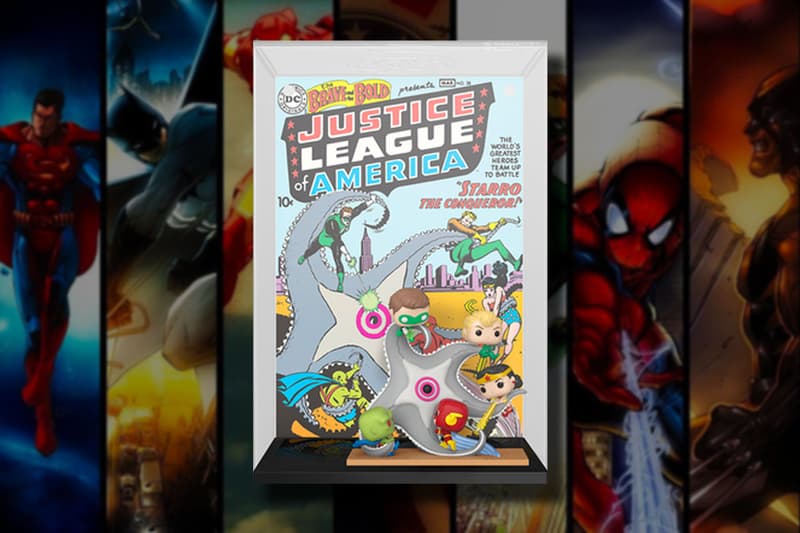 While the comic space has played around with the concept of a multiverse for a long time, it looks like it may be getting closer to entering the metaverse — or perhaps it's already there?
Whether a Marvel or DC fan, the concept of collecting is almost synonymous with the comic book culture. It has come in the form of collecting the actual books or related memorably, like action figures, posters, games, and more.
Community and collectibility are core principles of the comic space, just as they are with NFTs and that might be why major brands are seeing such high success rates with their intellectual property (IP) as they shift towards Web3 offerings.
Funko x DC x Wax
One of the latest offerings comes in the form of a collaboration between IP giant DC and Funko Pops. The two have announced that they'll be releasing a total of 30,000 physical collectibles which are accompanied by codes that grant access to an NFT.
The drop is centered around DC's  'The Brave and the Bold' comic, which was the first to introduce the popular Justice League. What makes this release so unique, is that instead of an online offering, like most NFT collectibles are released, Funko has decided to partner exclusively with Walmart.
Bringing this offering to one of the largest retailers in the world holds the potential to increase the demand for similar offerings, and in turn, increase the rate of mass adoption.
"We are thrilled to bring this first-to-market opportunity to the world's largest mass retailer," shared Funko's CEO Andrew Perlmutter in a statement, adding that "this is an opportunity to create an easy entryway for shoppers to own digital collectibles featuring fan-favorite brands and characters."
Funko first began its journey into Web3 in early April and has since launched several offerings with IP ranging from TMNT to Looney Tunes, and it would seem it has no plans on slowing down the NFT approach.
? BREAKING: @OriginalFunko Teams Up With @WarnerBros for DC Comics' #NFT Release on WAX!#DCComics fans who purchase the physical collectible can connect their #crypto wallet & claim the NFT online, which is minted on the WAX blockchain.

Details: https://t.co/Nm8m6yPSCj.

— WAX Blockchain (@WAX_io) September 21, 2022
DC x Palm Studios
Aside from partnerships, DC Comics also has several other NFT offerings in play, including a token marketplace beta it launched back in early June and several other projects, with the most popular being its Bat Cowl offering.
All of the token collections available on its site are powered by Palm NFT, an Ethereum sidechain that has a focus on green NFTs. The platform features low gas costs, and fast transactions, and is 99% more energy efficient than proof of work systems.
Through DC's marketplace and offerings, fans can acquire unique digital collectibles that act as gateway tokens to unique experiences — such as exclusive previews and events.
Most importantly, fans are loving it. Through the Bat Cowl collection, fans were able to come together and produce an officially licensed community-created comic book, by voting on its storyline together. Other ways DC has kept its fans engaged and involved are through new feature drops every 52 days, exclusive holders-only Discord channels, Snapchat filters, and more.
The following signal is for Cowl holders only. New Utilities have been dropped. Your Cowls have been upgraded. The features? Access to an exclusive holders-only Discord channel, Snapchat filters, and voting abilities on comic book storylines. Next drop is in 52 days.
-? pic.twitter.com/9u2SYZ7zio

— DC Bat Cowls (@batcowls) June 25, 2022
I've waited for over a decade for @DCComics to make a move for its fans. @batcowls with @PalmNft has begun to show me what I've been waiting for. I'm Grateful! #DCEU #Batman #Batfam #Web3 #NFTS

— LegacyT.eth (@Legacyt02) September 9, 2022
Marvel x VeVe
One of the first to bring officially licensed comic book IPs to Web3 is the VeVe platform. To date, it has released hundreds of significant digital collectibles from both the DC and Marvel worlds.
Based on the OMI blockchain, VeVe NFTs come in a wide variety of offerings, from dynamic figure renderings of characters like Spiderman and Batman to interactive comic books that collectors can turn the pages of and read with VR integrations. Other offerings include one-of-one illustrations by famous illustrators like Steve McNiven and more.
VeVe realizes that collectors and people, in general, are making a shift of storing their most prized items in a digital format, and with this realization has set out on a mission to make a broad range of IP available to those collectors.
"Fans want to watch and post about their favorite characters, talk about them on social media, and find ways to interact with these characters however they can," shared VeVe CEO David Yu in a statement, adding that "the VeVe Digital Collectibles App takes that idea of collecting to the next level by embodying that element of fun while also making the growing trend of NFT digital collectibles accessible for everyone."
30 MINUTES!

First full appearance of Venom! @Marvel's Amazing Spider-Man #300 features VeVe-Exclusive Rare & Ultra Rare covers by @SalvadorLarroca and @delgaduck! Super Limited Edition drops at 8AM PT in blind box format: https://t.co/Lhe9AGtHYG#MARVELxVeVe pic.twitter.com/ps7VcewfFx

— VeVe | Digital Collectibles (@veve_official) August 30, 2022
Get those bids in!

Steve McNiven's 1/1 variant cover original pencils for Captain America #25 silent auction closes today at 12 PM PT, only on https://t.co/QUUM9pMfGb: https://t.co/6nsTPtwQC8#MARVELxVeVe pic.twitter.com/jGSZ00H7kI

— VeVe | Digital Collectibles (@veve_official) September 16, 2022
The Perfect Match?
With the underlying themes of comic book culture and NFT culture being so similar, it's becoming very apparent to massive IP brands that Web3 is the place to be. The bright side for collectors is that as this adoption takes place, more interactive and immersive ways to engage with their favorite IP will become available.
In other NFT news,  Disney seeks an 'Emerging Tech' lawyer to drive its vision for next-gen storytelling.