Lisa Carmen Wang Launches "Bad Bitch Empire Fund" For The "Unapologetic Women" in Web3
Using the global venture fund to invest in early-stage female-led companies in Web3.
Lisa Carmen Wang Launches "Bad Bitch Empire Fund" For The "Unapologetic Women" in Web3
Using the global venture fund to invest in early-stage female-led companies in Web3.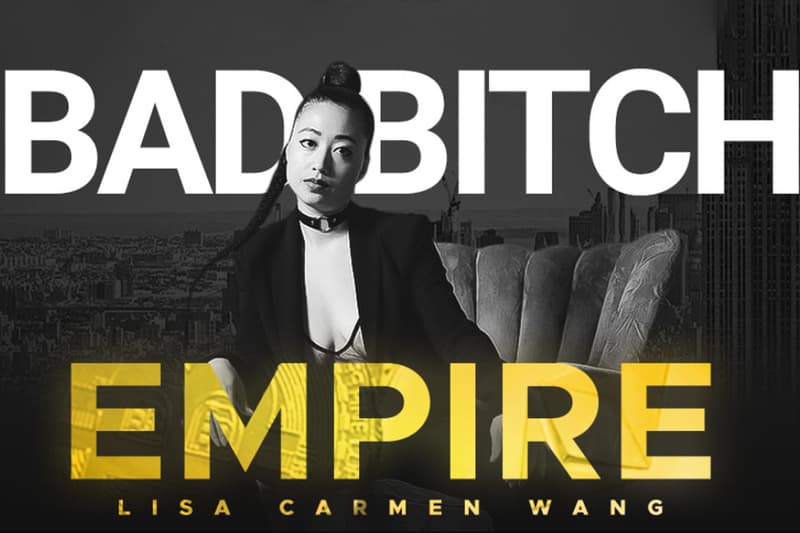 Every empire needs a bad b**** behind it, and that's exactly what Lisa Carmen Wang has instilled since first launching Bad Bitch Empire (BBE) in 2022 to help propel women into tech by providing them with the resources and tools to understand the world of blockchain and cryptocurrency.
Since its launch earlier this year, the BBE community has continued to evolve, recently announcing the debut of its "Bad Bitch Empire Fund" – a global venture fund investing in early-stage female-led companies to help build worth and wealth for women in Web3.
Wang, a former 4x USA National Champion & Hall of Fame gymnast turned serial entrepreneur, has a resume that is the epitome of wealth, women, and power.
From starting her career at BAM Funds, a leading $10 billion+ hedge fund to serving as the former Head of Brand at Republic, a global $700M USD private investment platform and launching SheWorx (acquired by Republic in 2019), a leading community platform of 20K+ female entrepreneurs and raising over $50M USD in funding – Wang has certainly accomplished unapologetic feats that shouldn't go unnoticed, rightfully earning her recognition in Forbes 30 Under 30, Entrepreneur Magazine's 100 Most Powerful Women, and her induction into the Red Shoe Movement Hall of Fame.
The Lack of Female-Allocated Funds in Tech
This month's launch of the BBE Fund highlights female founders developing ventures through blockchain-based technologies, incorporating crucial building blocks native to Web3.
In her vision of helping shape an entrepreneurial landscape that fuels that "unapologetic woman," Wang also discovered that empowering women in tech leadership was still somewhat hindered by the lack of funds allocated towards female innovation.
According to the BBE CEO, women-led companies deliver more than twice the revenue per dollar invested – and control 85% of consumer spending today.
Through the BBE Fund, Wang has been hard at work connecting female investors to female-founded Web3 companies through the onslaught of industry-wide events, conferences, and everyday discussions on social media.
Just as the blockchain provides our economical infrastructure with access, transparency, and fairness, Wang also believes that women should be afforded the same infrastructure with emerging technologies, opening the proper channels to education and resources to be able to fully utilize its power.
Today, women make up less than half of all crypto investors at just 26 percent – sparking the need for change.
"We have a real opportunity to overturn a traditional financial system that has never served women or people of color," Wang told Hypemoon. "BBE is bringing women together to invest in impactful female-led companies. We are excited to see more female founders leveraging disruptive technologies like blockchain so we can not only have a seat at the table, but we can build our own table."
Crashing the "Crypto Boys Club"
Unapologetically, Wang crashed the "crypto boys club" in June at Bitcoin 2022 in Miami, promoting her mission of finally putting women up-front-and-center. From there, she brought BBE to Austin, Texas to spark more conversations at CoinDesk's annual Consensus conference.
In May, BBE led a four-week "Bad Bitch Bitcoin Bootcamp," along with crypto investment workshops to motivate and teach women about crypto and NFTs.
"Financial and investment literacy is essential to giving women a seat at the table, particularly when a sector is emerging and rapidly growing. Crypto is having one of those moments, and women need to capitalize on the opportunity in order to create systemic and meaningful change," Wang explained.
During NYFW 2022, she attended Nolcha Shows: Web3 Edition, alongside Chain Gaurdians, which consisted of a female-focused panel on Web3 innovation, entrepreneurship, and investments.
Wang is currently working on her first book with Harper Collins about her hard-earned lessons as an "unapologetic Bad B**** in business," which is scheduled to release in 2023.
In other crypto news, Could Japan's amended laws begin to reshape the country for crypto success?.