Mastercard Has Been on a Roll in Crypto, Now Its Breaking Into NFTs
Through the first NFT customizable debit card, in partnership with Hi.
Mastercard Has Been on a Roll in Crypto, Now Its Breaking Into NFTs
Through the first NFT customizable debit card, in partnership with Hi.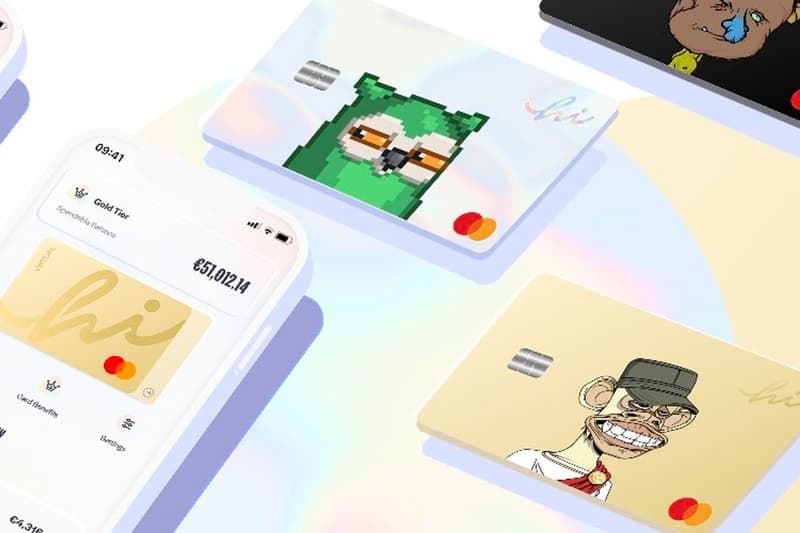 Mastercard has been exploring the crypto space with the launch of several cards on its platform as well as initiatives, like its prepaid reward card with Binance in Argentina that allows users to shop at over 90 million merchants using crypto.
Most recently, the multinational financial service provider is jumping into the world of NFTs, in partnership with hi, a crypto and fiat financial app. Through the partnership, hi is offering the ability for users to customize Mastercard debit cards with their own NFTs.
Flex your NFT IRL ? pic.twitter.com/FVaj5mubrr

— hi | Web 3 Neo-Banking (@hi_com_official) September 27, 2022
The NFT customization through hi is initially available for their Gold members and above and allows for the personalization of the face of the card with a verifiably owned NFT. The only stipulation is it must meet Mastercard's design standards — so likely no CryptoDickbutts.
Hi's credit card does more than just allow for the application of NFT designs though, they also allow for the spending of fiat, stablecoins, and other cryptocurrencies at any Mastercard merchant worldwide.
"Not only do the NFT cards look amazing, this is a great way for people to show which online community they belong to, but in the real world," says Sean Rach, Co-founder of hi, adding that, "the flexibility to spend fiat, stablecoins or other crypto, combined with attractive financial and lifestyle rewards, makes us confident that our card is a game-changer in the market."
Mastercard in Australia
In August, Australian crypto exchange Ebonex partnered with Mastercard to launch crypto-linked payment cards — the first of its kind in the country.
A major benefit of the card allows for the automatic conversion of crypto into fiat for retail merchants, along with several reward offerings for users of the card.
"We plan to issue both virtual and physical cards to our customers and for the cards to reward users in the form of digital assets, NFTs, cashback, frequent flyer points, lounge access, and subscriptions to online media and music," shared Dong Hu the Chairman and Chief Executive Officer of Ebang — the parent company of Ebonex.
Mastercard x Binance
Like the Ebonex Mastercard, Binance and the card provider launched their offering in Argentina. The card also converts from crypto to fiat for merchants instantly at the time of sale and offers up to 8% rewards for the user.
The most significant factor about the collaborative offering is that Binance and Mastercard are betting big on crypto adoption in Latin America, where recent reports indicate that more than half the region is familiar with digital assets.
"We believe the Binance Card is an important step in encouraging greater use of cryptocurrencies and their global adoption and is now available to users in Argentina," shared the company in a press release.
Mastercard x Miami
On the NFT side of things, the City of Miami, TIME Magazine, Mastercard, and Salesforce all partnered in late July, to put together a community-produced NFT project.
The collaborative effort featured designs from over 50 local artists, to drive increased revenue to local businesses and non-profits.
Holders of the tokens can access Mastercard's Priceless Miami program, which provides unique experiences, from one-of-a-kind events at local Miami restaurants to curated, unforgettable private tours of Miami cultural institutions and other memorable experiences.
"The City of Miami has been on the vanguard of the web3 revolution and we will continue to employ these new technologies to support our existing businesses while attracting new ones, raise capital and provide experiences for our citizens and those visiting this great City," said the Mayor, adding "at the same time, we can also use this novel approach to support local artists and charities."
We are thrilled to partner with @FrancisSuarez, @VentureMiami, @Mastercard & @Salesforce to help bring the @CityofMiami into #web3!

This initiative will support local artists & charities in Miami in unprecedented ways!

Learn more ⤵️https://t.co/G8Sp35FLtz

— TIMEPieces Turns 1 ? (@TIMEPieces) July 28, 2022
Mastercard x Nexo
One of the very first crypto rewards credit cards to be launched on the Mastercard platform was the Nexo card, which allows users to spend up to 90% of the fiat value of their crypto assets as a line of credit.
This feature is a massive benefit to users who want instant liquidity but do not want to give up the potential gains of their long-term crypto holdings by selling for fiat.
Another card that was meant to be offered through the Mastercard platform was from Edge — however, the development of the card was quickly shuttered by Mastercard, as it discovered plans for confidential access.
Edge had initially planned to allow users to gain access to the card with no identification verification required (KYC), which Mastercard said is "not approved." So while the adoption is taking place in the area of traditional finance, there is still room for growth into a fully decentralized finance product.
The Significance
While the designs and various NFT projects Mastercard is getting involved in may be exciting, the key takeaway here may be how significant its interest in crypto is. By allowing all of the above to access its massive network of merchants, crypto holders have never had more convenience when it comes to using their tokens as a means of settlement.
"As consumer interest in crypto and NFTs continues to grow, we are committed to making them an accessible payments choice for the communities who wish to use them," said Christian Rau, the Senior Vice President of Crypto and Fintech Enablement at Mastercard.
In other news, could Japan's amended laws begin to reshape the country for crypto success?