OpenSea Revamps Homepage
Including new trending tabs and a spotlight section.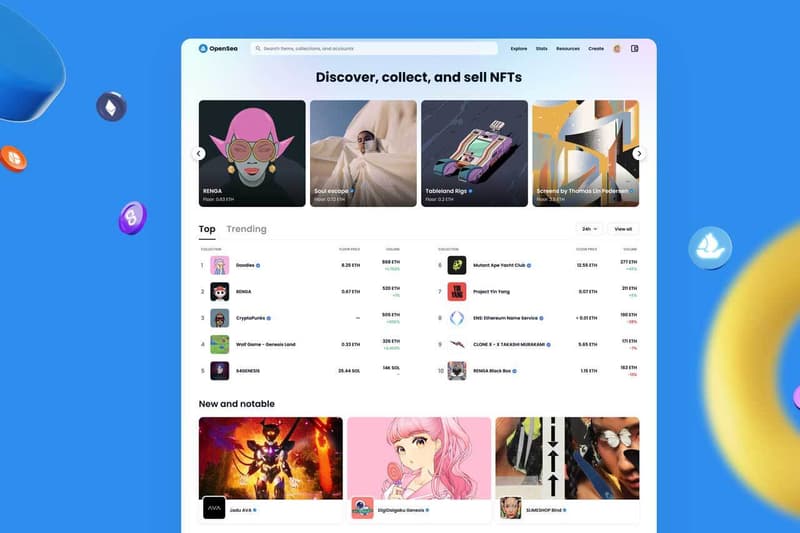 With the OpenSea NFT marketplace being the most well-known and used in the space, it is often the first destination newcomers visit when they start exploring NFTs.
This means that the design and structure of the platform's homepage are more important than ever, which is why OpenSea has just announced a redesign. The marketplace stated that it is "always looking for ways to enrich and simplify user experience on OpenSea," and aims to take a step towards that with the new update.
"The goal of our redesign is to build an entry point into the world of NFTs that reflects the vibrant pulse of the ecosystem and highlights a diverse set of quality content. For us, this means surfacing a more robust mix of stats and data, curating finds from our teams as well as tastemakers across our community, and generally making discovery more delightful," shared the platform in a press release to Hypemoon.
A series of updates will be steadily rolled out to the platform's homepage, the first of which is a new carousel at the top of the page. Other updates include new Top and Trending collection tabs and spotlight sections.
Newly designed Top and Trending tabs were created to reflect more critical data like floor price and volume, in an effort to provide instant and dynamic market feedback at a glance. The update will also include an access point to the platform's newly improved Stats page, which houses key insights on NFT collections and a Watchlist tab.
The Top tab is designed to show collections and rank them based on the highest volume over a 24-hour period, while the Trending tab is a 24-hour momentum-based list — for example, collections that get big news and have a pump in price might be found here.
With NFT projects ranging from PFPs to gaming, and music to digital art, it can sometimes be hard or even tedious to try and discover new quality offerings. Through the redesign of the homepage and the addition of a Spotlight section, OpenSea aims to help highlight and spotlight notable projects over a wide variety of categories.
The curation of these projects will be handled by an internal team as well as guest tastemakers from across the Web3 community.
While the updates will be rolled out in stages, the platform said users can expect to see more interesting and topical finds from throughout the NFT ecosystem through its tastemakers and curators, as well as an increased lens on gaming and music sectors.
As the redesign begins to go live, OpenSea has encouraged its users to provide feedback to anything else they'd like to see, as they plan to make continual additions to the experience and types of data shared.
In other news, see which platforms are reshaping the music industry in Web3.