ORE MOB NFT Project Brings Anime, Pop Culture, and Nostalgia to Cardano
The artist behind the work, Ore Ore Ore, explains why they chose the blockchain and the inspirations behind the collection.
ORE MOB NFT Project Brings Anime, Pop Culture, and Nostalgia to Cardano
The artist behind the work, Ore Ore Ore, explains why they chose the blockchain and the inspirations behind the collection.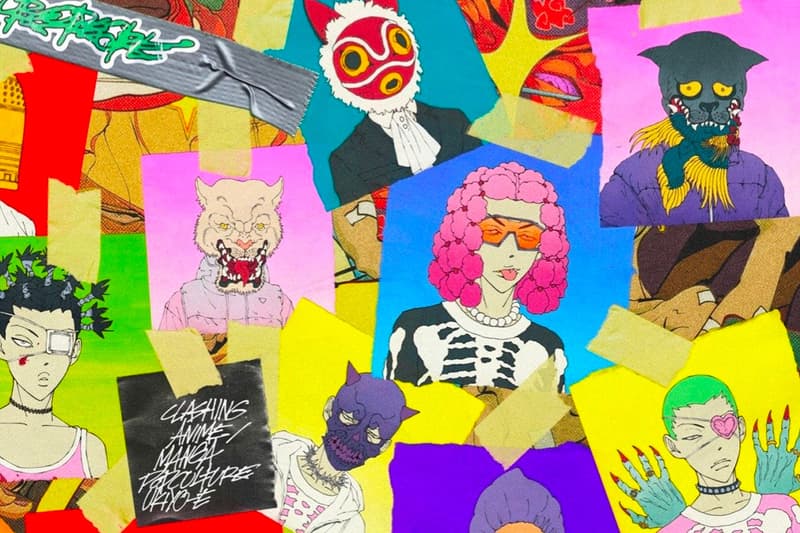 Currently, there are over 10,000 different crypto networks running on the blockchain, however, when it comes to NFTs only two or three seem to be the go-to, with the Ethereum network being the most commonly used. Although, in the case of ORE MOB, a ten thousand-piece PFP collection by artist Ore Ore Ore, the Cardano network is the blockchain of choice.
In an exclusive interview with the Berlin-based artist, Hypemoon touches on the inspirations behind the collection and the big question of "why Cardano?"
Ore shares how his work has always been inspired by 90s and Y2K nostalgia, as well as modern underground street and pop culture — with his latest offering to the OreMob ecosystem being inspired by Manga and Anime.
The Inspiration
"Inspirations and influences are very far spread out, shared Ore, explaining that "the most obvious is Manga and Anime."
"I was a manga reader since I was a small kid. Pop Culture, Hip Hop – the thought of taking something that exists and making it into something new – reshuffling it. Making something, virtually out of nothing."
The artist draws on their own back catalog  of works for inspiration as well, which they said spans over seven years — another source is "my endless hunger for new storylines," shared Ore.
Considering Manga and Anime play a large role in the art, we asked Ore what their favorite anime character was, while having a hard time picking just one, they named Reign from Mob Psycho, Onizuka from GTO, Dr. Ten from Monster, and lastly "I gotta be biased and choose Gon from Hunter Hunter," Ore said.
"He's just a brilliant spin on the Shonen protagonist trope," shared Ore, further explaining their choice, "because he's a character in a world where crazy powers exist that can be quite brutal sometimes and he is definitely a child from this world but there are moments where he just acts like his age with irrational thinking like a 12-year-old and gets into some troublesome situations for it — which makes the whole thing feel real and interesting for me."
Themes of related youthful rebellion can also be seen in several Ore's works, as well as the latest from their ORE MOB ecosystem.
From Web2 to Web3
One of the initial differences Ore shared about their journey in Web3 so far, is the change in the creative process. While their "ORE OG" collection utilized the artist's one-of-one works, the new 10k PFP collection implemented the use of generative art.
"It is astonishing how versatile the medium can be," they shared, explaining that "there can be solid art which is left open for the code to decide, or you could take action with a more hands-on approach. Really up to the artist but one amazing thing that the generator does, is it takes control away from the creator and in turn, creates something unique and new not only to the viewer but to the creator as well. So I enjoy working on generative art because I strive away from my usual approach and get to learn while creating."
In a word of advice to artists stepping into the space, Ore shares that it doesn't matter how large your body of work is, but more so that you focus on creating high-quality works that resonate with a community. They also shared more about the experience of interacting with the technology and the importance of aligning with the right people.
"As an artist, this technology is a good stepping stone overall to get attention if you embrace it the right way. We started with 30 pieces end of 2021 and they were sold out instantly after the CEO of NMKR shifted some attention our way from his sizable socials. We had no Twitter or Discord and from there made sure we started to build our own community with that first lift up from our minting partner."
"At the core of my work some things still remain the same – I love to put in the work and I love to create things that tell stories. Can be long or short but my pieces should always have a past and a future in terms of the narrative. But there was a mental shift when the community started to resonate so much with the work that the idea of letting them take part in the narrative came naturally. The creative process and the art came together and that was when it really started," they shared.
ORE MOB and Latest Drop
To date, the artist has dropped two primary collections, 252 OG ORE's and "Burner Phone Mob." The OG collection is made up of one-of-one works of Ore's and acts as a genesis collection, whereas the Burner Phones act as a pass to a tight-knit inner circle from within the ecosystem and grant access to things like the upcoming mint.
The latest collection "PFP ORE MOB CNFTs," are made up of 10,000 generative artworks that are derived from over 500 unique traits created by Ore. Additionally, the collection includes 13 distinct factions which Ore says are the start of extensive lore that is to come.
All of the current works feature a collectible trading card style theme, which Ore shared will play into future roadmap updates and plans.
ORE MOB⭕️✨ https://t.co/1GmWYJ5EtR

ORE MOB by Berlin artist ORE ORE ORE is the expansion of his successful anime project.

The MOB looking to takeover the Cardano NFT space as we speak. Their presence can be felt everywhere in our scene already

4 /5 ? pic.twitter.com/vxJvBJOhjn

— jpg.store (@jpgstoreNFT) September 7, 2022
Why Cardano?
Environmental responsibility — Ore shares how Cardano was chosen because of its low environmental impact.
"One of the most important reasons for me and my initial followers and community was the proof of stake (PoS) mechanism for environmental purposes, they shared, explaining that "the idea was to create on a platform that is as progressive with energy consumption as it is with innovating on the future of technology and creativity."
However, that was just a start, Ore shared that once they spent more time on the Cardano blockchain, they fell in love with it.
"It's a very personal space that is filled with creatives who put a lot of emphasis on passion and creating things that they care about on a personal level," shared Ore, explaining that "Cardano also, in the public eye, holds kind of an underdog position in comparison to other blockchains so it seemed like a perfect place to build a mob."
They also went on to share that for the ORE MOB, small and certain intimacy was something they wanted to be expressed in the project and that they are looking to build on Cardano for a long time as well as aiming to display love and education in all of the projects they do.
On the more technical side of things, Ore shared that Patrick Tobler from Cardano-based NMKR was very helpful in providing minting service solutions and has become a close partner of the project through the help of their business partner Row Weber — it is this willingness to support and help grow smaller projects that Ore highlights as one of the main benefits of the Cardano network.
Vision for the Future
"Further understanding Web3 now, one huge wish that might not yet be on our roadmap is to embrace a more Dungeon & Dragons approach to interacting with our community. Making this playful and enjoyable is key. Anime and Mangas are a channel for that and knowing where we stand with my art in this scene will give us more and more reason to inject this gamified interaction on this playing field. Becoming a household brand with our team of thousands of ORE MOBsters would be amazing."
Objectives that are outlined in the project's roadmap include the original music production, a physical trading card sub-brand, Manga & Anime shorts, governance utility, gamified metaverse experiences, and a host of phygitals as well as events.
"Our big goals, stay personal and keep creating great stuff with the new technology," concluded Ore.