Introducing QQL, a Generative Art Project by Tyler Hobbs and Dandelion Wist
With a focus on co-creation and curation by collectors.
Introducing QQL, a Generative Art Project by Tyler Hobbs and Dandelion Wist
With a focus on co-creation and curation by collectors.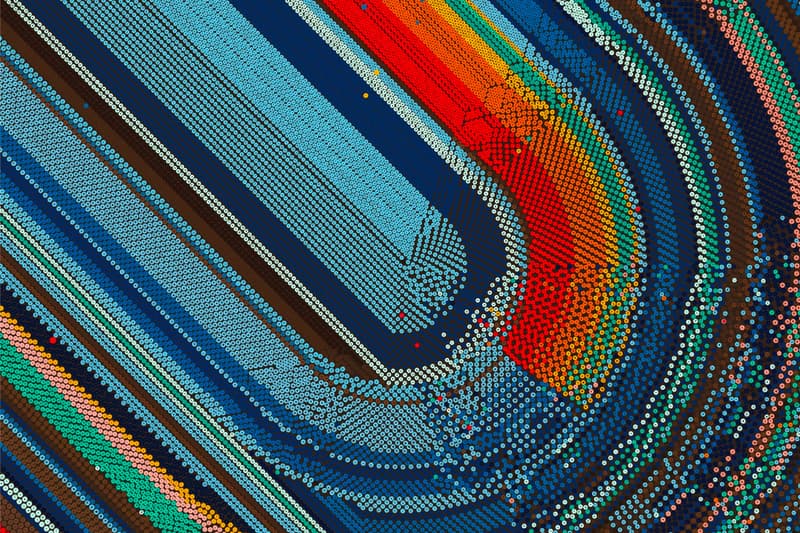 Introducing QQL
QQL is a generative art NFT experiment in collaboration with Tyler Hobbs, the creator of Fidenza, and Dandelion Wist, a Web3 enthusiast, and Co-Founder of Archipelago, a generative art marketplace.
What makes the project unique from anything Hobbs has created or that Wist has collected is that collectors of QQL will become co-creators and collaborators through a unique minting and output selection process.
To understand the motivations and inspirations behind the project, Hypemoon spoke with Hobbs in an exclusive interview. The generative artist also shares his hopes for QQL as well as his thoughts on the future of art in the Web3 space.
Meeting Dandelion
As previously mentioned, Dandelion is a Web3 enthusiast and the Co-Founder of Archipelago — they are also a collector of Hobbs and make up one half of the collaborative effort of QQL.
"I learned of Dandelion as a notable collector in the ArtBlocks scene, where generative art was really establishing itself as a major part of NFT culture," shared Hobbs, adding that they had similar taste in works and found themselves discussing the nuances and intricacies  of different ArtBlocks projects.
This was in the Fall of 2021, but the eventually the conversations would developed into ideas for a completely new project, rather than just discussing those that already existed.
"Dandelion brought up the idea of allowing the collector to select the output they wanted for a mint, which sounded enticing to me for multiple reasons," shared Hobbs, adding that "we kept going back and forth, discussing different approaches, their trade-offs, and what it would take to make a project like that happen."
"To me, this was so compelling that I committed to making it my primary project in 2022," shared Hobbs. Since then the two would make trips to each-others states in the U.S. to develop the project in person.
But What Does QQL Stand For?
Interestingly enough, Hobbs shared that the letters don't stand for anything specific. In fact, the name was created much in the same way that the artist creates his works.
"We liked the idea of picking a name with three letters that had a particular sound or feeling, without it carrying a pre-attached meaning, shared Hobbs, explaining that "to select the final three letters, we used an approach that was already familiar to us: a generative script! We put together a quick program that would spit out three-letter sequences, biased towards the type of letters that we liked."
He added that "After generating 200 of these, we curated it down to our favorite handful, and QQL was the ultimate winner. There was a certain satisfying quality to using the same approach for the name that QQL offers for the artwork."
Aspirations for the Project
"I would love it if QQL helped to popularize a more communal mode of creating generative art," shared Hobbs, adding that the project will rely on the community and collectors to explore the wide variety of outputs and then express their own views on which they think are significant or special.
Hobbs hopes that the project will inspire other generative artists to develop works with a similar approach of involving community members in co-creation.
"From an artistic perspective, being able to rely on community curation is hugely empowering, because it means that your algorithm can be much riskier in the type of work that it generates," the artist explained, adding that "instead of worrying about the worst image the algorithm could possibly generate, you're free to focus more on the best 1% or 0.1% of output that it can generate."
Hobbs says that this shift allows for an entirely different type of artwork to be created because it shifts the focus to the "emergence," which he describes as "the moment when the stars align, and the randomized elements in the program sync up in just the right way to create something truly new, unexpected, and captivating."
"Those are the moments you live for as a generative artist — QQL deals more directly with emergence than any other project I've created," expressed Hobbs.
IP Rights and Co-Creation
With debates still going on around CC0 and various IP rights within the NFT art space — Hypemoon asked Hobbs what type of rights holders of QQL will be granted, considering they are going to be both co-creators and curators of the project.
"This is a great question, and definitely one that we've been discussing ourselves, replied Hobbs, sharing that "a big goal of the project is to elevate minters to more of a collaborator/co-creator role. So, we definitely want to make sure that the minter is credited on the site, on social media, and in the NFT metadata."
"With regards to IP, we have to be careful about what sort of legal arrangement we enter into with 900+ individuals, because that could open a real can of worms. For that reason, we're planning to stick with the Creative Commons Non-Commercial license (CC-BY-NC 4.0, the same that Fidenza uses), perhaps with select limited additions," explained Hobbs.
"However, we're planning an additional way to reward minters and will be excited to announce that soon," hinted the artist.
Fidenza's Shadow
With his Fidenza works now considered to be grails amongst collectors of generative art, Hypemoon was curious to know what its like to create additional works following such success and if it adds any pressure to the process.
To put it into perspective from a monetary standpoint, the floor price for a Fidenza NFT at the time of writing is 85 ETH or roughly $136,000 USD — with secondary volume surpassing $80 million USD.
The short answer from Hobbs: "For sure!"
"There are many more eyes on every new project now, and of course there is associated pressure with that," he explained, adding that "it has taken me some time to adjust to that pressure but one positive outcome is that it helps me to push my work forward, to try to take it to the next level. I want to ensure that every piece of artwork is made as well as I can make it."
While that pressure is there, Hobbs also shared that he doesn't really view any of his other works as competing with Fidenza, because "it already did its job well."
Instead, he shares that he is now free to explore new areas and ask new questions — like he is doing with QQL. While Hobbs did share that this latest project of course benefits from what he's learned with Fidenza, it is also "free to move beyond that and outside of that."
The Circles
Take a quick glance at any of the samples leaked so far from the QQL algorithm and you'll notice circular motifs, Hobbs shared the reason behind that and why it is an underlying theme in the projects and other generative works in general.
"From a generative art perspective, circles are incredibly useful forms to work with, he shared, explaining that "not only do they make many calculations simple, but they also allow for very dense and flexible arrangements."
"Essentially, they're a good building block because they can work in a variety of situations that might arise randomly within the algorithm. That's a really crucial property when you're trying to make a generative work with a wide range of potential outputs," he explained.
Hobbs shared that QQL can do all sorts of "weird things", and that by using circular motifs those outputs are well-tolerated.
Technicals and Wen Mint
The QQL site is live today, Monday, September 19, with the mint pass auction going live on the September 28, and the minting process launching September 30.
A fun aspect of the site is that anyone can explore the algorithm and create various outputs for free, but only those with a mint pass will be able to mint the assets as NFTs on-chain and determine the final 999 outputs.
Visitors exploring the algorithm will be able to adjust outputs through various means like layout, rotation, turbulence, scale variance, margin, rings, and more.
The colors of the final outputs will be made up of seven different unique palettes that Hobbs and Dandelion have determined — including one inspired by Fidenza.
Pricing for the mint passes will be determined by a dynamic auction which starts at 50 ETH and then drops incrementally until sold out — with the final price going no lower than 2 ETH.
The dutch auction format also has a built in rebate, meaning whatever price a collector buys at, they will only pay the lowest price. For example, if a buyer purchased a pass for 50 ETH and the price went down to 10 ETH, they could opt in to buy 5 passes mid-auction, or wait until the end to receive a rebate of 40 ETH.
QQL Timeline ?

- 9/19: Site Launch ?
- 9/28: Mint Pass Auction ?
- 9/30: Minting Begins ?

On site launch, the algo will be open, and anyone can explore the outputs. Then, starting on 9/30, pass holders choose which outputs to mint, and claim their place in QQL history!

— Dandelion (@dandelion_wist) August 24, 2022
qql colors have landed pic.twitter.com/w6RnTip6Vg

— Tyler Hobbs (@tylerxhobbs) September 14, 2022
Arts Future in Web3
"The space is still relatively young, so there is still plenty of room for improvement," said Hobbs, adding that "overall, it is still very difficult for your average person to get involved with crypto, add money to their wallet, collect artwork, etc."
He shared that for the space to continue to progress, these areas will need to be made much smoother, faster, and more affordable — but that with time he is confident all of the identified areas will be improved.
"From an 'art ecosystem' perspective, the biggest weak spot is probably the relatively low volume of educated analysis and high-level art curation," shared Hobbs.
He also added that these aspects play an important role in the traditional art world, "especially with regards to education, understanding more challenging artwork, connecting broader art trends, and lifting up under-appreciated artists and art-forms."
Concluding his thoughts on the topic, Hobbs said that "I'd love to see a true 'Web3' take on how to accomplish these, rather than simply importing the existing old-school institutions. However, I'm sure we'll eventually wind up with a mix of the two."
Alpha, Maybe
One thing that has become a common interest for NFT collectors across almost every sector is UTILITY. Since that is the question many will have, Hypemoon asked Hobbs what types of utility, if any, might be planned for QQL.
"I won't necessarily rule out utility, but I'm definitely not going to promise anything. We do view this as a pure art project, shared Hobbs, adding that "the one service that I do intend to offer [as he does with his other projects] is the option to get a high-quality print of the artwork from my studio."
Hobbs explains that prints are often the best way to view the artwork and that he wants QQL collectors to have a reliable way to gain access to quality prints.
In regard to alpha, Dandelion previously shared a hint on Twitter that collectors who don't have enough liquidity for the auction might still have a chance at minting a QQL — with more information to be shared soon.
Elsewhere in art, read Matt Gondeks thoughts on the Web3 space and what he thinks the benefits are for both artists and collectors.