EXCLUSIVE: QUALIA To Launch Web3 Incubators For The Next Generation Of Creatives
Investing in the next generation of art, fashion & design brand through its QCouncil, QCreative, QCollective, and QCapital arms.
EXCLUSIVE: QUALIA To Launch Web3 Incubators For The Next Generation Of Creatives
Investing in the next generation of art, fashion & design brand through its QCouncil, QCreative, QCollective, and QCapital arms.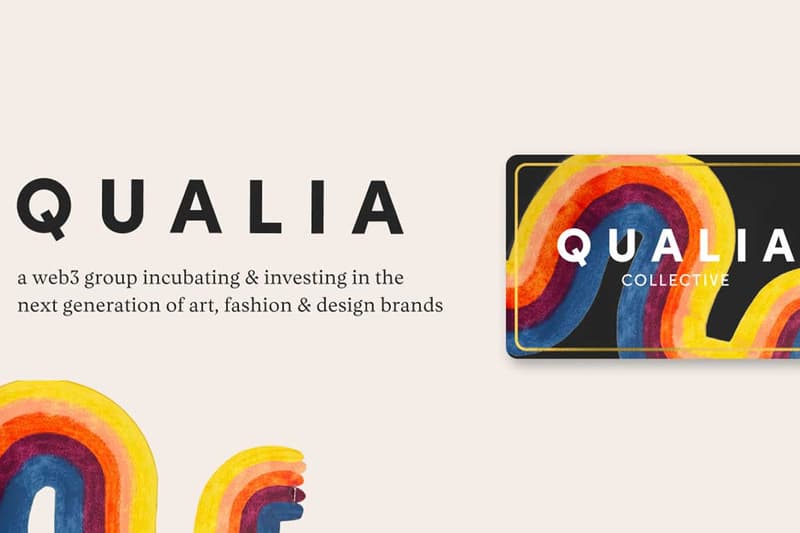 Web3 art collective, QUALIA, announced today, the launch of its entire incubation ecosystem that, according to the company, will serve as a distributed network of leaders and innovators that will help identify, incubate, and fund disruptive community-developed brands.
QUALIA's ecosystem consists of the QCouncil, a leadership group, QCollective, a curated community, QCreative, a creative hub, and its investment arm, QCapital. 
Launching this month by publicist turned resale tech entrepreneur Jackie Courtney, QUALIA aims to create a new paradigm in luxury through emergent technologies that place community co-creation and co-ownership front and central to any brand's DNA.
Courtney, whose Nearly Newlywed, was acquired in 2020, pivoted away from media to launch the Web3 startup that could leverage her passions for angel investing, art collection, and media consulting — and support founders and creatives in a truly unique way along their entrepreneurial journey.
"I knew that I didn't want to just start something to start something & I didn't want to be a prototypical 'founder' again," Courtney told Hypemoon in an exclusive interview.
"I am grateful for my past experiences with NNW & the visibility that afforded me, but I found it generally limiting & stressful. Where I want to spend my time supporting founders & creatives on their journeys. I figured I'd do that with angel investing, collecting NFT projects/art, consulting & that that would be it. If you had told me two years ago I would organize the founding of another company & that all of these incredible artists, founders & builders would join to build it too, I wouldn't have believed it."
Courtney says that QUALIA pushes the idea that customers should no longer be treated as "disconnected participants" in the commercial creative process. Rather, it believes today's understanding of "community" should be transformed from mere "fans and buyers" to a brand's "integrated ambassadors and stewards."
'The name, 'QUALIA' was a gift of sorts, literally & figuratively, from artist Claire Silver," she shared. "Qualia is an important concept through her AI Collaborative Art Collection for Braindrops, 'Genesis'. I followed her on Twitter, both for her art & her web3 thought leadership. One day she posted a riddle about the collection, so I decided to try to answer it and as fate would have it, I answered correctly. Claire is anonymous, like many high profile crypto-native thinkers, so I didn't think we would forge a friendship from this connection, but we did. Having met in person, I shared my ideas for Qualia, which at the time was just an 'Investment DAO Project,' and she said she would love to help. From there, Qualia was born. I never would have arrived there without her. There are beautiful serendipities and synchronicities to find when you open yourself up. I believe in the power of that."
Silver, a millennial artist and co-founder of Accelerate Art (A2), also leverages A.I. to produce transcendental art, using art that evokes a "wordless truth" in viewers.
"The coming shifts in Web3 will be epochal. They'll require vision to spot early enough to shape. Jackie has a sharp and creative mind, and is passionate in a rare and driven way. Qualia will echo those traits, and be instrumental in forming and guiding culture around fashion, art, design, and more. I'm honored to have created the piece that formed the namesake of the brand, and I'm honored to serve alongside Jackie in the QUALIA council," Silver said.
Today's announcement debuted its QCouncil and QCollective, which maintain an unparalleled group of 30+ leaders, including Amber Vittoria, Erica Reiling, Francine Ballard (MetaGolden), Michelle Reeves (Mavion), Jaime Schmidt (MyBFF), Vincent Choi(RoseStreetCapital) , Ashumi Sanghvi(Artist),– all of whom will provide lend their expertise to QUALIA's growing portfolio of venture capital, intellectual property, product design and production, digital design, and more.
Its curated membership group, QCollective, will also serve as an extension of its members, by and through an initial NFT mint, in partnership with Dropspace — a smart contract developer best known for working with projects like Women & Weapons, Mavion & Rebecca Minkoff, and more. Approved applicants will be able to mint 1x membership NFT from the QCollective Collection of 705 passes for .25 ETH — affording exclusive access to the QUALIA network, gated Discord channels, and all its future activities.
Courtney also shared that they will soon be launching its creative hub, QCreative, at Miami's Art Basel in December, while its investment arm, QCapital, will quickly follow in early 2023.
QCapital will reportedly function as both a fund and an investment DAO.
In addition to QUALIA, Courtney also remains active throughout the Web3 space, where she in addition to 100 other founding leaders, also serves as a founding myBFF member — alongside Brit Morin and Jaime Schmidt — in helping women and non-binary people get educated, connected, and empowered in our ongoing creative transformation.
BFF, a decentralized brand, launched in January of this year as an open-access platform to help women and non-binary individuals learn, connect, and feel empowered in the Web3 space. Morin and Schmidt, in addition to other founding BFFs including Ballard and Reeves also sit on QCouncil.
"I'm honored and excited to work with Jackie as a member of the QUALIA council. This group represents so much of what is possible within web3 and provides a unique opportunity for creators and entrepreneurs to build, with community at its core. I look forward to further inspiring the development of web3 together," said BFF co-founder Jaime Schmidt.
Web3 has undoubtedly changed the way fashion and legacy design brands interact with consumers, but the speed in which these changes are implemented are still a work-in-progress. Innovations from brands like Prada, Louis Vuitton, Fendi, and Tiffany & Co. have helped spark additional mainstream adoption of blockchain technology by using its capabilities to help certify purchases — adding a level of authenticity and ownership the space has never seen before.
'Web3 technologies are sweeping in their scope & potential. AR, VR, AI, these are additive to the facets of creative expression we already know and love in 'Web2'. It isn't either/or, it is &/plus. Most exciting, they offer a toolkit for distributed leadership & participation. The access, capital & connectivity that this can unlock & the creative potential of these shifts, particularly in gated, opaque industries, can be revolutionary. We want to be a part of that movement. It's how Qualia came to be," Courtney concluded.
In other Web3 news, From New Balance to Endstate, Stephanie Howasrd is Still Building " Unprecedented Connections" With Today's Web3 Sneaker Culture.